Get the satisfaction of growing as much organic fruit as you want with the Grow Great Fruit Organic Short Course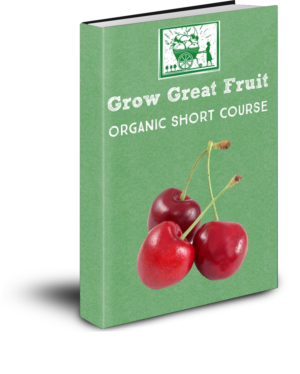 "It doesn't matter if you've grown fruit before or where you live – you can grow healthy trees that produce the most delicious organic fruit you've ever tasted."
Whether you have a single tree in the backyard, a whole orchard, or are a professional gardener caring for your clients' fruit trees – this is the perfect resource for you.
We've been growing organic fruit on our farm in central Victoria (Australia) for nearly 20 years, and have figured out how to successfully grow fruit in all weather conditions, manage pests and diseases the organic way (no chemicals), and build healthy soil without spending big $$ on fertiliser. Growing fruit is how we make our living, so we've had to make it work! This course puts our lifetime of experience as organic fruit growers into a short, 12 week course. It's a complete fruit growing system that will guide you every step of the way from the day you plant your first fruit tree, until you're harvesting bountiful crops of organic produce. We even show you how to grow your own trees from seed or cutting. We understand how hard it is to get detailed, practical information that you know you can trust. The truth is, there is much more to growing fruit than simply sticking a tree in the ground! But with the right advice, you can grow amazing organic fruit in just about any climate.
The Keys to Becoming a Successful Organic Fruit Grower
Plan the layout of your orchard or garden
Put the right protections in place against predators
Choose the right location
Choose the right varieties
Choose the right trees at the nursery
Prepare the soil
Correct planting techniques
Proper establishment pruning
Fertilize in a way that feeds your trees and builds your soil at the same time
Water at the right times, and the correct amounts
Control Disease
Control Pests
Control Weeds
Manage the growth of the tree with maintenance pruning
Thin Your Fruit
Establish good biodiversity
Pick at the right time
Store fruit properly
There's a lot to know, for sure. Have you already been through the pain of failure, of trees not producing fruit, losing fruit to birds, or growing tiny, diseased or poor-quality fruit? Does it feel like it would just be easier to leave it to the experts? WRONG! Growing organic fruit is only hard if you don't know what you're doing. But if you follow a proven plan, anybody can achieve great success with fruit growing. It's not that our system will magically bring only favourable weather to your garden, or make all the pests disappear. If you're a gardener you already know that we're all dependent on Mother Nature, and that like it or not she's going to throw some pretty wild stuff our way – anyone that promises you a system that is 100% successful is basically lying! But our system teaches you to anticipate bad weather, pests and other problems, and to use all of our proven secrets, tips and techniques to protect your trees and make sure you still harvest fruit every year!  It's based exactly on the system that we've used to get a good harvest every season over the last 20 years despite droughts, floods, pests and diseases.
Introducing the Grow Great Fruit Organic Short Course… The short course covers the deciduous tree fruits: apples, cherries, peaches, nectarines, apricots, plums and pears – that's what we grow on our farm, so that's what we specialise in. But because it's based on key principles of organic growing, much of the course also applies to other types of fruit, nuts, and even vegies. We've designed it to be simple to follow for the absolute newbie, but with enough detailed information to suit even professional gardeners who just want to brush up on their organic fruit growing skills. It's split into 12 weekly easy-to-follow instalments, each one a complete set of instructions for a different season. But you don't have to wait for the right season to get the information you need – in fact, you can get started today! You'll discover:
How to grow a hugely productive tree
How to prepare the soil BEFORE planting your tree
How to fix poor soil if your trees are already in the ground
The benefits of having a natural fertility system at work in your garden
How to identify predators and protect against them
How to prune your trees the first year
How (and why) to thin your fruit
How much water your fruit trees need (and when)
How to grow your own trees from seed or cutting
How to use the ancient art of grafting to create fruit trees for free
How to choose the right varieties for maximum fruit production
How to manage pests and diseases without chemicals
How to prune your mature fruit tree for ongoing productivity
How to prepare for and recover from droughts and floods
How to pick each fruit type at the ideal time, and then store it properl
Lots, lots more …
Join now and we'll also include our Organic Resource Kit FREE!
Get these 4 resources that fruit growers use to help them succeed.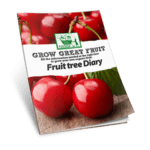 Fruit tree diary
Do you have trouble remembering from year to year what happened in your garden? One of the key strategies we teach is how to become a garden 'detective' – for example, if you can figure out whether your lack of crop was caused by frost or disease, you're half way to finding the solution! This is the perfect tool to keep track of your fruit trees, year after year. This is the tool that professional growers use to improve their performance, adapted to help you achieve the same success. You'll be guided how to monitor and record all the key dates and events in the life of your fruit tree.
Fruit tree garden planner
The Grow Great Fruit program is all about planning your garden so that it can provide you and your family with as much fruit as you want. This planner walks you through the process of planning your fruit tree garden to meet your needs, including:
deciding which types of fruit trees – and how many of each type – you need
choosing the right varieties for your garden, climate and purpose
designing your perfect fruit tree garden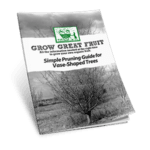 Simple pruning guide
Are you struggling to make decisions about how to prune your fruit trees? Do the trees in your garden look different to the ones in the gardening books you read? This simple pruning guide is set up for you to print and laminate, or to load onto your smartphone for easy reference whenever you're outside with secateurs in hand.
The 10 basic pruning principles that apply to every fruit tree and make pruning easy
How to establish 'vase'-shaped trees in your garden for ease of care and picking, and maximum productivity
How to prune young trees when you plant them to set your fruit trees up properly from the word go
Maintenance pruning – the 6 steps to keeping your established trees healthy and fruitful
Global climate zone maps
Deciduous fruit trees grow in the temperate zone of every continent in the world (except Antarctica) but some types of trees do better in some zones. No matter where you live in the world, this easy-to-use set of maps allows you to identify your growing zone and other factors that help to take the guesswork out of choosing the right fruit to grow in your area.
What climate conditions a fruit tree needs to thrive and produce fruit
Chill hours – what they are, and how they affect deciduous fruit trees
Climate zones, hardiness zones, and heat zones
Micro climates, how they affect fruit trees and how to create them to grow fruit trees outside their preferred zone
Money Back Guarantee
To show how confident we are in our course, here's our 100% 60-day risk-free money back guarantee:
Your investment is completely safe, because we offer a 100% guarantee. If at any time you're not convinced that the Grow Great Fruit Organic Short Course is awesome value for money (which we doubt), just email us and we'll give you a prompt and courteous refund. You keep all the FREE bonus gifts. You only pay for 1 week at a time. We use ClickBank, because it offers a secure and trusted payment system. We don't take your credit card details. Exact details of how to cancel your subscription and get a refund are available at any time on the Members FAQ page. NOTE: This is a downloadable product. This means there is no waiting for shipping and you can get access to the first e-class in minutes from now. You can order at any time, and you're also welcome to get in touch with us to ask questions about the course at any time (it may take us up to 12 hours to reply, depending on where you're messaging us from).