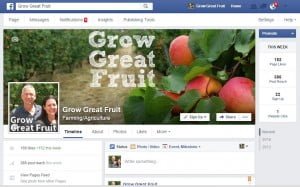 We've taken the plunge and started a new Facebook Page for the teaching side of our business. It might seem a bit odd that we'll be running two Pages (or even that we have two businesses, when they seem so similar), but over the almost 3 years since we've started the Grow Great Fruit program, we've come to realise that we really have two distinct groups of customers – those who want to grow their own fruit (we'll be bringing regular fruit growing tips to these folk on the new Grow Great Fruit Page), and those who want to buy organic fruit from us (who will get all their fruity news via the Mt Alexander Fruit Gardens Page).
Of course, the two groups overlap – a lot of the people who live close enough to the farm to buy our fruit are also interested in growing their own, but when we really thought about why we started teaching fruit growing, we realised we didn't want to limit ourselves just to teaching fruit growing to people who live close to the farm.  We remembered that we started the Grow Great Fruit program because we want the whole world to re-learn how to grow their own organic food. Our great grandparents knew all about growing their own food, and so did many of our grandparents. A lot of people of our generation have memories of a special fruit tree in a grandparents' garden…but their children don't!
It's kind of scary how quickly the knowledge of how to feed ourselves has been lost, and how much most of us now rely on supermarkets for our food. We might think we have a lot more food security than in the old days, but if our food supply chain gets interrupted, we only have a few days' supply on the supermarket shelves. In fact, many people face more food insecurity now than ever before!
A few years ago when we did our Sustainability Plan (which you can download for free) we decided that part of our mission in the world is to increase food security by teaching what we know – how to grow fruit! The more we read and hear about growing rates of obesity, disease and fast-food consumption, not just here in Australia but around the world, the more we feel like the best thing we can do is just teach the basic skills we have about fruit growing, because it's often just the simple stuff that can really make the difference between getting a crop each year – or not! The more we hear about the relationship between chemicals in the food system and health problems in the population, the more we want to tell everyone about the benefits of organic growing.
So, why two Facebook pages? Well, our teaching is based on giving people lots of regular, free, useful information, mainly via Facebook and our Weekly Fruit Tips newsletter. We know that there's lots of avid "wannabe" food growers out there, and that often all they need is just some simple tips, which we're more than happy to share.  But as this year we've been running our really successful trial of selling fruit on Facebook, it started feeling a bit mean that we were bombarding all those people who can't (or don't want to) buy our fruit with news about our markets and fruit specials.
So, we took the plunge and started the Grow Great Fruit Facebook page. We sort of figure people will gradually sort themselves out and make sure they're getting the news from the right Page for them (or from both!). Here's the link, hope you enjoy it.
(remember to "Like" the Page to see our tips in your newsfeed).