Hello there!
Did you get frost this morning, as I know several others did?? I've been wondering why I'm not heralding with joy this sudden drop in 20° (in literally 2 days) and it's because I'm missing my autumn. Not so selfishly, cos that's where my birthday falls haha!
But it makes it all a little bit more dicey out here at the patch. Thankfully Harcourt is slightly warmer than Castlemaine (hence why our tomatoes came a bit earlier and now they've conked it) and we get a bit more of a window/breathing space…when there's an autumn. Ah dear – I feel like I'm complaining…well I guess I am…
See, the thing is, we've got to have everything in the ground while it's still a bit warm and we've got sunshine and mildly warm days so the green babies get their roots settled and grow a decent amount before we have no sun and no warmth and if they grow, it's very, very slowly. This is an exciting but tricky part of succession planting, aiming to be as consistently productive as possible and finding 3 weeks in the space of 1.  Ha!
Sas and her dad have started ripping up our new patch, which we want to plant broad beans and peas into, so we have a bit more time to play with, but our current patch needs the swap-over now! Sas has been seeding up mega and our hothouse looks like an afternoon tea party – there's white tableclothes everywhere – trying to keep the white cabbage moths at bay. The roots are coming on, our winter greens are looking good, our experiments are looking good, carrots aren't even getting a look in…we might miss them. Spring flowers and bulbs, where we want to weed, try and keep the wombat's digging chaos at bay…Damn! If it's sounding hectic, bang on! You're correct!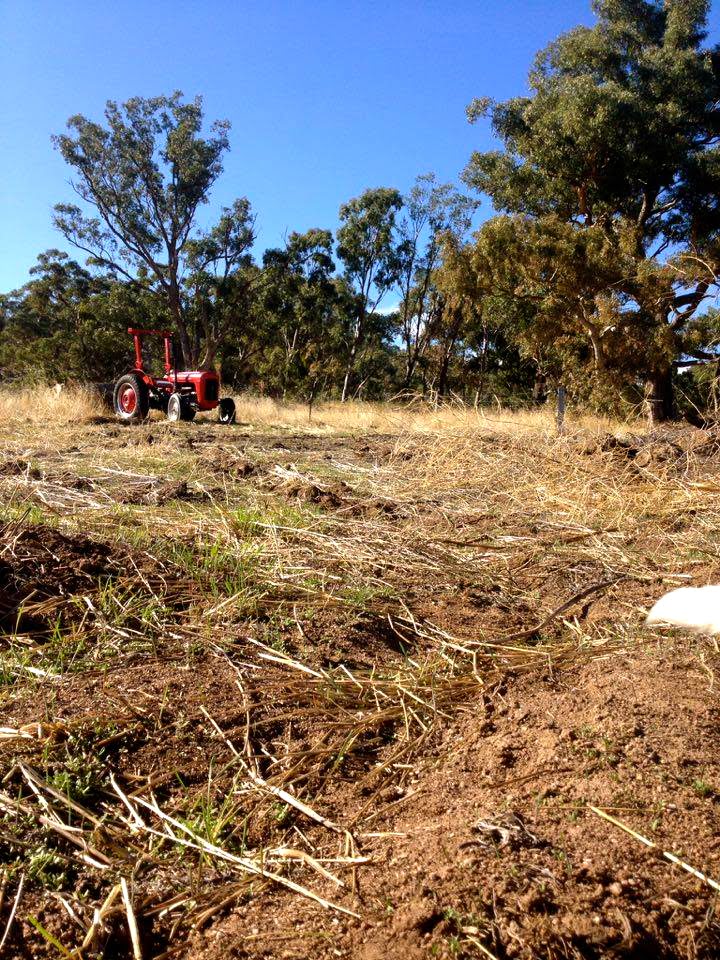 We will do as much as we can do, breathe, and enjoy the turn of season as it brings what may. The dew is something to behold (and means we don't have to water as much…), the summer deaths are beautiful against bright blue skies (I miss that colour when winter fully sets in), and in our brains we can switch over to the next 6 months…
We are still feeling good after our seasonal feast and seeing our produce go to family homes with a few boxes, local mouths through greengrocers, and finally the larger community through our local amazingly supportive cafés and restaurants. That's what keeps us going folks, so thankyou!
Stay warm!
Mel x