It might seem a bit late to be putting in a spring green manure, but better late than never, right?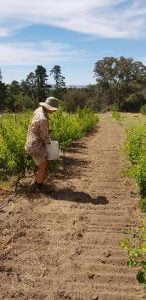 Sas figured out what seed we would need and how much, and I ordered it, and we were hoping it would arrive before all the lovely rain, but alas I was a bit late getting the order in, and we missed the boat.
The rain came and went, and the weather  seems to have settled into being consistently hot and dry now, but our soil desperately needs some love and attention, so we decided to go ahead and plant it anyway and rely on irrigation rather than rainfall to make sure it grows.
Here's what's in the green manure mix:
buckwheat
mung bean
French white millet
kidney bean
To make the seed easier to spread, Sas put it all in a bucket that was half full of clean sand…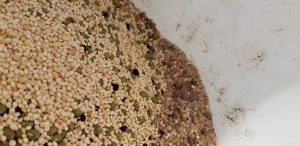 and gave it a really good mix…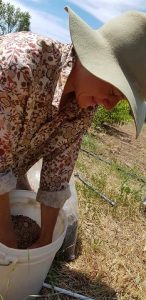 before spreading it. The area had previously been dug up with the rotary hoe and raked, and then Sas used the back of the rake to make a series of ridges down the rows to catch the seed as she distributed it. This method makes it a bit easier to lightly rake the soil back over the seed.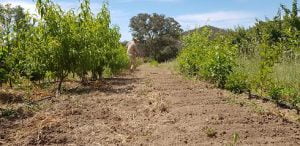 So, why a green manure? The nursery has three separate patches on the farm, and because of the nature of how a nursery works, each patch can stay in production for up to three years. But also, each year we need somewhere to plant seed and cuttings to grow new rootstocks.
To stop the soil becoming more and more depleted, we need to put some organic matter back into it, because the only input we routinely use is a bit of compost.
Unlike the orchard where ground cover is encouraged, the nursery is kept free of weeds to reduce competition for the baby trees, so it's really important to keep the soil fertile by adding extra organic matter.
A green manure is the perfect way to do it—even if mid-summer is not the perfect time! Our seed mix included mung beans to add nitrogen to the soil and build organic matter, buckwheat for fast growing bulk and phosphorus accumulation,  French millet because it's a fast-growing grass that combines well with legumes, and kidney bean because it's another nitrogen fixing legume.
Luckily we have the benefit of an irrigation system already in place, so we'll use a bit of water to get the seeds up and established, before we turn them back into the soil to work their magic in autumn, ready for planting next winter.