Grow Great Fruit Program
Save 45% off
​Premium Annual Member­ship!
Finally, the fruit tree course you've been waiting for…
You've got fruit trees, but you're not quite sure how to look after them, right? You don't always get fruit, and when you do it's often spotty or gets eaten by pests.
Your trees are unhappy, unhealthy, or don't grow properly. You worry that you're pruning the wrong way.
You're sick of feeling like you don't know what to do, and endlessly looking for reliable information you can trust.
We hear you!
The Grow Great Fruit program is a step-by-step system that will show you in just one year how to get a lifetime supply of fruit from your garden.
Learn how to keep your fruit trees happy and healthy, year-in, year-out.
You'll never feel overwhelmed; the course rolls out gently through the year, and we're there every step of the way to help you.
✅ Seasonal, weekly e-courses for 52 weeks of the year (Value $1,560)
✅ Diaries and planners (Value $197)
✅ Fruit Tree Database (Value $497)
✅ Pruning Guide (Value $97)
It also includes the following BONUSES:
✅ Bonus 1: Masterclasses with experts (Value $149)
✅ Bonus 2: Monthly Q&A recordings (Value $247)
✅ Bonus 3: Tech Help Desk (Value $297)
✅ Bonus 4: Members Forum (Value $147)
✅ Bonus 5: E-Textbooks (Value $149)
✅ Bonus 6: Interactive workbook (Value $97)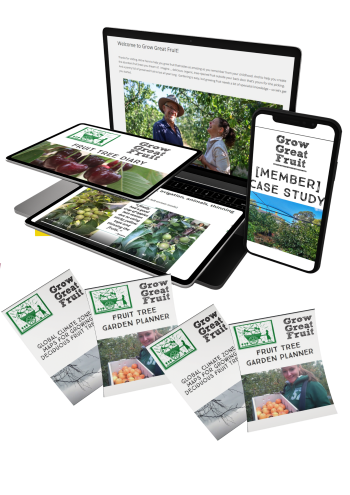 Our Premium Membership Also Includes:
✅ One-on-One Coaching with Hugh and Katie
​(Value $1,797)
​✅ Welcome questionnaire and introductory consultation (Value $297)
​✅ Priority Help Desk (Value $247)
​✅ Hard copy workbook (Value $47)
​✅ Live access to our monthly Q&A sessions
​(Value $247)
✅ Live access to Members' Forum
​(Value $247)
​✅ Immediate access to full year's content
​✅ Free access to our entire short course library
​(Value $997)
Total Value = $7,316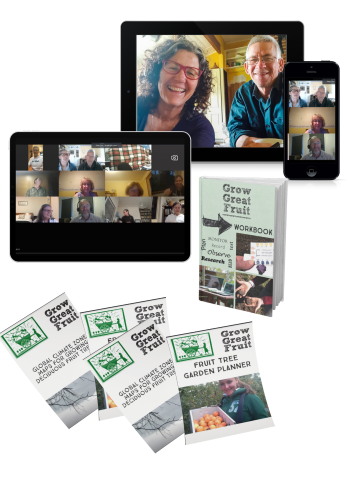 Grow Great Fruit Program – Premium Offer 2023
$1,798.00 incl. GST / year
Fast-track your way to fruit self-sufficiency
As a Premium (Annual) member, you'll get immediate access to our Members' Home Page where you'll find user-friendly resources covering every fruit-growing topic you can think of.
Weekly classes, masterclasses, textbooks, tools, a database, and a Workbook are just the beginning.
Best of all – you get direct access to us!
Join the supportive, friendly, and encouraging Grow Great Fruit community. Get your questions answered in the exclusive Members Forum, live monthly Q&A sessions, and one-on-one calls whenever you need them.
The Grow Great Fruit program will support and empower your journey to becoming a confident and successful fruit grower in just 12 months.