The concept of hope is too passive for farmers. We can hope that the weather will be perfect, that our soil has all the right nutrients to grow a healthy crop and that the kangaroos won't jump on our tomato seedlings, but hope alone is not enough. We have to cultivate a proactive active kind of optimism, perhaps a foolhardy kind, one rooted in thoughtfulness, knowledge, a healthy dose of finger crossing and action.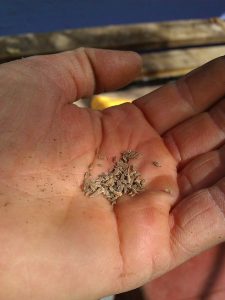 This week we had beautiful (if a little abrupt and severe) rain to soak the ground. Along with that rain which came in horizontally through our shed window and after three hot and humid weeks, we have lost half of our garlic crop to rot (feel guts sink and tears fall at this point). It could have been much worse, and given the strength of the winds, all our tomato trellises are still standing. We'll clock that as a win.
The hope of a farmer is in the tiny seed she plants, hoping that the beauty and strength within that tiny speck will be unlocked to grow and reach its full potential. We never know if it will, but we do all we can to help it along.
May your solstice and festive season be restful and full of beauty. May your new year be like a seed planted, full of hope and wonder waiting to be realised.
Grow well