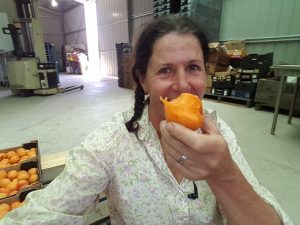 This season we are having one of the busiest, most productive fruit seasons we've had in years, and people keep asking us why….
The truth is, we're not sure! It doesn't come down to a single factor, but a perfect mix of everything going right, for once—and you don't hear farmers say that very often! (I was going to write 'perfect storm', but despite the fact that we've had two major storms this year, we've escaped with no major damage.)
Considering that our new intern Ant joined us at the beginning of December (you can follow his new Facebook Page here), the fact that December and January have been among our busiest ever has been both good and bad.
It's been a bit of a trial by fire for him—getting thrown immediately into the 6-day a week, 10-hour a day kind of craziness that is the fruit season—but on the other hand, at least he's seen it at its peak, so he'll know what to expect next year. If he'd started his fruit-growing journey in a quiet year (like we had last year) he wouldn't have known what hit him next season!
Though a big part of this year's success is just luck with the weather, it's also partly the culmination of many years of hard work. We've had a replanting program for the last few years and many of those trees are finally coming into full production, we've been steadily working on improving the health of our soil, and we've been building up the on-farm biodiversity that's so important to keeping pests and diseases in check.
Plus, we managed to get all the spring sprays on at just the right times, which is so important for preventing key diseases that can be devastating.
It's incredibly satisfying knowing that we're bequeathing a healthy, productive orchard to Ant when he takes over next year, and fingers crossed that he has an even BIGGER season in 2019!