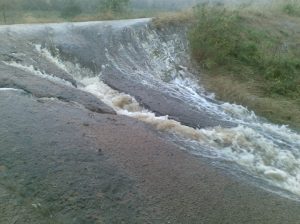 We're in the middle of our annual review process, and got talking about how far we've come in the last few years since the flood in 2011.
In the dry years we've had since, it's easy to forget what it was like, so to remind you here's a shot of the water flowing over our dam wall.
An amazing amount of water flowed through our farm in a very short period of time, and inevitably, it did lots of damage.
One of the worst of the outcomes from the flood was that our cherry orchard died. This is what a dying cherry tree looks like:
However, despite this being a major setback we decided to stay on the farm, and as part of the recovery process decided to build a new packing shed, which we got up and running by the 2013/14 fruit season.
You'll probably recall that this time last year we were holding working bees to build the new farm shop in the shed, and create a gorgeous garden outside.  This is what it looked like as we were building the beds for the new garden: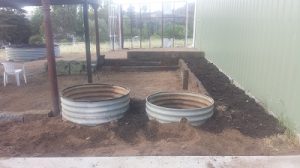 And here's Hugh holding a workshop just outside the shed in the garden: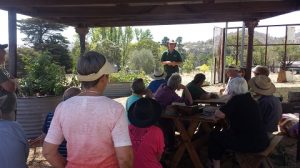 We love having the shed and really appreciate the efficient work space it's given us, as well as the beautiful garden and outdoor workshop area that many of you helped us build.
So we were a bit shocked when we were going through our review and realised how much we now take it for granted! It's interesting that as soon as we've achieved a goal it's so easy to immediately look forward to the next challenge – we're not always very good at stopping and noticing how far we've come.
So this week we want to stop for a moment, celebrate our achievement, and remember where we've come from when we just had an empty paddock and the dream of a shed. Here's the slideshow, hope you enjoy it.