Around this time a year ago, I was just about ready to throw up.  I was full of nervous anticipation, and had written, and was rehearsing, the acceptance speech for the Rural Women's Awards, "just in case" I was lucky enough to win. We stayed in Melbourne the night before the announcement, and I can remember being in our hotel room feeling absolutely sick and getting a pep talk from Hugh – he told me just to assume I'd already won, so that I'd be completely ready when my name was called.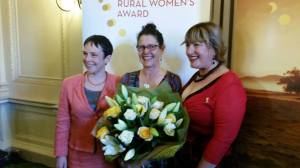 Amazingly, he was right, and when my name was announced I reckon I fooled everyone into thinking I felt confident. Now, 52 weeks later, I'm writing my speech for the ceremony on April 14 where I'll hand over to this year's winner. So technically I'm only on the job for another couple of weeks, but it's had such a lasting impact on my life that I'm not expecting things to change too much after the announcement.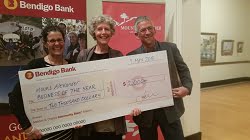 For a start, I'm very aware of the investment that RIRDC (Rural Industries Research and Development Corporation, who run the Rural Women's Awards) have made in me, particularly by funding me to do the AICD (Australian Institute of Company Directors) course. I figured that seeing as how I passed the course, I'd better use it, and so I've just accepted a role on the board of the Maldon and District Community Bank. I know a sum total of nothing about the banking industry, but I know lots about community, so I figured it was the perfect opportunity for me to put my training to use, get some new skills, and learn about something completely outside my normal life.  Except it's not, is it? Unless you live under a rock, banking and the financial sector actually has a big impact on us all – and what attracted me to the community bank model is that it was set up specifically to return the profits (made from OUR money) directly back to the community – banking with heart!(I sound like a slogan, I know, but I'm actually really excited to learn about it!)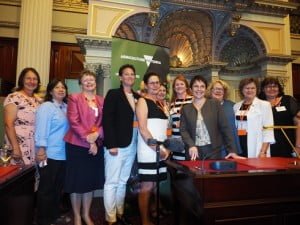 So that's one of the more concrete things to have come out of this year, plus the fact that as part of the RWA alumni, I am now part of a community of women who get asked their opinion about stuff, like at the recent Women in Agriculture Forum held by Victorian Minister for Agriculture Jaala Pulford, where past RWA winners were well represented along with lots of other rural women leaders and emerging leaders. There was a lot of discussion at the Forum about how hard it can be for women to find the confidence to step up and find their voice, and that's one of the main differences I feel from this time 12 months ago. Directly after I won the award I suffered from a big dose of Imposter Syndrome, feeling terrified that someone might find out what a complete fraud I was!  That feeling still pops up at times (like when I find myself invited to Parliament House, for example!), but I can now recognise it and put it back in its box where it belongs, so I can get on with the business at hand.
Of course running my project has also been a big part of this year, and I've learnt lots about both project management and about the topic (using social media to connect farmers at farmers markets directly to their customers). It's yielded some interesting results and is still ongoing. Two of my big passions are farmers markets and farmers using social media to improve their marketing, and the chance to work on a big project around it was why I applied for the award in the first place.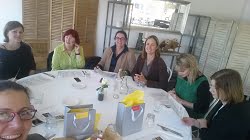 What else? Along the way I've also had lots of opportunities to inflict my fledgling public speaking skills on unsuspecting audiences, I've been to numerous conferences and forums, and I've made some really great contacts and friends, particularly with the other RWA state winners.
But I think the most important part of the whole experience has been an internal one (inevitably). It's hard to articulate, but I think I feel different now because I've been treated like a leader all year, by everyone I've come into contact with as part of the award, from the wonderful people at RIRDC and the Dept of Economic Development (who help run the award) to the Minister of Agriculture.  They've all seemed to assume that not only did I deserve to win the award, but that I'd have the skills and qualities I needed to manage everything that was asked of me along the way – and that's been a very powerful and transformative process.
And do you know what? I think they were right!
---
RIRDC Victorian Rural Women's Award
My project, called "Farmers Markets Building Communities" has been made possible by the Rural Industries Research and Development Corporation (RIRDC) Rural Women's Awards.