Well, happy October everyone, and isn't this the most perfect spring weather – warm sunshine, lil bits of rain, choruses of birdsong and then cooler nights.  The mozzies are out and the bees are too.  It's all on! But it feels calm and beautiful, not like the dry, hot and dusty summer!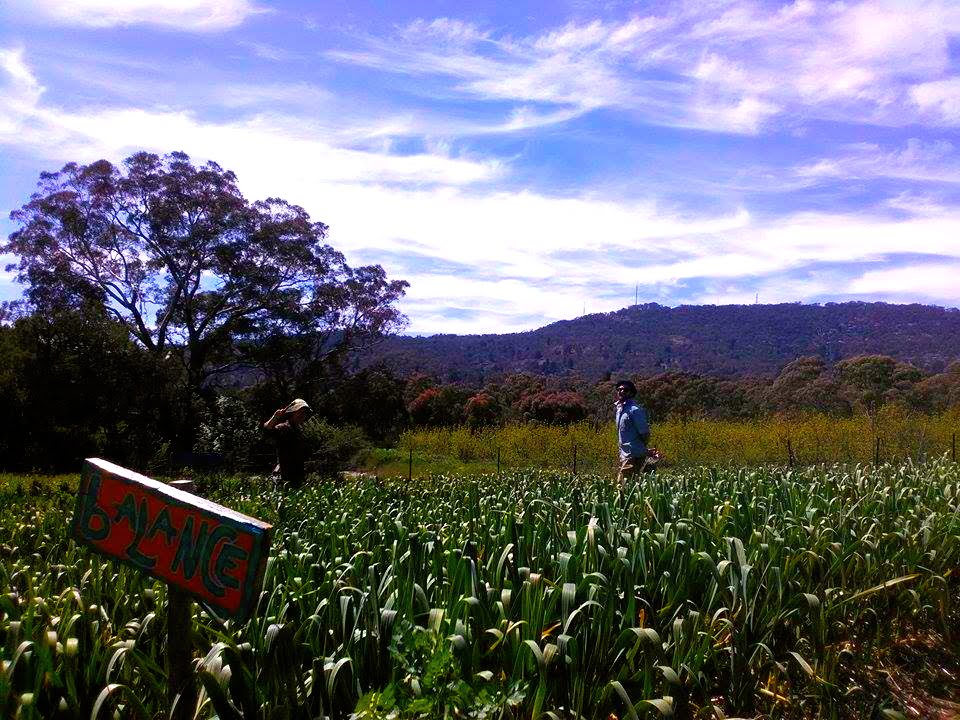 However, out at the patch everything is ON! It's the turn of the season for us, the warm air and soil tells the plants its time to flower and set seed, and we need to prep beds ready for our first successions of late spring/early summer plantings for our local community! It's wonderful to be working in the sunshine and its a great time to open up the place (when we're not working) so people can come and have a look at what their garlic looks like in the ground and the currently grassy/weedy 1/4 block which in 1 month (eeek!) will house the tomatoes and eggplants, capsicums, potatoes, melons, pumpkins, corn…the list goes on!! 
A few weeks ago we had our first 'open day' and it was a roaring success! We were so blown away with the interest and support from the wider community in our humble patch.  I reckon we had 50-80 peeps through the gate to have a gander and walk around. So nice for Sas and I as that's one of our visions for our space – to have it as a welcoming place.  There were scones devoured, questions asked, information sought and seedlings taken home. Thanks again to everyone who helped beforehand and during and everyone who made the trip out!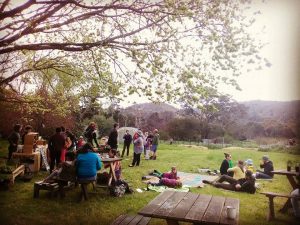 Another exciting tidbit to share is that there is movement with the Harcourt Organic Farming Alliance…here's a wee story and article that Rural ABC came and did last week.
http://www.abc.net.au/news/rural/2017-09-29/organic-coop-combines-vermouth-and-dairy/8999866
Pretty exciting to introduce Tess as the new dairy queen who is beginning building her things this month, wahoo!
Due to progress with the alliance, Sas and I have been motivated to plant more trees…it's pretty novel for us market gardeners to plant something ONCE, and we've enjoyed it immensely.  In the ground are oranges of a few varieties, Tahitian limes and elderflowers. In the future we want blood oranges, grapefuits, lemons, pomegranates, and some more natives.  All of these are creating for our new block edible shade and wind breaks.  Winning!
We've also moved our geenhouse (thanks chuffed!) onsite and it's working a dream. Sas has set up automated watering systems and has planted thousands of green babies that are poking their heads up already. It's really heart warming to see!
As there is SO MUCH to always do (at any time of year really) as everything grows so quick, including grass and weeds, our mental health and anxiety levels are doing pretty darn great I reckon. We're looking after ourselves and each other and we've got a beaut mob who surround us too.  We also make sure we have some off-farm fun time and exercise other elements of life we enjoy – aka silly buggers, music and dog boxing…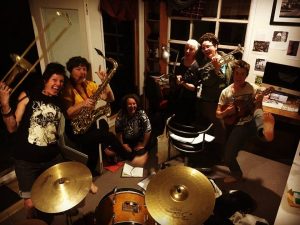 I think this is important for us in order to keep the passion and still work really hard. We know the crazy 6 months have begun and we want to do the long yards…so we're practising breathing, laughing, appreciating the beauty surrounding us and taking life lightly. Cos really, what else can we do?
Grow well and go smell a blossom or two.
Mel xx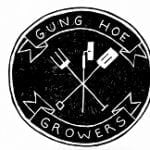 Gung Hoe Growers
69 Danns Rd Harcourt