Well, don't you love how nature runs by its own clock, not our boxed squares of dates? Spring has certainly begun to unfurl but with the hail, threats of snow, and icy winds you'd never think it!! We are watching with wonder the splendour of bulbs and flowers breaking through the grey skies! And brassicas happy with life as you can see…!!
Sas and I are busy out at the patch weeding before it gets out of control, but mostly turning our attentions to the new patch that we had made up and Yeoman ploughed in autumn, thanks to Dave Griffths.
We need to make sure the soil has as much as it needs, so when we put the plants in there, they have enough food to grow us delicious tomatoes and tasty eggplants, and corn, melons, lettuce, potatoes…the list goes on (but I'll leave some as a surprise 🙂
Our soil is old, no wonder really, and its still got some structure, but not very many of the essential nutrients and minerals that the plants need. It takes time to build soil that holds these nutrients and getting it to a point of balance where they coexist on their own is our long-term plan and what we began in the first patch from day 1. And so it goes with this new piece of land too, but we don't have as much time! So we have been researching the best ways to feed our soil with local, organic (or to standard) materials…this is tough!! (Steve Solomon's book The Intelligent Gardener goes into way more detail!)
I (Mel) am most excited about installing some kind of fertigation system that we install at the main tap of our irrigation lines. Very basically it means we can administer liquid forms of goodness to the entire area with the turn of a tap, rather than by hand via a watering can. Hunter Harvest's Kat is making us an appropriately strong dilution of her collected rabbit poo (very high in nitrogen) tea. The rabbits names are Alice Cooper, Willie Nelson, Norman, Jerry, Daria, and Quinn. They eat organic feed and sometimes our weeds and live an incredibly happy life.
​There's also other activities brewing up here in Harcourt – of course one of the major ones is this! Please share it high and wide! (see picture below!)​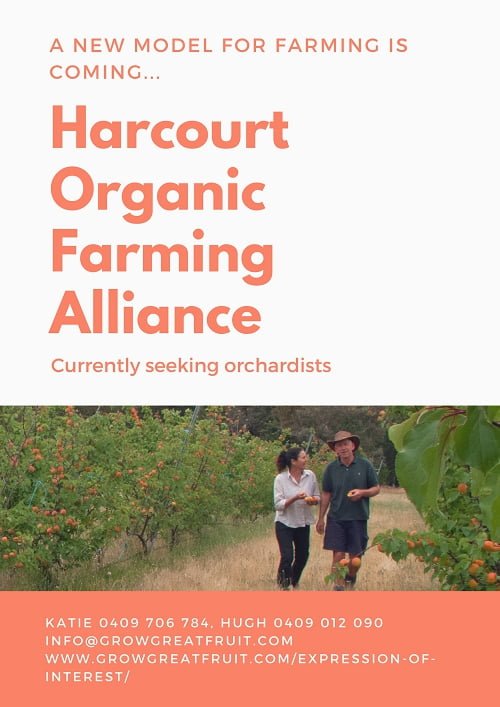 We are also trying to get ready for a bumper season by putting the call out for rubber bands! We don't want to buy them as we can't find any rubber sources that we ethically agree with and they take forever to break down…currently we're using Mel's Mum's stash but it's quickly running out! SO, we're happy to take any you don't use off your hands! We have set up a jar at 'The Local' as a collection point (thanks legends!), let the re-using, recycling begin…
Finally! Gung Hoe Growers are having an open day! Sunday, 24 September, 10 am-12 pm. We're hoping there'll be some blue skies we can sit under, share a cuppa and cake as we meet each other looking onto the patch and apricot blossoms! It will be your chance to pick up Chuffed perks, see your perks in action (not naughty, promise! we've painted our row signs!) and preorder garlic for Christmas as well as order T-shirts and grab any left over teatowels. WOW! Please click here for all the details.
Now that you're fully informed, go outside and feel the fresh wind on your face and breathe deep.
Grow well, Mel & Sas x