For the last 8 years I've had the rare and special privilege of visiting a remote community in northeast Arnhem Land called Mapuru, and getting to know the community there. As my body readjusts from daily tops of 34° to the central Victorian winter frosts again, I take a moment to reflect on my limited understanding of the relationship to food and place that I have experienced in the community there.
When we talk about 'local food' in the cities and hipster circles, it's like it's a new concept, something funky and edgy and somehow morally righteous. But we are seriously behind the times! If we want to learn about truly local and sustainable food in this country, then we need to learn from the indigenous people of our country who hold 60,000 years of existing experience, research, management and knowledge of local food.
The majority of the food we grow in Australia today is food of another land and climate. We've adapted them to grow here and suit the exotic tastes of our ancestors' original homelands, but there is a huge diversity of food plants that already grow here and are native to Australian soils and climates that have been cultivated and eaten for thousands of years.
I can't speak for my ancestors' relationship to plants, growing and food because I am so many generations removed from them and that land, but my sense is that in modern times our relationship to food and the growing of it has become fairly superficial. Its about mass production and selling, about nutritional values and calorie counts, markets, transport and storage….
Over the years as I've been tip-toeing through the mangroves, sitting by the estuaries and walking through the forests around Mapuru, my adopted mothers, aunties, sisters, children and cousins up there have shown me and patiently tried to teach me another way of relating to each other and to Country. For them there is no separation between distinctions of plants, animals, places and people. Everything is connected in a vast and intricate web of kinship and relationship. An example of this is walking through the pandanus forest with my sister, axe in hand, bare feet stepping quietly and gently over the dried spiky leaves on the ground and her telling me gently how I am related to that place: "This place, you call it waku (son/daughter); that gunga (pandanus tree), you call it mari (grandmother); that green ant, you call it dhuway (husband); and that dog, he's your ngapipi (uncle)."
After 8 years of getting to know my generous, patient and good humoured adopted family in Mapuru, the kinship system is something I am only just scratching the surface of understanding. It is so vast, all-encompassing and deep that we really have nothing to compare it to or understand it by in our Balanda (western) brains. But what I do understand is that it immediately connects every person to every other person and every other creature and thing on the planet. That connection is one of kinship and with each particular kinship relationship comes certain responsibilities and ways of caring for that family member. This includes the food that is eaten and the way it is cared for, cultivated and shared. It has ensured that over 60,000 years the land has been intricately cared for as a mother, sister, aunty, brother, grandfather, and uncle and in turn it has provided food and shelter to countless generations.
If I started calling carrots my grandmother and cabbages my child, most people around here would think that I was a sandwich short of a picnic, but I think there is some fundamental wisdom here for us to learn from. If we could even begin to just treat one thing—the soil—with the nurture we would give our own child….imagine.
Sas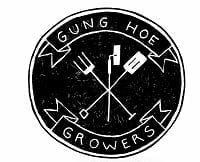 Gung Hoe Growers
69 Danns Rd Harcourt