Hi Everyone,
I love coffee. I love it because its similar to good food, it brings people together. Sas and I often meet for a caffeine hit in town before we start our big days at the patch, and it gives us some down time before we 'smash it' for the day. One of us usually asks the other, "Is it a two coffee day today?" The response returned is a smile…and 'oh, why not' dare I say with a slight air of indulgence!
The reason I'm airing our morning habits is because we are starting to make our coffee time a nonwork talk time. A time for us to be friends, hear what's going on underneath all the day-to-day goings on in life, and meet each other in that place. And laugh! It's not a place for us to talk about to-do lists, what we're behind in, what we want to achieve that day, all the new ideas, the logistics of picking, weeding, working, selling, building, appreciating, enjoying….etc. etc.
We both like to work, and sometimes life goes through those chapters where if you stop you feel like you will never get up, so you just keep on going. Victoria (Katie and Hugh's last intern – we miss her!) had lunch a few weeks back so we joined in, and oh my! The difference it made! To stop, hang out for half an hour, talk about different things, wow, I will blab on about the theory, but I'm not great at the practice – of stopping and breathing and letting the to-do lists rest for a moment.
So, in the ever-learning process that happens with us at the patch, we are trying to bring back a bit more of the joy that hold us when we grow food. Also, when we work in the dirt, see people eating and excited by real food that we grew, when we share skills – and learn them too. And not just dig holes.
We want to nourish each other just as much as we nourish the worms and greens and the flowers and the fences and the trellises…!!!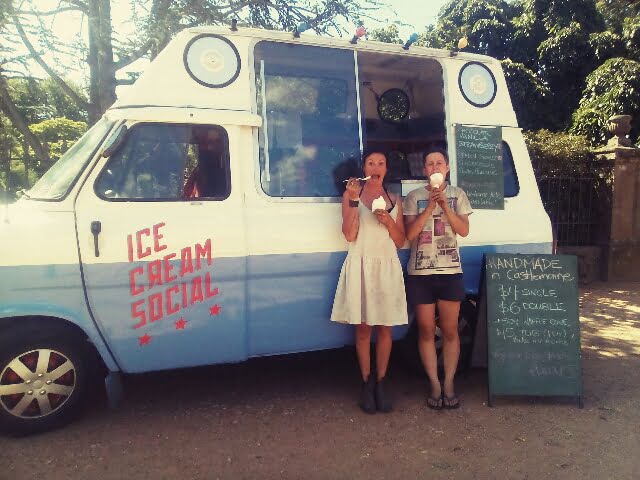 Thank you for all the support out there. We will be back bright-eyed and bushy tailed (and not too shaky from coffee time) next year!
Grow well
Mel and Sas