Buds are starting to swell and seeds are beginning to germinate…a call to action in the heritage fruit tree nursery. Merv has been busy preparing the soil in the new nursery patch. Katie has been busy selling the last of the beautiful fruit trees that we grew before they come out of their winter sleep and need to be planted in the ground properly again. But now that our saved apple, quince, pear and peach seeds are starting to shoot, its all hands on deck.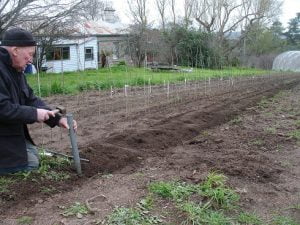 This week we planted our cherry rootstock and acquired some compact apple rootstock varieties to experiment with. Along with grafting the cherries in September and budding the apples we're hoping to experiment with creating a 'stool bed'. Katie and I haven't ever done a stool bed so we're excited to learn this technique from Merv. A stool bed (from my limited understanding) is a way of trench layering a 'mother plant' in order to grow multiple root stock trees from a small number of 'mothers'. This is important for cherry rootstock, which don't grow readily from seed, and special varieties of rootstock, which you want to multiply true to type.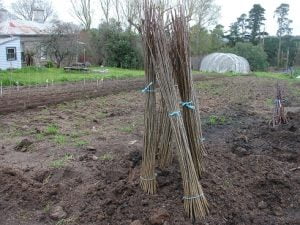 The plum cuttings are starting to 'heel up' (grow a heel/scab over them from which the roots will sprout) which means we'll plant them out soon . The apple, peach and quince seeds are sprouting so we've begun to plant them out in rows. These we will grow up over summer and 'bud' in February with a number of different varieties for sale the following year.
We have also been cutting back the trees we budded last February, to the bud union. These trees (see pic) with different colored pipe cleaners are the plum rootstock we budded multiple varieties of plum and apricot onto. Another experiment, which so far seems to be going well…as long as we can keep track of which branch has which variety budded onto it!!
Soon it will be time to sow our green manure crop in the resting nursery patches and sow some more citrus seed in the hot house (yet another experiment). Most of the rootstock we grow, except for our experiments with cherries, citrus and small apple rootstock, we have grown ourselves. We either collect seed or take cuttings to create them, and like Merv always marvels, "it doesn't cost you anything"! There is a lot of time and care that then goes into turning that seedling into a good fruiting tree, but Merv's right, it doesn't cost you anything to give it a go!