Earlier this year we received a somewhat straightforward email from a guy called Sven. I may be showing my ignorance here but my first impression was that his English was very good. We arranged a time that would work for us for him to come out for a few hours; he was true to his word, turned up, helped us cart cow poo down to prep beds and then planted broad beans and peas. Somehow throughout those few hours we figured out his name was Marty, not Sven. He seemed nice enough and I was interested to hear about how he ended up in this part of the world and why he wanted to spend time with us. He turned up the next week, and the next and said his partner Cara was also keen to come give a few hours…the rest is history. These two came along "right when we were both feeling totally exhausted and lifted our spirits." (Sas quote).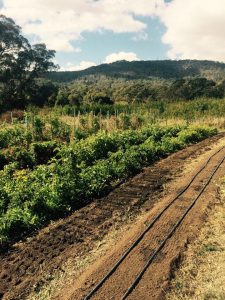 Having these two on the farm has given Sas and me so much laughter, joy and what feels like new energy. At least one of them comes every week (along with Cohen) and its a true transfer of time, knowledge, skills, food (we share lunch and morning tea), smiles, bad jokes and education. We learn lots from them too, true story. They have shown us that people do CARE, want to LEARN, are MOTIVATED and that there is HOPE. Though I think the biggest thing actually is that they have become good friends. We share a lot in common (maybe not hat styles) and love hearing their opinions, experiences and points of view.
I hope that they never underestimate what richness they give us all by being a part of what is happening out here in Harcourt and simply by being their own true selves; no casual feat and something I wholeheartedly admire.
Marty asked us if they could do our next blog entry, so of course we said yes please!! So here it is. I may have shed a tear or two…
Grow well, Mel (and Sas) xx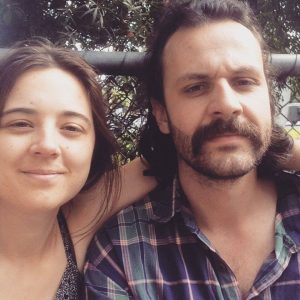 Marty:
The ute drives down the driveway, dust and gravel flying up in the rear view mirror. Morning is beautiful in this part of the country. The sun slowly shines through the gums and wattles, lifting the frost and leaving a gentle mist. You may be asking, who are you? And why should we care? My name's Marty. I moved from Footscray at the end of last year to live in a van and learn to live more connected to nature and people. My partner and I got rid of nearly everything we own and jammed whatever we had left into our ute, waving goodbye to city life. This has been a year of learning and transition for both of us.
We spent a few months in Metcalfe helping out at a Market Garden. Once that fizzled out, I offered to start helping out Gung Hoe Growers as part of a non-monetary exchange for food. I have an arrangement where I help for a few hours a week and they give me a generous box of veggies. My intention was to learn about what these lovely people are all about. It would be somewhat strange to explain just how much I love them all.
So I will just focus on how this whole experience has affected my life. I have received knowledge about growing food, understanding the land, responding to the environment. I have made new friendships with genuinely like minded people. I have a rejuvenated hope for the future of a world dealing with climate change. I have found a meaningful grass-roots revolt against oppressive food systems that are ruining the planet and people. I have found a network of creative musicians, beatniks, poets, artists and friggen' legends. This farm is so much more than just a way for me to spend my Tuesday mornings, it has made me feel at home.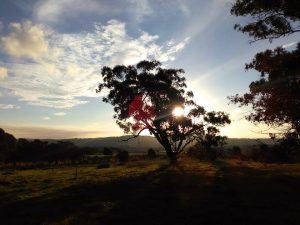 Cara:
Bumping down the driveway in the ute after a full morning working with the Gung Hoe gals, soil compacted under my fingernails and a sense of muscles I didn't know existed, I feel elated! The sleepy cobwebs of the early start have cleared and I'm humbled by the generous, warm and tough as nails spirit of everyone at the farm.
Hauling wheelbarrows of soil and hay to prep new veggie beds, I laugh at my ridiculous incapability as Sas basically single-handedly carries weight that I cripple under! Wrestling with dock and mallow, I smile at Mel's genuine excitement at spotting worms as we disturb the soil! Scally visits with sticks, coyly begging that we play her game. As the sun lifts up over the mountains, we squat in amongst a row of over-run brassicas, carefully picking out weeds, feeling the plants sigh with relief at their new-found growing room, the delicious smell of damp soil and foliage. We move down the row clearing the weeds like a conveyor belt, five of us working like a single body, 10 hands sharing the load, squatting, shifting down, squatting, buzzing with talk of music, art, food… I meditate on our connection to the ground, to our food, to each other. Being out at the farm is nourishing in more ways than I can describe.
In the ute on the way home, Marty and I banter on excitedly about what the co-op are doing and how good we feel being there! I've discovered this year that growing food is an epic feat! It's not a job you half-heartedly walk in and out of, and take leave when you please. Working alongside the co-op has highlighted for me that there needs to be a shared investment in local food. My pessimistic view that our current food system is not sustainable is countered by an optimistic belief in the action and commitment of the folks at Harcourt.
—