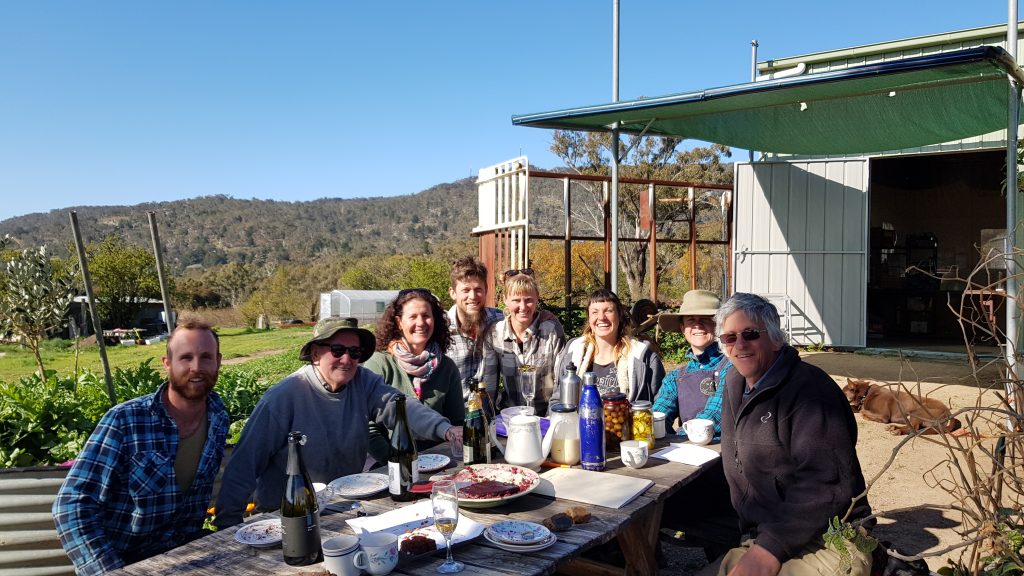 We've signed the leases! It took 3 months of negotiation and not a little angst, but all 4 founding members of the Harcourt Organic Farming Co-op now have a lease at the farm. (In fact the leases all started on 1 July, it just took another 3 months to work out the details and get the paperwork signed!).
All the leases are for 3 years, with the option to extend them for 2 more 3 year terms (i.e., 9 years altogether). They can also opt out at any 3 year mark, so it gives them a chance to try it out without making a huge commitment.
Next step is setting up the co-op, which is the part of our big plan that should help each business to save time and money by working together.
We've started a "Business Ninjas" program to help members run lean, profitable businesses and financially "future-proof" themselves, but also to come up with a cunning plan to protect us all against the many risky things that can—and do—happen to farmers.
The other main project underway is the RDV-funded project to provide the infrastructure our farmers need, which is now rapidly taking shape—the containers have been found and bought, the concrete footings were poured this week, and we hope to take delivery of the containers in the next week or so.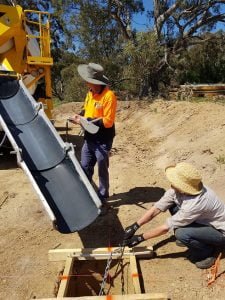 There's loads of interest in what we're doing—we've already had a number of people wanting to visit and talk to us about what we're doing, which is so great and definitely part of the point of what we're trying to set up.
We don't know much yet (including whether this experiment will actually work), but we're happy to share our experience so far.  And we certainly understand why people might be interested in this model, because there are just SO many potential benefits:
A succession plan for older farmers like us who want to step away from active farming, but don't want to sell up and want their farms to stay in production.
A productivity plan for farms—our model aims to 'stack' as many compatible enterprises onto the same farm as possible (similar to the Joel Salatin model, but each enterprise is run as a separate business).  Multi-enterprise farms are more resilient, and can produce more food and make more money, but unless you have a large and enthusiastic family it's beyond the capacity of most farmers to do more than a couple of things well. This way each enterprise gets the passion, dedication and time it needs to become as good as it can be, and it also creates a livelihood for many more families.
An affordable and supported pathway into farming for young farmers, many of whom don't have sufficient capital to buy land, or experience to start their own business. This model gives them access to land without taking a massive financial risk, while at the same time giving them business support to help fast-track their business skills.
Mitigating climate change by increasing the amount of farmland being farmed organically, which puts more carbon into the soil.
Increasing the amount of locally grown food that's accessible straight from the farm for local families.
Creating a supportive peer group for the young farmers, where they provide emotional and practical support for each other, plus lots of opportunities to collaborate to help improve each other's businesses.
A chance to share our knowledge and expertise with the younger generation of farmers.
While we're really happy to share what we're learning, time means money, and though we'd love to drink tea and chat all day we've also got work to do! So we're thinking about the best way we can share our model without it taking too much of our time—stay tuned on that one, we'll let you know when we've developed our cunning plan.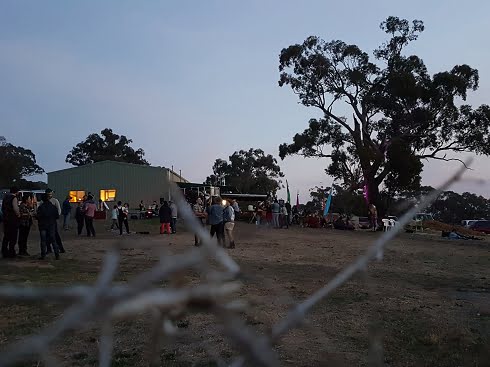 Meanwhile, it must be time for another party, so we're holding our official launch and farm open day on Sunday October 28.  Things get started at 10 a.m. with morning tea, then the farm tour will kick off at 11 a.m. where you can see and hear about
Carr's Organic Fruit Tree Nursery
Sellar Farmhouse Dairy
Tellurian Fruit Gardens
Gung Hoe Growers market garden
Grow Great Fruit education program
Mt Alexander Fruit Gardens heritage apple orchard
the infrastructure hub we're building
It's a free event, but if you're coming please register here so we have an idea of the numbers. You'll be able to buy scones, cake and drinks for morning tea, and soup and bread for lunch, and will also be invited to make a donation to help us with running costs (suggested donation $10). Please DON'T bring your dog (unless it's on a lead and/or can stay in the car) or ANY fresh fruit or vegetables onto the farm (because we're on fruit fly lockdown).