Leaf curl is a nasty fungal disease that affects peaches and nectarines, but it's often confused for other things (well, other things are sometimes mis-labelled as Leaf curl).
There are other things (both pests and diseases) that can make leaves curl in other types of fruit trees, but this particular pathogen only affects your peach and nectarine trees.
If you get a bad case, it can even affect the fruit, and really bad cases will make the fruit fail and fall off while it's very small, before it gets a chance to grow.
Here's a photo of a nectarine that's been affected when we had a particularly bad outbreak here on the farm – notice how similar the disease looks on the fruit to the disease on the leaves, with the same rough, raised texture and the red colouring.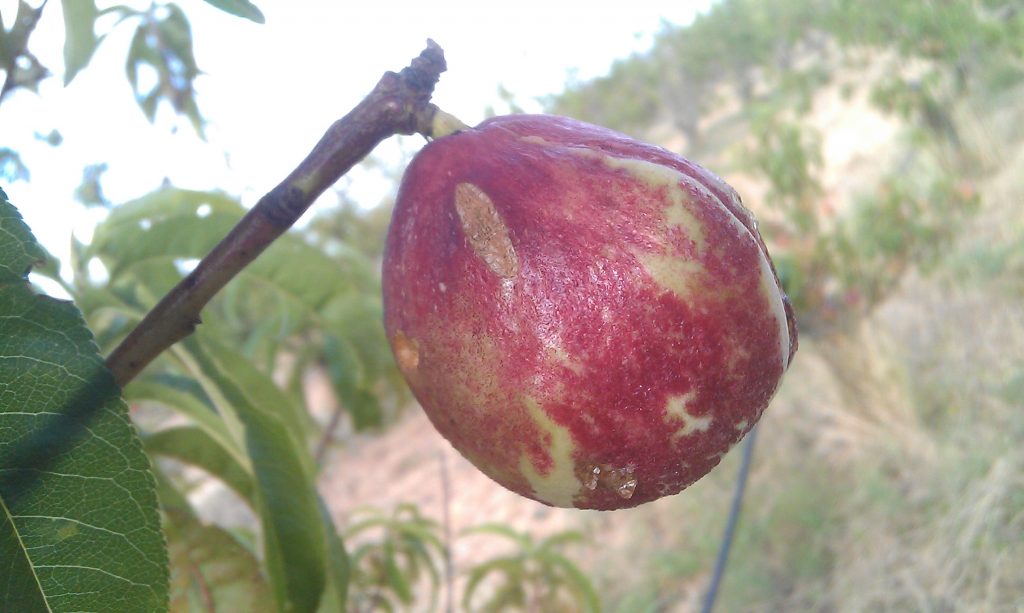 Why are we showing you what Leaf curl looks like in the middle of winter? Because if you saw any signs of this disease last year, or if a wet spring is predicted in your part of the world, now is the time to be alert for when to treat your trees to prevent it happening again this year.
It might seem too early to be thinking about spring, but if you wait until you see the disease, it's way too late to put out the preventive sprays.
The trigger to spray is bud-swell. Different varieties reach bud-swell at different times, which is where the skill comes in. Depending on where you live and which varieties you have, your trees may already have reached (or be past) bud-swell, but if your peach and nectarine trees still look completely dormant, that's because they are. From now on you need to be monitoring each different variety so you can spray them at the right time.
Once you're sure your tree has reached bud-swell, it's time to apply a preventive copper spray – Bordeaux (which is made by diluting hydrated lime in water, and copper sulphate in water, then mixing them together), or a spray containing copper hydroxide are the best options for home use. The Better Fruit With Wise Organic Spraying short course includes more detail about the right sprays to use, with a video demonstration of how to mix your own Bordeaux spray.