Well, as the weather sloooowly warms up, our tomatoes are finally starting to come on. Eggplants are flowering, okra, cucs and zucchs are all starting to fruit and it almost feels like summer! Things are hotting up off the farm though, with the installation of our new hot house (courtesy of people's generous contributions to our crowd funding campaign last year).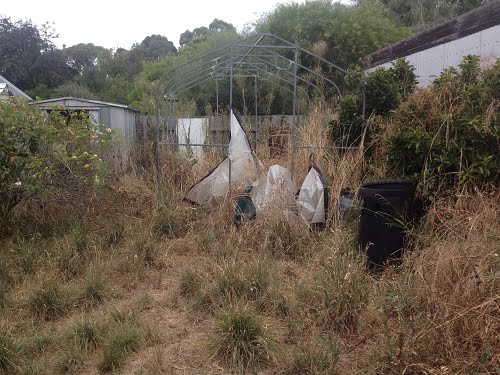 When I was a kid, my dad Kenny the inventor decided to try his hand at hydroponics. He got a hot house and mounted it on top of our garage roof and throughout my youth he experimented with growing all sorts of edible delights there on the roof. In fact, the hydroponic experiment spread out of the hot house and started taking over the whole house…there were things growing all over the deck and brick walls of the house! Always ahead of his time, he was all over vertical gardening in the 90s!
Twenty years later he gave Mel and me that same frame to use for our farming endeavours. Unfortunately the plastic skin had perished by then, but we contacted the lovely folks at Adlo Heat who originally made it, and turns out they are still making hot houses exactly the same as Kenny's one! They are the only company that manufactures the whole thing in Australia, in fact they do it all themselves, so when we called them up they were more than happy to send us an extension to our existing frame and a new skin to cover it!
This week we cleared out Mel's back yard, added the extension frame on, and with a few helpful tips from Wayne at Adlo Heat we got the shiny new skin on! Next steps – making trestle benches to save our backs when we sow all our new babies for autumn plantings. Speaking of which, its hardly summer and we've already started out autumn planting planning (go us!) We're determined to get our brassicas and winter greens in the ground on time this year. On time means in the ground when the soil is still warm so they get some good growth on before things slow to a grinding stagger in winter. It can be tricky when there is a late hot snap and all the seedlings fry in the ground, so timing is everything. Now with our mega hot house, we can sow loads of things in preparation and have them ready when the weather and the moon aligns. Fingers crossed we will have everybody tucked in to their rows by April.
Feeling hot hot hot…
Sas and Mel