Hindsight is a wonderful thing. Well, maybe not in the moment when you look back and realise that if you had done things a little differently, or with a little more forethought, you might have saved yourself a whole lotta work. But there's always next time, right?
We're sure there was a really good reason we got Dave with his tractor to form up the long beds in our new patch in winter. We just can't really remember what the reasons were. Maybe we had more ambitious ideas about actually planting into them in winter, or sowing a green manure crop that we'd dig in in late winter to feed the soil ready for spring and summer crops. All good ideas in theory, but actually what has happened is that all those beautiful long clean rows, carefully prepared in June, have grown a bumper crop of beautiful weeds and now in preparation for our spring plantings we have to deal with them! In hindsight, now would be the perfect time to have our once-off visit from Dave with his machine to form up the new beds, turning the beautiful lush winter weeds into the soil, green manure style at the same time… ready for mulching and planting out in a few weeks for summer.
With our glass-half-full brains on, the weeds that have grown in the new beds are a perfect, diverse green manure crop, just waiting to feed our soil. But 630 square metres of land is a lot to dig by hand! Our new patch is also critically low in nitrogen (amongst other nutrients) and so the last two weeks has seen us shift 10 cubic meters of organic cow poo by wheelbarrow onto the new beds and spend 10 hours straight on a rotary hoe and 10 hours straight on a whipper-snipper to slash, turn, and tuck all those weeds and cow poo back into the soil. This time without the big tractor!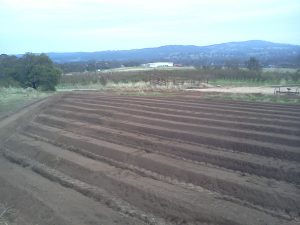 Using a rotary hoe is not our preferred method, as over time and with overuse it can create a compaction layer in the soil. But coupled with our deep broadforking every time we plant a new crop and encouragement of life in the soil, we figure we can get away with it, just this once!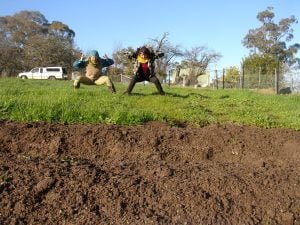 Mel and I are fairly well spent after the last few weeks, but all the babies in the hot-house are coming along nicely and will need planting out soon. So, clearing out the last of our spring crops, feeding and mulching the beds ready to receive them is the focus of the next few weeks. The patch is gorgeous at the moment, flowers everywhere…even some very early sunflowers that sowed themselves in the paths at the end of last summer and survived the entire winter. Ripe tomatoes can't be too far off…Love it.