I had to go to a breakfast committee meeting the other day. This committee is a group of powerful women who collectively and individually have a formidable skill set and a vast number of years of experience, and we find breakfast meetings an efficient way to get business done. Plus, one of our members is an excellent bread maker. We sat around a kitchen table eating home-made bread and jam and drinking cups of tea, while we nailed our strategic plan.  It was the perfect coming together of high level skills and excellent cooking! (Is there actually any better food in the world than warm home-made bread, real butter, and home-made blackberry jam? I think not.)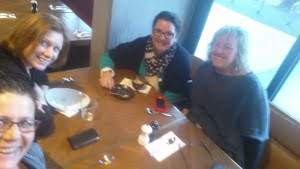 Being on committees seems to be one of the inevitable parts of rural life – school committees, kinder committees, sports clubs, community clubs, local festivals….if you 're interested in your local community and are the sort of person who gets involved in things, that's where you end up. And mostly, they're great.  You meet other locals with similar interests, you get things done, and it can even lead to romance – I met my husband Hugh on the primary school committee (clearly, not my first husband, but that's a story for another day.)
But have you ever been on a bad one?
Bad committees can go bad in lots of ways –  long, boring meetings that stray completely from the agenda (if there was one) and reach no conclusion, personality clashes, or my personal least favourite, the person who comes to every meeting with ideas for what "you" (never "we") should do, making it really clear they have no intention of lifting a finger!
I've just spent a week in Canberra doing the Australian Institute of Company Director's Course, which is part of the RIRDC Rural Women's Award prize (and in fact was one of the reasons I applied for the RWA). It's a week-long course that covers not only the legal and financial side of being a company director, but also delves deeply into what "good governance" looks like. Turns out it's all about sound structure and great relationships! Good boards are full of people with good interpersonal skills, and they spend time working ON the business of being a board as well as IN the business.
Needless to say, I absolutely loved it, and spent the week thinking about how to use my new skills on the not-for-profit board and various committees I'm involved with, though it was clear the course is also intended for those intending to take up higher level board positions as well.  I was a little shocked when on the plane flying home afterwards I was flicking through the Qantas in-flight mag being slightly startled by the number of ads for BMWs and expensive jewellery  (I'm normally more of a budget airline girl) and noticed a story about high level executive business courses – and there was the AICD course I'd just done!
So it turns out that the skills you need to run a top 20 company are pretty much exactly the same skills you need to run the kindergarten committee, and they are exactly the skills you need to turn those "bad" committees into high-functioning, fun and effective groups. Just make sure you recruit someone who knows how to bake bread.
---
The last few weeks have been busy with media and speaking engagements:
Went to Canberra for a week and met and become friends with all the other RWA state finalists
Attended the Company Director's Course
Given three "Facebook for Farmers Markets" workshops and one webinar to stallholders for my project
Been interviewed by the RIRDC panel for the national winner of the Rural Women's Award
Prepared my keynote address for the upcoming Connecting Rural Business Women conference in Beechworth this weekend
Appeared in the Weekly Times (in the Focus magazine)
Accepted an invitation to be part of the judging panel for the Rural Ambassador Award (an initiative of Victorian Agricultural Shows)
Accepted an invitation to speak at the NASAA (National Association for Sustainable Agriculture Australia – our organic certifying body) AGM in Canberra
Accepted an invitation to speak at the launch of the North Central CMA's Sustainable Agriculture Strategy
Accepted an invitation to speak at the local U3A meeting
Hosted the local Permaculture Design Certificate group at the farm
My project, called "Growing Communities Around Farmers Markets" has been made possible by the RIRDC Rural Women's Awards.