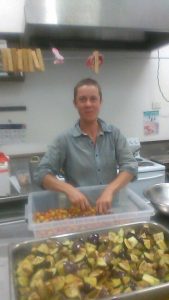 Well, the weather is cooling down that's for sure – make sure you water this weekend though as it set to be in the 30s again and next week mid-30s!! It's funny how we relax as humans a bit more in the cool, however out here in Gung Hoe land that isn't the case!! Our relax months are in the depths of winter – in June and July.  We are planting as much as we can through Jan – April so it gets good growth in the warm soil from summer. Of course here in central goldfields that is slightly intense as Jan-April is very hot. We love our shade cloth and are always aware that without our connection to water this whole venture isn't even possible. It's also the time for preserving all of the produce we haven't been able to sell as it's not hot enough for the toms to ripen now so we have been squirreling away in the Lot 19 commercial kitchen into the night making green tomato things – delicious!!
We've also been amazed at just how generous people are with their time, we have a few solid volunteers who enjoy coming out and working with us. We always appreciate their energy and good humour and, of course, many hands make lighter, quicker work.  This week in their school holidays we had Cohen and Gussie for a whole day. I don't think I was interested in such rad things when I was 17; I was more sneaking into jazz bars and trawling through secondhand record stores. Cohen cycles out to Harcourt enjoying 2 sunrises each week and then rides back to school – I'm so impressed! We also had Marty, Lydia, Brendan, and Amanda – wow!!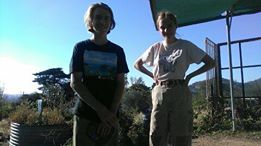 So finally, this is short as I'm late planting my home garden of bulbs and must do that today, but we are so excited about our Gung Hoe Down happening on Sat 28th April. Jane Thompson and her incredible band is leading us through a bush dance! You are welcome and will enjoy the day, whether you've been to no bushdances or many before. The band will skillfully call and explain all the dances. Then if you'd like to join us for a sit down, seasonal feast that is on offer too, for after all our jumping around!  Sas and I really work hard, but we also believe in stepping along with the world in a light-hearted way. Sometimes we forget to do this and get bowed down with feeling stressed/tired/working long hours. So we wanted to celebrate, and dance and have fun. We welcome you to join us, knowing that all extra funds raised after paying the band and a few key ingredients to stretch out the feast will go towards our funding of building a weather- and mouse-proof storage for our produce. Cant wait. All tix available through the link
https://gung-hoe-growers.myshopify.com/
.
Hope this finds you well and feeling nourished going into the cooler season.  It's time to cure the pumpkins, dig up the potatoes, finish off your garlic (or freeze it so you have Aussie garlic through winter), eat your onions and plant beetroots.
Grow and dance and live lightheartedly
Mel (and Sas and Ziggy and Scallywag)