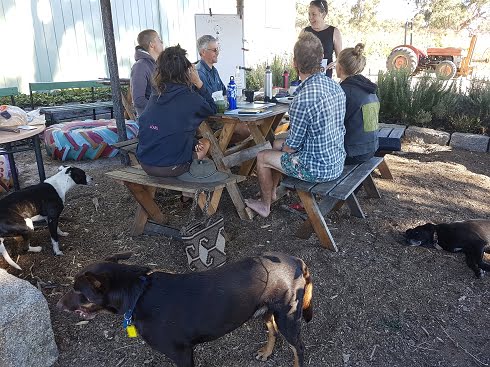 As our group of enthusiastic new farmers comes together and we breathe life into HOFA (the Harcourt Organic Farming Alliance ), I was reminded this week that giving birth to this brand new model of farming—the thing we've been planning for, working towards and anticipating keenly for many months now—is just the beginning.
Like having a baby, it's all too easy when starting a new project to focus solely on having a successful birth, which is kind of analagous to the planning process we've been going through together to bring our idea to fruition.
What many people fail to anticipate is that it's after the birth when shit gets real. Suddenly, you have a baby, and a whole new world of learning abruptly begins, one that has much higher stakes because other lives are involved, and are depending on you to get it right!
What reminded me was having a long chat with an old friend last weekend. We worked together in a big community project; she helped to get it off the ground, and I joined just a couple of years later. We were both involved for many years, and together witnessed the growth, tantrums, milestones, break-ups and—finally—evolution into the stable and grown-up organisation it is today.
I  observed at the time how similar an organisation is to a child; we had to carefully steer it through the early stages, tore our hair out during those difficult teenage years, and then watched with pride as it finally grew beyond needing us at all.
Unfortunately many new projects don't survive to adulthood, but stumble and fail, often within 5 years of starting. The main reasons for lack of success are
poor communication
relationships failing
lack of financial viability
lack of capital
not being flexible and able to change and evolve
burnout
inexperience
In our planning process we're doing our best to avoid all these pitfalls by establishing great systems, processes and group dynamics, but experience tells us that the real work is done by actually getting started, and then hanging in there for the next 18 or so years.
New farm resident Roberta will also be giving birth in coming months, and in turn paving the way for a brand new enterprise on the farm.
Cows don't do a lot of planning for giving birth, or probably give much thought to what happens afterwards. They don't have meetings, do visioning sessions, or write business plans, they just automatically know what to do, and get on with it.
Laying great foundations for the birth is a great start – but come 1 July, we're going to have to start just getting on with it.