Having been a woman farmer for almost 20 years, and being around so many other awesome women farmers all the time, it's easy to forget that most people still think of the stereotypical farmer as a man.
Luckily Kate Keegan, who is a producer at ABC ME, is aware that these stereotypes can make it harder for girls to choose some careers and came up with a brilliant idea for a television series to celebrate the International Day of the Girl called 'If you see it, you can be it'.
The series matches young girls with interests and aspirations in particular fields with mentors, and Kate got in touch to see if I'd be interested in being involved in a 'Farmer' episode of this series.
Of course I couldn't pass up an opportunity to simultaneously promote organic farming and farming careers for girls, so I said yes, and got to spend the day today being filmed with Miley, who is 8 and wants to be a farmer.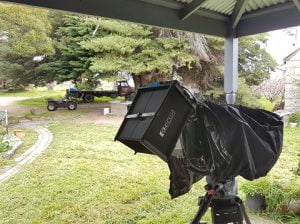 Being involved in the process of making a TV series was absolutely fascinating, and a real eye-opener. Kate and the production crew were incredibly friendly and non-intimidating, but they were also aiming for a great result, so Miley and I had to go through our paces LOTS of times for each little section of the production to make sure they had enough material for just the right combination of sound and video for each shot. It was pretty nerve-wracking at the beginning but as the day wore on we both got a bit more relaxed, and while we were making a cuppa in the kitchen Miley even came up with a great orchardy joke (hopefully it will be included in the final cut – look out for the joke about her friend Max).
Miley was accompanied by Mum, Lisa, and Dad, Adrian, who run a horse, cropping and sheep farm in western Victoria. They lead what sounds like a very exciting life breaking in horses and competing in rodeos (which explains all the cowboy boots at the door), though they assured me it has its fair share of mud, horse manure and repetitive jobs, just like all types of farming.
If Miley does decide to become a farmer she'll be the sixth generation of her family to do so, and will be following the proud examples set by her mother, grandmother, and great-grandmother, all of whom took active roles on their farms.
It's all too common for women on farms to think of themselves as the 'farmer's wife', so it's terrific for Miley to have the proud support of her family to think of herself – even at the tender age of 8 – as a potential farmer in her own right. I really hope she does go on to become a farmer, because farming's an important job and we need farmers to feed the world!
All three episodes of the series (the other two are about a scientist and a firefighter) will air on October 11, the International Day of the Girl Child, on ABC ME. Now that I've seen the back end of the filming process, I can't wait to see the finished product!
Cheers, Katie