Hi!
It's garlic time again! This will be our third crop of garlic we've planted on our wee patch at Mount Alexander Fruit Gardens. The planting of the garlic is like our marking of time, marking how many seasons we've been here, how much we've learnt along the way and how much more we have to learn still….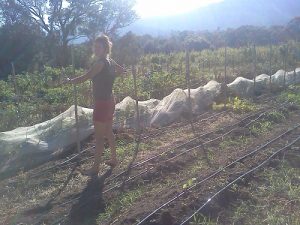 This week we've been gleefully ripping out our spent tomato crops, feeding and reforming the beds ready for the garlic that we'll plant in there next week. The summer just gone, despite weird climatics and lack of rain, has been great for us. We've had our usual bumpers, happy surprises and dismal failures, but it's been the first season where we've really felt like we've had lots of produce to get out into the local community and onto local plates.
We began doing a small number of mixed veggie and fruit boxes in February as a trial and they have been beautiful. We have now been supplying 8-10 boxes, full of our produce, Katie and Hugh's fruit, sprout bread and Hunter Harvests eggs and sprouts, every week for 10 weeks. Hopefully we can stretch that out through winter too. We've had great feedback from our box 'guinea pigs' which is really lovely as we don't often get direct feedback from the people that eat our produce. Hopefully next summer we'll be able to supply more mixed boxes to hungry households!
This summer has also been the first time we've been able to supply good quantities of produce to our local organic fruit and veg retailers as well as a good spread of local cafés. We're very lucky in this town to have so many businesses that are actively seeking to use good quality local produce, and finally we're starting to be able to grow things in large enough quantities to meet a small part of that demand.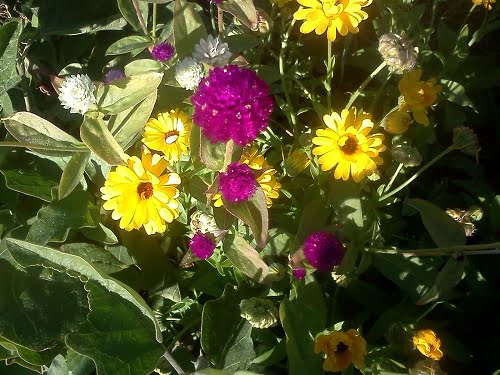 This week we also got lots of our broccoli and cauliflower babies into their new beds as well as loads of salad, endives, radicchio, beets, silverbeet, parsley and more to go in next week! The mad rush to get everything in the ground before the soil gets too cold is (still) on!! We'll breathe a sigh of relief when everybody has their little toes tucked into the dark brown soil and their leaves reaching up to catch the sun.
Until next time, hope everyone is enjoying these beautiful autumn days and don't forget to get your garlic and brassicas in the ground!
Grow well
Sas and Mel