Take the "bad luck" out of your fruit growing by harnessing the power of knowing what jobs to do, and when to do them.
This is our three-part live training series that lets home gardeners move from confused learner to confident, self-sufficient fruit grower. You'll go from a greenhorn to a greenthumb!
It will put an end to feeling overwhelmed by your trees, missing key tasks that lead to crop failures, and not knowing all the small jobs you should do through the year.
Do you wonder when you should feed your trees? When you should prune? When is the best time to pick your fruit?
Your Fruit Tree Action Plan will answer these questions (and many, many more).
The course includes live training sessions, access to replay videos, and live Q&A sessions. There's a friendly and welcoming Facebook group exclusively for Learn.Plan.Succeed participants.
Best of all, there's an interactive, downloadable, Workbook.
Here's how the course (dates to be announced) is structured:
Three live training sessions, held on Zoom.
If you can't make the live sessions, we've got you covered with video replays, made available after each session.
Questions can be asked any time in the Facebook group while the course is on.
A live Q&A session will be included with the Sunday session.
Imagine … learning how to manage your fruit trees in the most efficient and time-effective way.
Getting a great return on the time and money you put into your fruit trees.
Experiencing a calm, confident feeling every time you look at your trees.
Sound like what you're looking for?
Then this is definitely the course for you.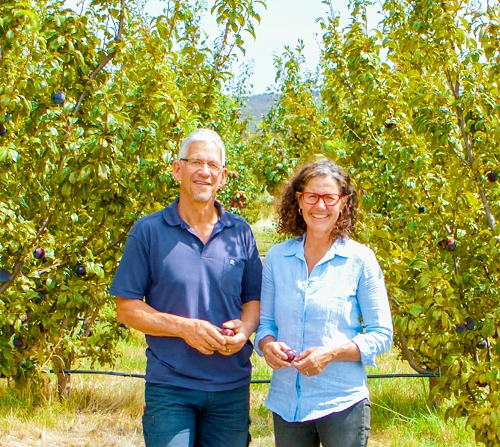 Course presenters
Hi, we're Hugh and Katie Finlay from Grow Great Fruit. We're organic orchardists and have been helping home gardeners to grow amazing fruit since 2013. 
We've developed the Learn.Plan.Succeed live course to transform your feelings of overwhelm into calm confidence.
Read what previous participants say about the course...
Thanks Katie for all 3 learning sessions. Although it was lots of information, it wasn't overwhelming. I've made so many notes on the workbook from watching the replays. I love that you used a couple of my posts as examples of things that can go wrong and how to move forward. Thanks again for your ongoing support.
Loving the workshops and being able to plan my calendar. I'm having to watch the replays as busy working at the time they're on. But that's great as I can pause and take many notes etc. My "AHA"!!! moment is realising that I was pretending to look after my fruit trees while deep down knowing I was just winging it; from what I've learned from various sources and relieved when we had a good fruit crop. So now learning about how to look after & feed the soil and trees and when to do these things is absolutely fantastic. I am also guilty of not really understanding how the soil is just as alive and important as what's planted in it. Thank you.
Thank you for the catch up videos as I haven't been able to make the first 2 live sessions. There is wonderful information. I have only got a few citrus and a mulberry, I killed my apple tree. I didn't realise that everything else needed so much more care and attention. I am more confident about expanding when the time is right.
Thank you both so much for all the information and knowledge you share through your workshops, resources, newsletters, and updates. Very much appreciated.
I have about 50 fruit trees, most of which are just a few years old. I have young kids and would love to pick lots of different types of fruit with them eventually. I am doing the Grow Great Fruit course because I had no idea what I was doing and became confused by the conflicting information available on youtube university
. Thanks to Katie & Hugh, I've got the chance to learn what I need to know to harvest some lovely fruit. I often learn things I didn't even know existed – like thinning… I enrolled for this course because I'd love to be able to anticipate the jobs I'll need to do in time to be ready to do them
.