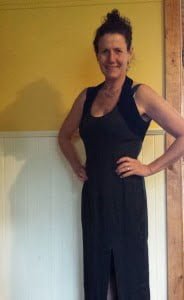 RIRDC Victorian Rural Women's Awards – week 24
---
We're off to Canberra next week, and we'll be all frocked up and ready to meet politicians of every persuasion at the Gala Dinner at Parliament House on Wednesday night. Hugh's collected his tuxedo, I've bought new heels and have the evening dress in train…now I just have to sort out a new lipstick, and we're all set!
Why so much glamour and glitz? It's the announcement of the national winner of the 2015 Rural Women's Awards, and as the Victorian state winner, I'm in the running! I've met all the other state finalists when RIRDC sent us all to Canberra recently to do the Company Director's Course (as part of our award prize), and so I can confidently tell you that this year's national award is in safe hands whoever wins. What a fabulous bunch of women! All leaders in their communities, running exciting projects and achieving great things in their careers, while at the same time being the most down-to-earth, ordinary bunch of school mums you'd ever find yourself working next to in the school canteen.
We've decided amongst ourselves (the other RIRDC state finalists that is, not Hugh and I) that it would be in RIRDC's best interests to just split the award between all 7 of us, because there's nothing to pick between us and we'd all make fabulous ambassadors for them over the next 12 months. Of course, awards being what they are that's not going to happen, but it is great to genuinely feel that I'll be equally delighted whoever wins.
This year has been so full of engagements since winning the Victorian award in March that I feel like I've got a pretty good sense of how exciting it will be if I should be so lucky as to win the national and, on the other hand, I'm aware now of how much time it takes to do a good job and get the most out of every opportunity, so I also think I'll be perfectly happy just looking forward to a normally full year crowded with farm life and existing projects if I don't win!
So think of us on Wednesday (and keep your fingers crossed for me that I don't trip over my unaccustomed high heels in public and make a complete dill of myself) and we'll let you know what happens!
---
The last fortnight I've:
Presented the keynote address at the Beechworth "Connecting Rural Business Women" 2015 conference
Given a talk to the Castlemaine U3A group
Filmed a segment to enable me to take part in an Agribusiness summit that I wasn't able to attend in person
Organised the farm so we can be in Canberra for most of next week and be confident everything will be ok in our absence!
Accepted an offer to speak at the "Chicks in the Sticks" event in November (very excited about this one!)
Attended a meeting with Melbourne Farmers Markets in Melbourne to get some feedback on my project, as I've started thinking about how I will write my report and turn the project into a useful piece of research that will be usable by other farmers markets.
Started writing the assignment for the Company Director's Course (3,000 words!)
Been working with a landscape designer on plans for the new Farm Shop we are planning to open for the coming season
My project, called "Growing Communities Around Farmers Markets" has been made possible by the RIRDC Rural Women's Awards.