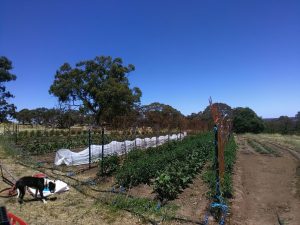 Hello everyone and happy new year! Hard to believe another year has come and gone…
We are currently watering everything, giving it a long deep soak as tomorrow it's meant to be 41° and quite windy. Who would believe that last week we had 22 mm of rain in 5 minutes and gusts of wind that lifted our greenhouse off its feet and bent star pickets that were firmly in the ground?  Welcome to climate change we say.  Last week Sas and I were preparing for a severe thunderstorm and so were deliberately pulling up onions and giving them the best storage. Nothing could have prepared us however for what felt like a mini cyclone. We were shielding the onions with our bodies and then realised the rain and wind and hail was coming from all directions—we had to laugh. Swore a fair bit and laughed again, the onions were soaked and the good old garlic was wet, again… GEEEEZUS!
The predictions for central Victoria in the next few decades are exactly this though—drier winters and extreme summer storms. So rains in a short downpour, none of that good soaking steady stuff.
A friend who works with very large-scale 'conventional' farmers was sharing with me that the changing climate has affected everyone. The farmers she works with used to spray 4 or maybe 5 times a year; now they spray almost every month due to the uncertainty (and I would argue plant/soil/microorganism health too) and extremity of the climate. We can never claim to 'know' the wild nature, but I'm sure most of us remember the consistent seasons and the weather that came with them.
It is important to know where we're heading and know that is happening on a global level too, rather than feel that it is just us who get knocked side to side by the changing conditions.
We've also got plans to build very real storage to suit our needs better—storage that will outlast hurricanes and floods and droughts (ha – we can try right!?). So, resilience is the key we have come to build upon. Resilience as people, communities and looking after ourselves, each other and the planet.
We lost a bit over 1/3 of our garlic crop this year when all was said and done, which was not so bad for the amount of time we've spent moving, sorting, moving, shucking it, etc. etc., but for our seed next year we have selected only the bulbs that are whole and didn't collect any mould. That is our beginning of saving not just the biggest but the hardiest—in the long run, this is what will last!
So, people! The garlic is finally ready for you and yours! It's the last time we'll write about it—this year the garlic is like GOLD! We've literally hand sorted each and every clove—yes clove, not bulb!
If you would like it for your kitchen and/or as a gift, we are selling it here :
Included in the price is your very own garlic storage and reuseable small hessian bag with our dirty hoe logo for 5 bucks. Woohoo!