What do farmers do on holiday (when they take them)…!? Visit other farms of course! After two years of heads down bums up, Mel and I decided it was time to pull our heads out and visit some rock star farmers that we've heard about and connected with via the various social media pages for market gardeners. What tools do they use? How do they plant and harvest their salad mix? Do they use poly tunnels, what kind of irrigation, how do they work out how to price their veggies, who do they sell to? Direct sown or seedlings, are their beds really as weed free as their Instagram would have you think …? So many questions had we!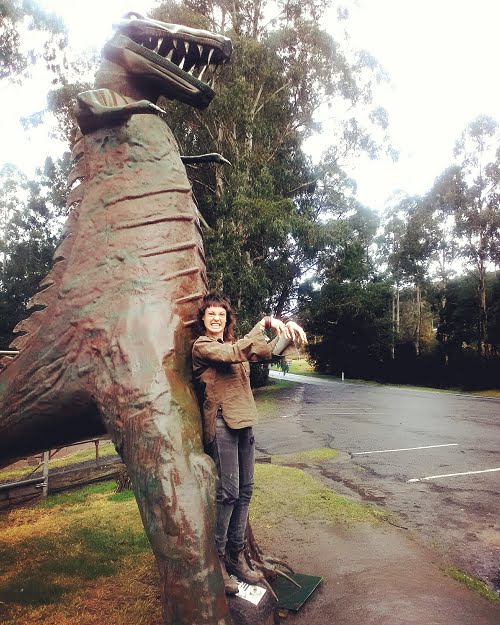 Gung Hoe is at a stage where we have grown our growing area to a size that means we have to get a whole lot smarter and more efficient with how we do things. There are so many that have gone before us, made mistakes and had brilliant successes, and the beautiful thing about the small-scale market gardening community in Australia is that everyone is so open about sharing their learning and tips…shoulders of giants and all that.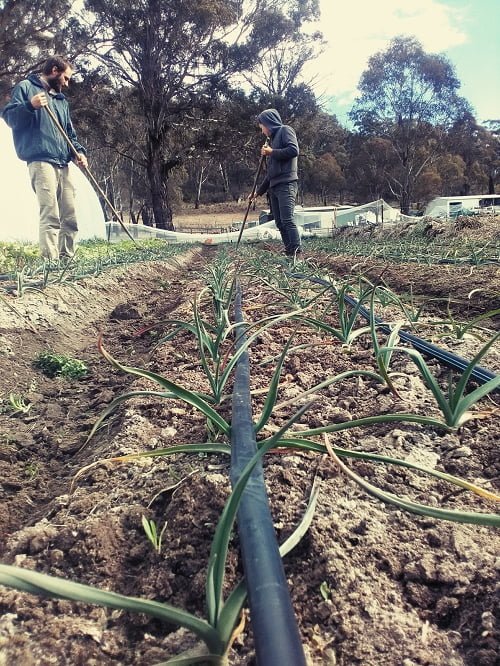 So we hit the road. iPods charged and questions at the ready. First stop was Erin at RAD Growers in Albury. She grows on 1.5 acres of land in a climate similar(ish) to us and sells most of her produce via weekly mixed boxes to the local community, also supplying yummy stuff to restaurants. Erin has her business smarts sorted and is unapologetic about the quality of her produce and the price it should return. She has been farming about the same amount of time as us and has worked incredibly hard to make her farm beautifully productive and diverse in that time, despite massive floods that saw her canoeing over her submerged crops!
Half a day's drive up the road we stopped in to see Emily and Michael at Bright side produce in Captains Flat (near Canberra). These guys are getting seriously close to the tree line (at least that's how it felt with frozen dams, snow gums and a standard morning temperature of -10!) These guys, same as us, are growing on ¼ acre but in such a different climate…two weeks frost free a year! Even so they manage to make a living growing and selling their mountain fresh produce and eggs to the local and Canberra communities and restaurants. We had such a nice time hanging out with them in their quiet mountain home, picking each other's brains and eating soup. Running backwards in the dark with Mel and Michael down a steep, rocky hill in front of a slightly out of control chook mobile while Ninja the dog ran in circles under our feet trying to round up the chooks was an exciting moment.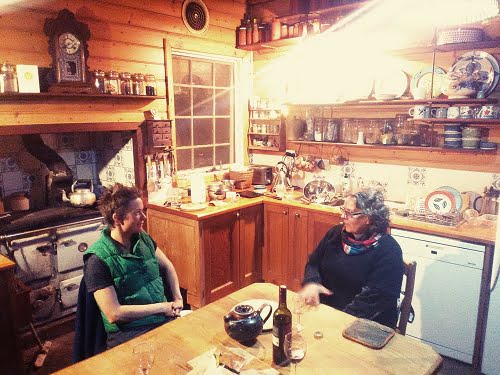 Last stop was with Lizzie Clay at Baw Baw organics in Piedmont. What a woman.  The daughter of a market gardener, she has been growing organically on her property for 30 years. While the rain bucketed down outside, Lizzie offered us so much wisdom, encouragement and insight from her amazing and diverse experience. We hardly left her kitchen table for the 24 hours that we were there! This is a woman who thinks big but knows the power of planting a single seed, always learning, always pushing the boundaries and finding new ways of doing things that also benefit the wider community and the land on which she grows.
Our roady has left us with lots to process and some clear ideas for our next steps and how we can shift things up a gear (scuse the pun).  We were so grateful and humbled by the generosity of our fellow farmers, offering so much of their time, knowledge and patience amidst their busy days. Thanks dudes, its so nourishing to know there are others out there doing what we're doing, thinking about the same things and finding creative solutions to the challenges of growing good food for local communities.
Grow well
Sas and Mel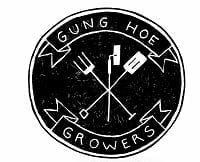 Gung Hoe Growers