In a week where my project has dominated my life, I've learned – to my great delight – that the vast majority of stallholders at the pilot farmers markets want to be involved in the project. How cool is that? Plus I've written the first draft of the Social Media Strategy for Stallholders. Yay!! Double Yay!! And, I think the project finally has a name:
"Farmers Markets Building Communities"
What do you think?
One way and another, it's been a week of learning new skills. I always find the process of getting my "good ideas" (which are a dime a dozen, and often turn out to be not that good) into a form that makes sense to other people and stand up to scrutiny, really difficult.
One of the challenges of this particular project is that it needs to be quite detailed, and full of "nuts and bolts", while at the same time inspiring people with my vision of what fantastic results we can get if we all work together! It's a great challenge, and is pushing me to develop new skills around clear communication and good design, which I guess is one of the many benefits of the RIRDC Award.
I'm also developing some great skills in project management and development, which this week has been all about adaptability. Up until now the project has been going according to plan – I've written the survey for growers, sent it out to them, and was pretty happy to get more than 10 responses from each market. However, my goal is 20 stallholders participating at each market, so I needed to recruit some more.
I took the opportunity last Sunday to chat to stallholders at Castlemaine Farmers Market (we had a stall ourselves, but Hugh looked after it for a couple of hours to give me time to talk to people. Endlessly supportive as usual. Bless him.). I had heaps of fun, learned two big things, and as a result the project has now changed direction.
I spoke to about 12 stallholders who hadn't yet done the survey and, to my great surprise, all were keen — even enthusiastic — and wanted to be part of the project. They just hadn't had time to do the survey. So, the first thing I learned is that survey results only tell a very small part of the story!
I came away from the day feeling so positive that I've changed the project to assume that everyone wants to be part of it!  This means I'll need a slightly different communication strategy. The second thing I learned is that stallholders are a diverse bunch, who want to get trained in a diverse range of ways – some want a workshop after the market, some want one on a different day, some want an e-book, some want a YouTube video – I can see myself acquiring several more new skills before this is over!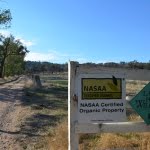 ---
In the last fortnight I've:
Sent out the survey to farmers, and received 22 replies, 19 'yes' they want to be included, and 3 'no' (one of whom I converted to a 'yes' at the market!)
Had chats with lots of stallholders at Castlemaine Farmers Market and verbally went through the survey with them – and got another 12 'yes' !!
Finished the first draft of the strategy for stallholders and sent it to the team of wonderful people who are helping me, for review
Set up a meeting at Coburg Farmers Market with the market manager and the various parents who want to come on board and help with the project
Had a board meeting with Melbourne Farmers Markets and updated them on the project
Attended a Women in Leadership forum in Bendigo
Interviewed our new farm intern
Brought stage one of the successful new farm pruning program to an end. Apricots – finished!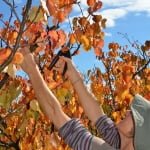 Many thanks to RIRDC for supporting rural women through the Rural Women's Award