What can we say? When the earwig tape isn't put on your fruit trees early enough (or at all…) this is what can happen!
Earwigs just love soft fruit like cherries and apricots, and as you can see from this photo, will take up residence in numbers.
This is a problem that tends to be worse on young trees. On mature trees, we've usually found that the ratio of earwigs to fruit is much lower, and you end up with a smaller ratio of damaged fruit – though of course, we'd prefer none!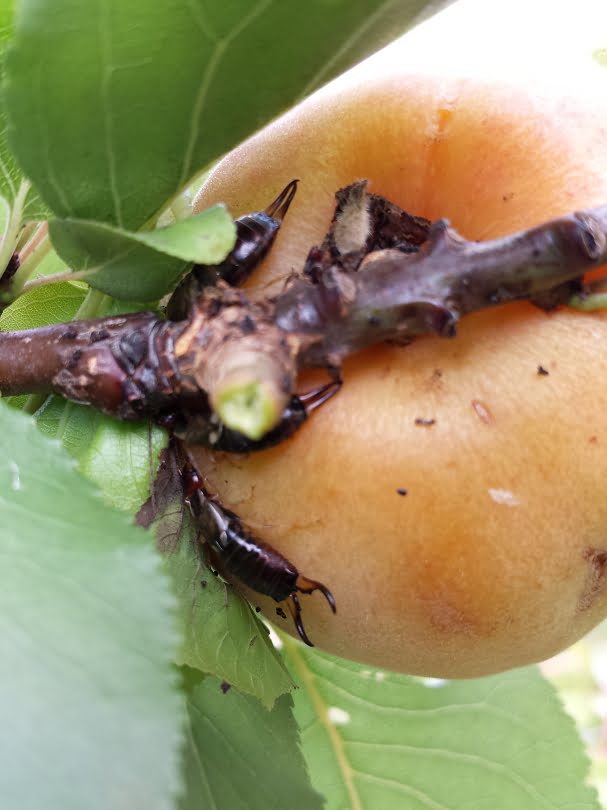 Earwigs are a very common pest, and trying to get rid of them is basically impossible (though chooks do love them, which is a great reason to let your chickens browse under your fruit trees.
The lesson is, as with all pest and disease control, focus on understanding and preventing the potential damage that can be done to your fruit, rather than on the pest itself.
When we were writing this short course about how to protect your trees from pests, we were originally planning two separate courses – one about the pests that damage your fruit, and a second about the pests that damage your trees, but it got two confusing so we've included them as separate modules in the same course.
We decided they went together because the strategies for all pest control is the same – understand the life cycle of the pest and look for simple ways to interfere with it to protect your fruit (or trees).
This is much more effective that trying to control the insect populations themselves, which is basically impossible unless you adopt a "scorched earth" spray-and-kill strategy, which inevitably does more harm to the environment than good.