Social media – Facebook, Twitter, Instagram, you name it – is ubiquitous. It's so much part of modern life that it's almost pointless even contemplating whether you think it's good or bad, though luckily, we all get to choose whether, and how much, we participate! If you follow the Mt Alexander Fruit Gardens Facebook Page, you'll already know it's the main way we spread our news, like the day we met Costa…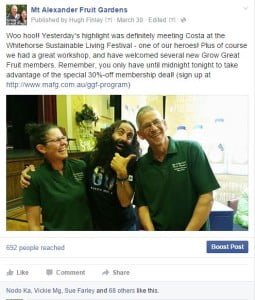 The project I've been running this year with my RIRDC Rural Womens' Award prize bursary is called Farmers Markets Building Communities and it's all about teaching stallholders at farmers markets how they can use social media – in this case Facebook – to bring more customers to the market.  So I've been talking to lots of farmers and other stallholders about social media and believe me, everyone's got an attitude about it (and it's often not very complimentary).
The reality though, if you're in small business (at the least the type of small business we are – a small organic farm selling at Farmers Markets) is that it's almost irrelevant what YOU think about Facebook, because like it or not, that's where your customers are! If you want to market your business effectively, you'd be kinda crazy not to wrap your head around social media.
Here's a few stats that might convince (or horrify) you about why Facebook is a handy business tool:
10 million Australians use it every day
They spend an average of 1.7 hours on it
They check in an average of 14 times each day
5 million people watch a video every day
Food and recipes are one of the most common topics discussed (and photographed!)
The age of the average Facebook user is a bit older than the average Twitter user, but guess what? The age of the average farmers market shopper is too. Guess where most of our potential farmers market customers are? Yep, they're on Facebook.
It's not all about business though. The bit we like best is that we get to actually have a relationship with our customers. Facebook, Twitter, and even this blog let us have a dialogue with all the people connected to our business, many of whom are also friends. I can't tell you the number of times someone has commented to me, in person, about a post they've read, and we've gone on to have a great conversation.
We love that social media lets us talk directly to our customer more effectively, more affordably, and in a more targeted way, than ever before. Previously we had to spend lots of money on newspaper ads that were shown to everyone (regardless of whether they were likely to be interested in us), and they saw it once! For the same budget we can talk directly to the people who ARE likely to be our customers, and who live where we're likely to be doing a market, for a fraction of the price.
So, thank you to everyone who's out there reading this blog, 'liking' our Facebook posts, and engaging with us on Twitter. You're part of our Mt Alexander Fruit Gardens family, and it really helps to break down the barrier of isolation that so often affects farmers. We feel like we're part of a community, we feel like you're sharing the farming journey with us every step of the way, and we appreciate it!
Now I just have to figure out a way to influence those farmers markets stallholders who think they should be using social media, but haven't quite got over their prejudices yet!
---
RIRDC Victorian Rural Women's Award – week 34
Recently and coming up:
Met with my project mentor to discuss how it's going
Met with Melbourne Farmers Markets to discuss my proposal for the next stage of the project
Heading off to Canberra this week to speak at the NASAA (National Association for Sustainable Agriculture Australia) national conference
Being interviewed in Macquarie Radio this week
Taken part in a RIRDC study into collaborative business approaches for primary producers
Found out I passed the Company Directors Course, and booked my place for the award presentation evening!
My project, called "Farmers Markets Building Communities" has been made possible by the Rural Industries Research and Development Corporation (RIRDC) Rural Women's Awards.