The soil is the great connector of lives, the source and destiny of all.  It is the healer and restorer and resurrector, by which disease passes into health, age into youth, death into life. Without proper care for it we can have no community because without proper care for it we can have no life. — Wendell Berry
I've just come back from a small-farmers' gathering called 'Deep Winter Agrarians' that this year was held in Bangalow, NSW.  Small farmers, meaning small scale relative to what most people consider 'normal' farming.  By no means was it a small gathering—there was 250–300 people in attendance every day!  Friday saw us touring 5 local farms/growing spaces, all quite different markets, styles of farming and some examples of various leasing systems.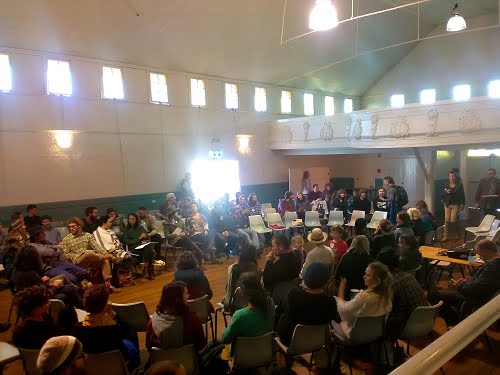 Saturday saw us meet in a beautiful early 1900s hall nestled next to the Bangalow Showground, eating local honeycomb and politely lingering around the kitchen for coffee. We began with a Welcome to Country from the local mob. It was really amazing and set the tone for a lot of conversations over the rest of the weekend. We were not only led through the 'official' welcome to country, but then were taken through a guided reflective, spiritual-like connection to country that was genuine and genuinely welcoming.
After being welcomed and taken to the level above tokenism, we split up into several groups of different workshops with topics such as land access and agreements, certification, and paddock to plate, chef, and consumer education. I went to the land access one and appreciated the amount of different models there are out there currently in Australia. However, land sharing/leasing is definitely becoming the norm, as access is becoming harder and harder, especially for small-scale farmers, let alone those of us who are just starting up. Frameworks for alliances/agreements—such as what we are about to embark upon out here in Harcourt—are definitely cutting edge, and as a whole movement we are all creating a new way of using land, together.
Being amidst that action is exciting and literally groundbreaking (yes, thats a pun!). There was an interesting conversation around the language used around people 'owning' land (surely no-one OWNS land, right?) and we were challenged to imagine how we can incorporate treaty and indigenous history past and present into our legal plans. It was really refreshing and forward visioning to think about how do we want land access to be possible in the future, what history the land holds for indigenous people, and actually asking the land what it wants to show us.  I really appreciated both the positive lens and the respectful mind that challenged and reminded us to seriously work with the land in a holistic way.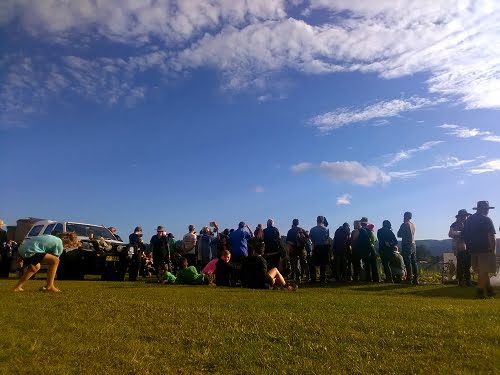 After a delicious lunch of amazing soup there was another round of workshop discussion groups and then getting ready for Saturday night's feast! It was a beautiful combination of farmers, produce, and chefs working together to provide incredible food. I don't normally get to eat out that well! It was a reminder that in this business you eat like kings. It was a relaxed social event of eating too much, pinning down those people you hadn't had a chance to chat with earlier in the piece, and being kept warm by a massive bonfire into the wee hours.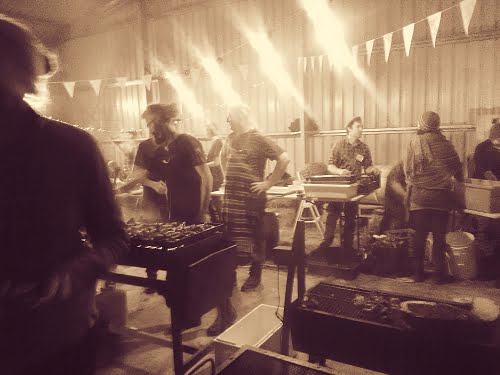 So, what did I take away from the weekend, apart from feeling incredibly shy the first few days? Compared to 2 years ago when I first went, this year it was all farmers, and a few farmers' friends rather than food outlets or policy changers. I've gathered a few good quotes that will stick in my brain for a while to be sure, such as "food yields community".  The idea that building good soil builds community made me think especially about the alliance at Harcourt with lots of different ventures (veg, fruit, chickens, ducks, cows) all working together for the best outcome for the earth and the animals (the good soil bit) and how it will no doubt also build community.
I struggle to use the word community sometimes cos I feel it's overused and wrongly used, but refreshingly this weekend it was a pleasant and exciting word again. I saw the overrepresentation of market gardeners and could see the boom from 2 years ago in our field.  My theory is that this is because veg has the easiest and quickest turn around of planting, money, and personal gratification, and way less red tape to go through. You can also do it on a very small scale. It was promising to see a few animal peeps there, edible flowers, cut flowers and grain farmers. It's exciting as I feel they are the next ones to boom, which means our food system will become that much stronger.
One of the discussions was around different community-supported agriculture (CSA) models and distribution frameworks. It was a nice reminder to see for Sas and me how much our values underpin our decisions in regards to access and modes of selling, and that there is (of course) no one way that is 'right' as every climate, farmer, community, soil, and lifestyle is different.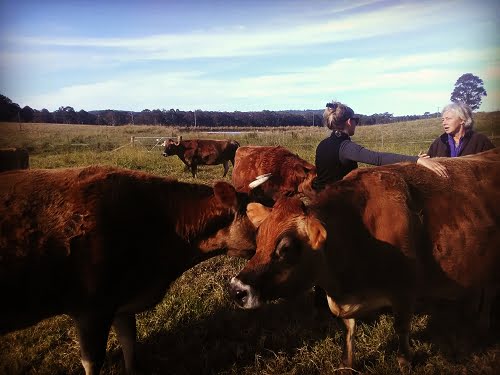 The final morning saw us being led by a pear orchardist from Roberston, NSW in a little session called yoga for farmers, which can be practised in jeans, hehe. Pi Wei reminded us that we have to look at our body the way we look at the land—regeneratively.  She led us through some stretches and a few movements but the main thing she was teaching us was to check in with our body, read its landscape, and take care of it. After that session, Erika, who farms in the Blue Mountains, NSW remarked to me the new tool shed she's building will now have a human tool bit to it, where you rebuild the body just the same as sharpening tools—love it!!  It is not by accident that the pristine wilderness of our planet disappears as understanding of our own inner wild natures fade. — Clarissa Pinkola Estes
It was a pleasure to keep the company of Tess, who is about to start her micro dairy here in Harcourt, and continue to be amazed at her amount of knowledge and depth of understanding of what she wants to do.
Coming together over Deep Winter introduced me and reintroduced me to people from all over Australia who I respect and admire in the same vein.  The core point of deep winter is to connect with other farmers during the depths of winter (when stuff can be tough), and warm the heart's hearth, so to speak. It's a gathering where we can learn from one another, realise we're not alone, and continue to grow the revolution of small-scale farming to feed the land and our communities.
Thanks for listening! Mel x