Hi there out there, hope this finds you well. We are in the middle of the deep, dark winter out here with cold fingers, sunny (hurrah!) skies, wet soil and busy minds…
In mid June Sas, Ant (amongst heaps of others) and I travelled to South Australia's Fleurieu peninsula to the fifth annual 'Deep Winter Gathering'.  It has been three years since I attended and for Sas four, so we were nervous / excited.  I don't know if anyone else has this feeling ever but I know that I can get nervous being in a room full of people (especially farmers!) and feel like I have no right to be there… so I was determined to not bow down to mind scuffles and engage with the weekend and others right from the start…lets just say I did better than 3 years ago!

It was brilliant to see people in the flesh that I often 'like' their photos and stories on social media and connect in real time.  SO good actually.  Because online only tells part of the story and is short, becasue our attention spans suc these days; but hugging someone for real and having a coffee/cuppa/beer/wine and true conversation cannot be beat.  It's really refreshing being around a bunch of people who completely get what you do because they do it too.  Its the same in any community, skill or trade I reckon.  

This year the organisers were South Australia (it moves states every year) had organised a key speaker for the weekend; which Sas and I were really looking forward to hearing.  His name was Walter Jehne, an Australian and a soil micro biologist.  Woohoo – wisdom on soil that also understand Australian soils.  He was fantastic.  All about building soil, maintaining soil hydration, sequestering carbon, farming to reduce carbon emissions and potentially draw back the effects of climate change…  All things that we harp on about regularly.  His ability to explain scientific processess in a way that is accessible, interesting and poetic was incredible.
However what I took from him that has stuck most prominently in my brain is how what we do actually  questions the status quo. (Dont worry, I have all the practical, scientific stuff written down and Sas and I have started to mull over and are keen to put into action plans this winter too).  I dont see myself or Gung Hoe Growers as crazily weird or different or challenging.  I see it as enacting our values to want to feed our community real, healthy food; not add to the destruction of the planet but try our damned hardest to actually do the opposite, build skills in ourselves and others to strengthen food security for who knows when but the inevitable crash of the current food system which is not sustainable and does have an end point.  That's all pretty common sense I would have thought.  The reality that we are small scale also has to do with our values, and the belief that if there were more of us the afore mentioned values will see fruition.
However connecting with farmers (veg, animals, dairy, grain, eggs, bread and fruit) who are farming with the same techniques in mind of building soil, not relying on chemicals to stop pests or make their food look a certain way, refusing to rely on trucks and supermarket contracts to sell their produce and wanting to work WITH nature and their environments to rehabilitate landscapes and the earth it was both heartbreaking and inspiring to learn that the majority of people havent found a way that it simply 'works'.  People 30 years in or like us, five are still figuring it out.  
Listening to Walter speak it was affirming to remember that the current system is the status quo and no, what we're doing or trying to do is not the norm and anybody/thing that is attempting to work outside of that major norm will find themselves pushing.  A lot.  Despite if what you are doing is true, or good, or more efficient or proven to work better – it's on the edge… I forget that I live in a bubble sometimes… it's funny I can relate 'the edge' to creativity and people who invent things or work medicinally with plants and midwivery; but seeing farming in our way as another challenge to the current system has helped me.  The truth is we are trying to create a new system that values things differently.  This is also why I feel tired, not just getting up early or manually doing a lot of things.
Here is some excepts from an interview with him from ABC;s Australian Story back in 2009 (https://www.abc.net.au/austory/interview-with-walter-jehne/9206054) which demonstrate how what we are trying to do isn't romanticism or idealism, actually:
"If you're leading and innovative, you are always questioning the status quo. Invariably the status quo doesn't like being questioned. More than that the status quo doesn't like to actually be confronted with the reality that, hey, there may be smarter, easier, better ways. That's just an inevitable reality with innovation. Just because Peter is an innovator doesn't make his options and messages radical or controversial. Nature's actually been operating through them highly successfully in Australia for the last 40 million years…So the question is, how do we foster this innovation at that practical farmer level? Of course, it's very important that support be given to lead innovators. But often, it's not the innovators it's the agencies, the gatekeepers who become the dominant recipients of any support. This often reinforces the status quo impediments rather than providing a chance for those innovations to come up. Our outcomes from the public funding of resource management may be impeded by this. If the role of Government is to foster innovation, and actually support the innovation, rather than the gatekeepers who are often reinforcing the status quo we may need to look at these issues critically.

You basically have innovators who are illustrating and demonstrating that and how good things can be done. But then you have a lot of dogma coming back to say "No, that can't be done" For example, one of our key priorities is to rebuild carbon in our soils because that carbon is fundamentally important in rebuilding the structure and, therefore, the water holding capacity, the nutrient cycling, root ecologies and the productivity of key bio-systems. Against this, we have the dogma within the status quo that it can't be done at anything like the rates demonstrated. This is despite nature of course doing it all the time.
The food and agriculture organisation of the United Nations, has now recognized that soil carbon restoration has to be a key part not just to secure future water and food essentials but also in providing the key opportunity for the world to bio sequester carbon to address climate change. Here again we face a paradigm shift where the people who resisted and said it can't be done can actually change, and drop their dogma, because now there's a lead for them to do that.
Australia needs to face up to such paradigm shifts on many fronts urgently if we are to address some fundamental challenges. For example, if as we believe, southern Australia is drying as rainfall patterns change we need to face the precarious situation where many of our forests are going to be so vulnerable to fire that they risk collapsing or changing radically within decades if wildfires become too intense and too frequent. We may have to find a whole new way of understanding and managing fire ecology. How can the intensity and frequency of fires in these bio-systems be reduced and managed? What can nature teach us if we cant see beyond our dogma?"
Conversations about green manures, seed collecting and sharing with species work well and why were some other nerding out with other market gardeners Sas and I particularly enjoyed, as well as the farm tours. There was a group conversation dedicated to land access / land sharing which we took part in and it is exciting to see lots of different models coming up in regards to small scale agriculture…some of them working better than others but they're in existence.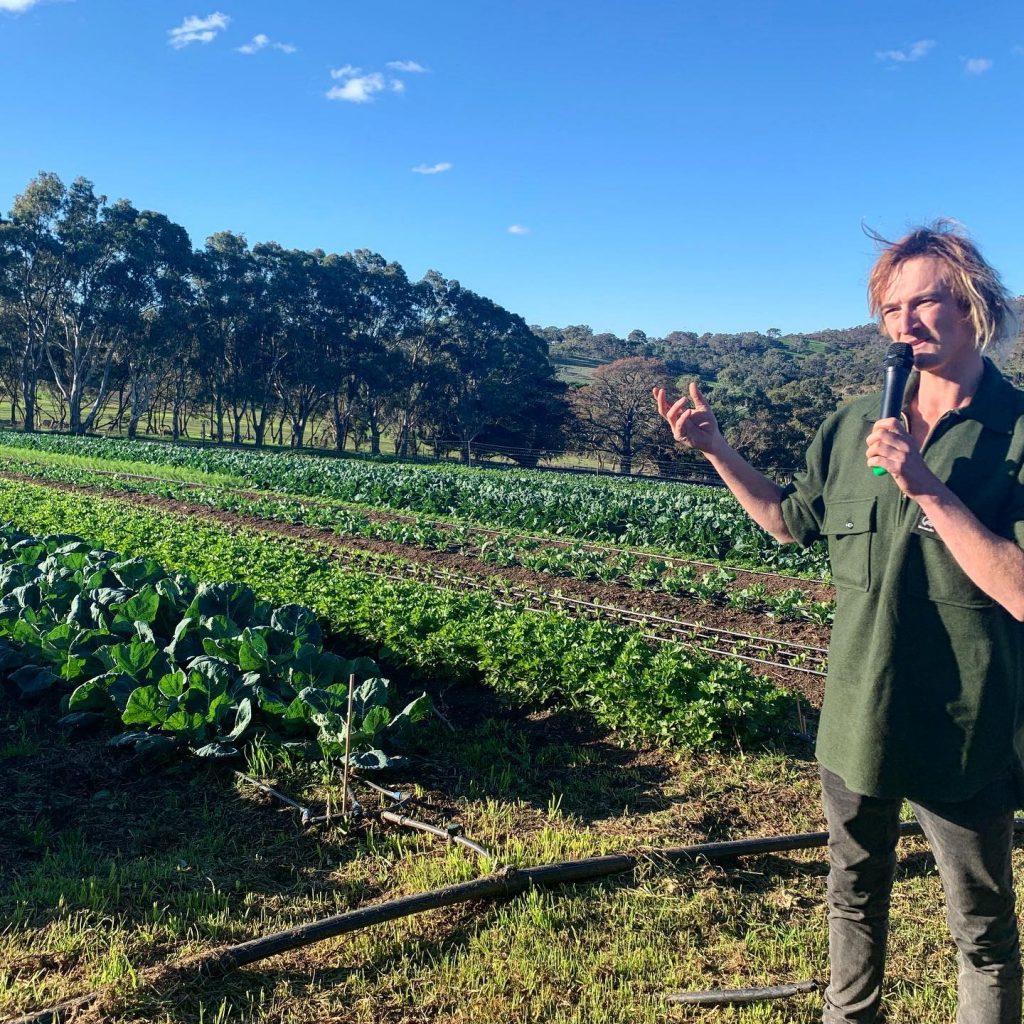 We also took to the ocean and had a sunrise swim for the winter solstice – well, attempted to! It was ankle deep and freezing so some flopped into puddles and others (like me) just ran on back out! There were laughs, good food a plenty, dancing and informative, encouraging conversations. I have taken Walter's advice of keeping on doing what you're doing…in fifty years time the government might even say that what you're doing was what they created; but it doesn't even matter. What matters is that there's a growing movement of people pushing the edge and the more it grows the closer it comes to pushing into the norm…which is what we want.

Grow well out there.
Mel (and Sas)
P.S. Here's a poem that was read out by Alice on the last day that she had written in response to the weekend:
Going Underground
I am going underground,
where the lost things can be found.
Where the ringing songs of ancient feet surround
the fungal threads, the dung, the bed
of many buried heart-beats in the dark;
they must have stowed away upon the Ark,
or hitched a floating raft of leaves and sticks
and listened to the laughter of the furred and feathered beasts
and the righteousness of Noah, so oblivious
to necessary ugliness and muck.
Oh! I am going underground to try my luck
among the worms and squirming centipedes,
the roots of ferns and wattle trees,
the tangle of the vegetable, with animal and mineral,
the humming of the miracle of mycorrhizal messages;
I'm going underground to make a mess among the messiness!
Amongst the heavy coldness of the cast off bones and stones
in the pockets where the silken-footed spiders make their homes;
where colours are irrelevant,
and actions are irreverent-
life is sucking and it's sliming and it's writhing and entangled;
with the patience of cicada
and the power of the lava
rising molten in the memory of sediment.
I am going underground to taste its secrets with my skin,
to read the languages of scent and spark,
pulsating through the brilliant dark.
I'll swim through truffle-scented regions,
touch the velvet of a mammal's winter sleep
and there I'll slumber through the ages,
with the aquifers, the fossils, and the peat.

Alice Blackwood