I only know of one person who doesn't like garlic…and I truly don't understand why!! Garlic has been the first thing we've planted in our market garden as it's hardy, the moon was right and it doesn't need intensive irrigation like lots of other veggies! It also got us going!!
The garlic we planted we had both saved from our previous plots last year.  The best, the fattest, the juiciest heads and now there are four different varieties getting their roots strong and their green tips shooting up towards the light.
Since planting the cloves we have had several visitors check out the new installation at Mount Alexander Fruit Gardens: several four-footed creatures and a few hoppity guests.  We didn't want to block out the gorgeous view, but we wanted to keep the new green young 'uns somewhat protected…so we decided to build a fence. Upon doing so the green shoots are undisrupted (stay away cockatoos!) and we have hopes of growing many a thing round, up and across the wire.  Some veg of course, and some flowers, which we hope to sell to a local flower artist, Organica Botanica.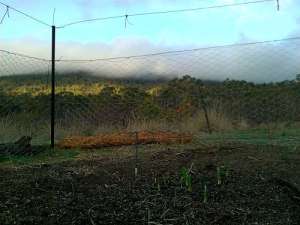 We are still being blown away with the support and belief our community is showing us…even though the garlic is 6 months away, the lettuces, kale, broccoli, carrots, radishes and many more will soon be in the ground and then (fingers crossed) on people's plates. We can't wait! Thank you for walking this journey with us.
Mel and Sas