Gidday out there!
As I write this the correllas, galahs and cockatoos and cacophony of other birds, dogs, cows and who knows what else are banging around and the sun is on my face. Its a perfect autumn day, the grass is growing and covering what was dust almost a month ago. The dust of green feels like a sigh of relief; and the ever hovering thought: 'will it rain??' diminishes slightly. I am reminded just how quickly we can be turned to the present when it feels do-able, ok and not that it will all collapse and die if you don't tend to it.
This weather is also perfect planting out weather – we need to get everything we can in the ground before the earth cools down and hibernates for the winter. We need everything to get its grow on NOW so we can harvest it throughout winter/spring. If we leave it too late the plants/ seedlings will sit there and not grow and take up precious space not doing anything…which might seem not such a worry but on our scale and with our intensiveness this is a factor we try to eliminate as much as possible. If you can hear a thread of anxiety running through my words you'd be completely correct. As much as I know we do as much as we can; and every year (remember we only get one crack a year at each season!) we improve – these windows of transition are still tricky for us to juggle! There's days I feel in the flow and then there's days I try so hard to get my head around it that I think I'm actually ridiculously unproductive which elevates any overwhelm I already have lurking in the background!! We have a massive to-do list that lives on a white board in the shed and is pretty much our brains combined into gung hoe…sometimes i find it helpful and at other times its just TOO MUCH! as pictured here 😉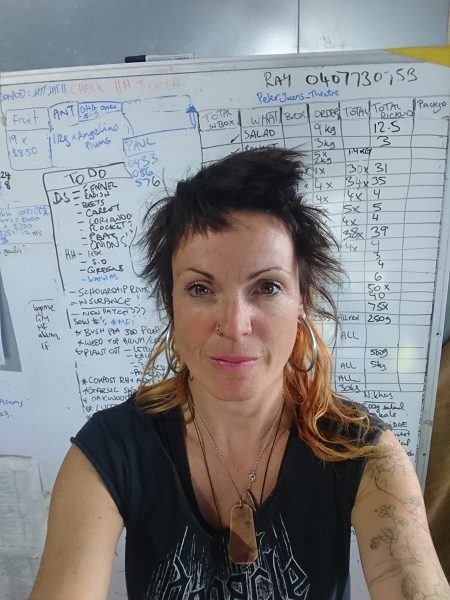 Ah well…is life, no? We're never completely 'all over it' are we, and as I heard in a podcast interviewing Mary Oliver recently, she mentioned how important it is to leave space to accommodate chance… I do believe that if we so perfectly organise our lives there is no chance for the unknown and spontaneous, and indeed isn't that what breathes life into our steps?
The magpies are swooping out of a big gum I sit and type under, they're singing and uplifting the spirit. As the seasons roll on by we see the transition – the garlic is all mulched its strong green leaves are poking out of its bed of straw…and in the same moment growth has slowed and it is harder to get the mass bulk we need for boxes, caterers, cafes and restaurants so there is a glimmer in the distance of Sas and me too slowing down. We will finish our seasonal boxes in early June for a few months, (but still continue with wholesale) so we can bunker down with the season and take stock, regain energy needed for spring/summer/autumn. We will start with the morning sun soon rather than meeting with the moon at the beginning and end of our days, yay!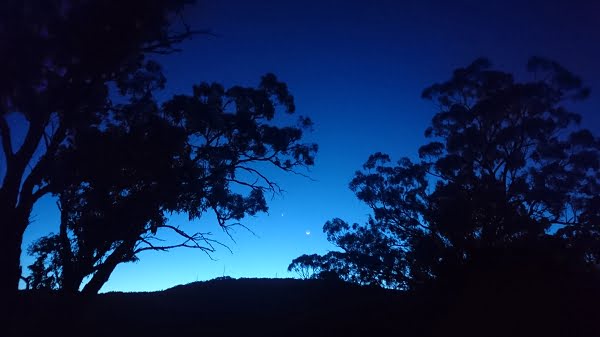 As a celebration we are holding with Ant (from Tellurian Fruit Gardens) a casual farm tour and shared potluck dinner with members of our hybrid CSA box scheme on Saturday 8th June. We will be sending out invites to everyone who has eaten and travelled the seasons with us via the electronic mail – via mailchimp – so keep an eye out y'all – and often Mailchimp can go into junk or promotions folders – so please keep an eye out in these too, we don't want anyone to think they haven't been invited!!! There is a registration for the event (in the email you will receive!) so we can make sure we have enough seats, toilets, water and parking space so make sure you sign up if you're intending on joining us 🙂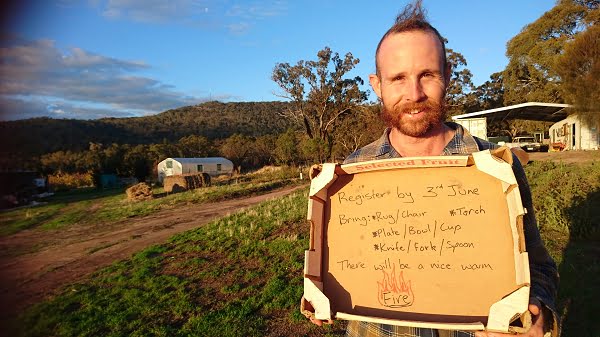 We are so grateful for those in our community who support us and what we're aiming to do in building stronger, local food systems and building soil. We understand that it takes a certain amount of understanding and tweaking of what we mostly call 'normal' life to live in sync with the food we have available to us in each season as its so easy to not live this way. So in celebration of you, and for for us to celebrate the earth and everything that comes from it, we would love to show you with a short tour where the food is grown and any questions you have, and then sit around a fire, or in the shed and do what people have done for millennia by celebrating with food, together. Pretty simple, but generally it's what is the golden ticket we reckon.
So with that, may you be enjoying these cooler days of green and red and brown and gold and be reminded of this wisdom so beautifully penned by Wendell Berry from his poem Rising : (bearing in mind man equals all peoples 🙂
But if a man's life
continues in another man,
then the flesh will rhyme
its part in immortal song.
By absence, he comes again.
There is a kinship of the fields
that gives to the living the breath
of the dead. The earth
opened in the spring, opens
in all springs. Nameless,
ancient, many lived, we reach
through ages with the seed.
In peace, Mel (and Sas)