I've been to three outstanding Christmas parties in the last couple of weeks, all of which were beautiful examples of what Christmas can be about.
Two were for the boards I sit on—Maldon and District Financial Services Ltd, or MDFSL (a not-for-profit company which runs the Maldon and District Community Bank branch of the Bendigo Bank), and Melbourne Farmers Markets  or MFM (another not-for-profit company which runs farmers markets in Melbourne).
I love being on these boards. It's satisfying to be part of organisations that do meaningful work in the community and achieve really solid on-the-ground results that are in line with my values.
For example, MDFSL strengthen the local community by funding all sorts of different projects (to the tune of almost $3 million dollars so far), and MFM are radically improving the food system by providing an accessible marketplace for small-scale farmers (like us) to get retail prices by directly connecting with customers.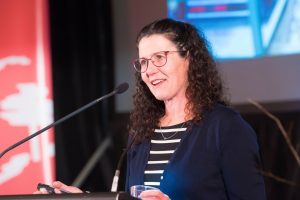 I'm also grateful for the pathway that led to being on boards that came from winning the RIRDC Rural Women's Awards in 2015. Without that chance, I would probably never have considered stepping up into leadership roles like this. It's led to huge personal growth, I've had inspiring mentors, and have learned heaps.
Both Christmas parties were absolutely delightful, and much more like getting together with a group of treasured friends than going to a company event.  There was no excessive gift giving, and in fact no commercial focus at all.
Both involved really delicious and thoughtful food; in one case one of the board members cooked us an incredible Sri Lankan feast; in the other the laden feast table featured a wide variety of locally grown delicacies, bought direct from farmers, and prepared with skill and love.
Both evenings were full of interesting, meaningful and thoughtful conversations, and in each case it really felt like I got to know lots of people a bit deeper, and even met partners of people I've worked with for years.
The third party was definitely the simplest, and probably the best. This is our first Christmas together as the Harcourt Organic Farming Co-op, and we celebrated picnic-style on the farm.
Despite how incredibly busy everyone is, the whole co-op (plus friends) took time out one evening this week to relax and share a meal on the banks of the dam to celebrate.
The slightly cool weather didn't stop most co-op members (and the dogs) from having a swim, and of course the food was abundant and completely delicious!
Again, the food was delicious and super local, because most of it came from the farm!  The conversations were fun, warm and interesting, and the bevvies were delicious and plentiful. Most of all though, it felt fantastic to stop work, sit for a moment, and just BE together. It felt like our community is becoming a family on the farm—a farmily.