Well the season has done its full change now…the morning are crisp and when the sun doesn't shine, the air is starting to feel cold.  For us out in the earth, this means we have a busy month ahead; (which we've been already busy planning for by planting out extra seeds, trying our damned hardest to calculate the correct amount for a continued harvest throughout autumn and winter…namely winter). We need to make use of the still-warm soil, and the kinda cooler days which means cooler green babies like brassicas gotta get in the ground pretty much in the next few weeks.
We are feeling a tad tired, summer is busy and you get into the flow of getting up early, harvesting, picking, delivering, harvesting, trying to keep up water…eek!
So the new season means a new pace…which is welcome, and we will find our groove. Of course the other exciting come back to the garden in this month is garlic! As we plant by the moon there are only a few days that scream 'GARLIC' this month and we have gone with early next week, rather than at the end of the month.
We generally try and save our best bulbs from the previous year to be our seed for this year.  We have decided this year to not do elephant garlic, however we will be trying a few different varieties of the smaller bulb.
We plant ours out 10cm apart, a good thumbhole deep, give them some yummy food (compost, manure) and water. Pretty easy! This year we are going to mulch the beds to save us some weeding, it will also feed the soil.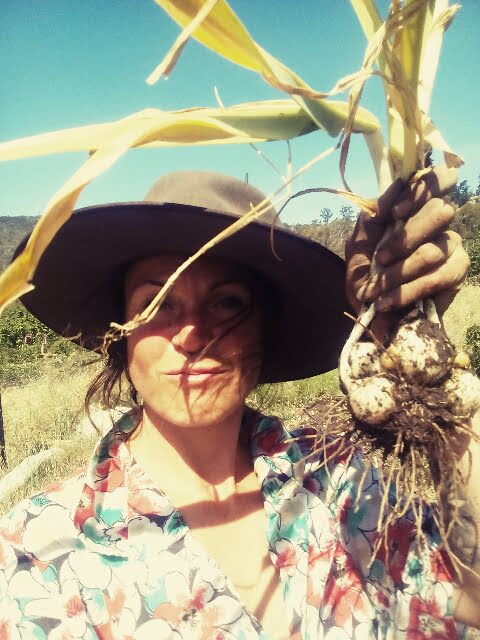 Garlic likes food about once a month, and water when it starts to get warm.  If you live in a place like we do and there's no guarantee that winter and autumn bring rain, so you may have to water throughout the cool months too.
I find it funny that people complain in the months when there is no garlic around – well, Australian garlic that is.  When it disappears from the markets and the shelves it is because it is growing!  It makes complete sense!  The little cloves even tell us its time because they grow green sprouts!  You can prolong the life of your garlic by storing it somewhere dark or preserve your garlic in oil, by pickling and (I've never tried it) can you freeze it?  Anyway, my point being, living in sync with the seasons means eating what is growing and ripe at that time. But garlic always seems to stir people up!
May you enjoy eating  growing and keeping those vampires away!
Sas & Mel