Our first ever bushdance (called the Gung Hoe Down) will be held on the farm next Saturday (28th) along with a mighty harvest feast to mark the end of an incredibly successful season.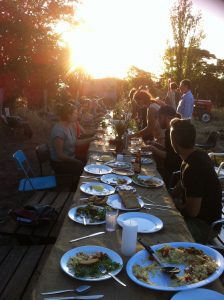 It's the brainchild of the inimitable Mel and Sas from Gung Hoe Growers, and they've put heaps of planning into it, from organising an excellent local band known for calling a good dance tune, to designing a delicious menu based on food grown here on the farm, to sourcing local wine and cider to sell at the event.
As the Harcourt Organic Farming Alliance (HOFA) continues to take shape, feasting and celebration has been one of the consistent themes that shows up on everyone's 'wishlist' of what they want out of being part of this farming collective, so we hope it becomes an annual event – or even better, just one on our calendar of celebrations!
But there's another reason the Gung Hoes are putting so much effort into creating a fabulous event. We've watched in awe as they've built their business rapidly over the 3years since they started, doubling and then redoubling the size of their patch, and steadily building up their customer base.
They've applied themselves to the back-breaking work with diligence, grit and barrow-loads of determination, doing everything by hand because they haven't had access to equipment.
But like so many small businesses just starting out, they've been doing it on a shoestring, particularly as part of their mission statement is to provide affordable food to local people, which has meant they've kept their prices very sensible.
The rapid growth means they desperately need more physical space for storage and packing, but without capital behind them that's a big ask.  In their typical thrifty fashion they've found an incredibly low-cost way of providing the infrastructure they need – but they still need to fund it.
Rather than follow the traditional business route of going into debt, they're applying the same innovative spirit that's seen their business grow and gain huge community support so rapidly into exploring new ways of funding business growth. And what better way to do it than combine it with a huge celebration – hence, the Gung Hoe Down!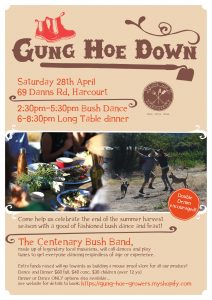 It's a big risk for them, as they have to commit to a whole bunch of expenses up front, but they have faith that by putting on a great party for the community they'll be able to achieve their financial goal. They're aware that not everyone likes to dance, and some people can't afford a feast, so there's a wide range of ticketing options. Check them out here.
And we have faith in them.  This event just perfectly sums up everything that Hugh and I love about welcoming these enthusiastic young farmers onto our farm – the determination to provide delicious and nutritious food to local people at a reasonable price, the innovative and clever approach to doing business, and the impulse to have a party at every opportunity!
See you on the dance floor or at the feasting table.