Growing bush foods has long been an interest of ours. We know a lot about growing deciduous fruit, but very little about growing our native food plants.
This has always felt like a huge gap in our education. Deciduous fruit trees (like apples, plums, cherries, etc.) are absolutely wonderful. But they weren't bred in this country, and they sometimes struggles to adapt to the harsh Australian climate.
We would never suggest having a garden without a fruit tree. But it seems sensible to also learn about the many amazing bush food plants that have evolved in this country.
It's also important to acknowledge indigenous expertise in the area of bush foods. We're really excited about a partnership that's developed on our farm between the Gung Hoe Growers and the Murrnong Mamas.
The Mamas are an indigenous catering group that includes as many bush foods as possible on their menus. Sourcing ingredients can be a challenge. So a group of young indigenous growers has stepped up to learn how to grow them. They get free access to the land, and Mel from the Gung Hoes shares her market garden expertise to help with the practical side of establishing their bushfood patch.
It's a huge privilege to watch a small commercial bushfood patch develop outside our back door!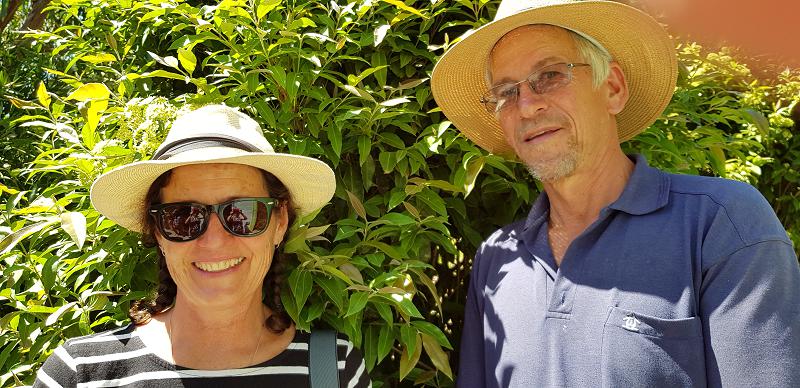 Bush food field trip
We're also keen to learn from others who have been growing bushfoods for longer. On a trip to Gippsland we spent a marvelous afternoon at Peppermint Ridge Farm in Tynong North. The farm is on the boundary of lands owned by the Boonwurrung and Wurundjeri people.
We took the tour of their native food garden and enjoyed an amazing lunch. It was one of the highlights of our trip.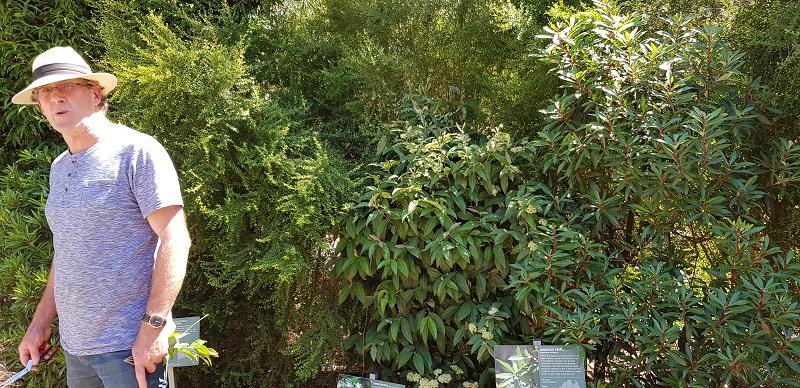 Julie Weatherhead and her husband Anthony Hooper started their first native food polyculture experimental garden on their property in 1997. They've since trialled over 60 species.
Anthony gave us a very knowledgeable tour of their established gardens. They feature many of the species that have proved to be the hardiest and most useful for home gardens.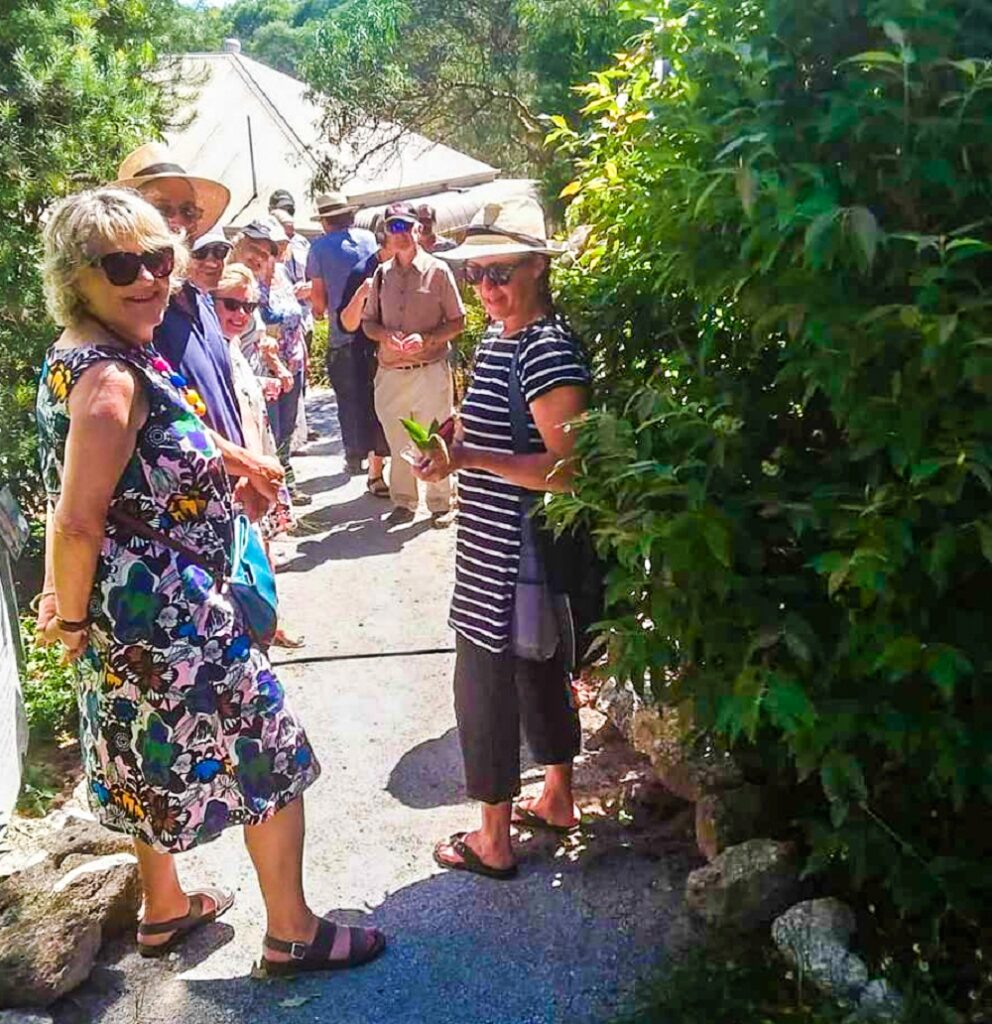 They're understandably protective of their garden. We were asked not to sample any fruit or touch the plants unnecessarily as we were walking around.
Several of the plants are quite sensitive and the fruits are likely to drop if they're handled on the tree. As fruit growers, we could totally appreciate the request. However, the plants were all very tempting so it took all our willpower to resist!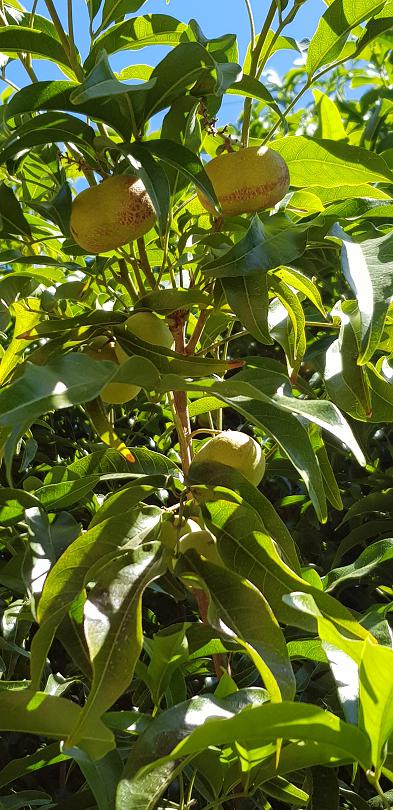 Eating bush foods
Luckily Anthony supplied us with plenty of leaves to smell (and taste) as we went. We also got to taste some delicious tea as we were taking our tour. The tea was brewed in the garden from fresh Anise Myrtle and Lemon Myrtle leaves.
After the tour, we moved into the rustic farm cafe. It was the original Nar Nar Goon North Primary School building dating back to 1929. In 1997 the family relocated the building to the farm to be used as an educational space and cafe.
It was officially opened in October of that year. The launch included a program featuring Aboriginal elders providing workshops on Aboriginal culture with traditional dancing and singing. School groups continue to learn about Aboriginal culture from Koorie educators at the farm to this day.
But back to the food – what a lunch! We were too busy enjoying eating it to take photos of it (sorry, very un-foodstagrammer of us)! We did get a couple of shots of the menu to share with you though because it was such an interesting use of bush foods.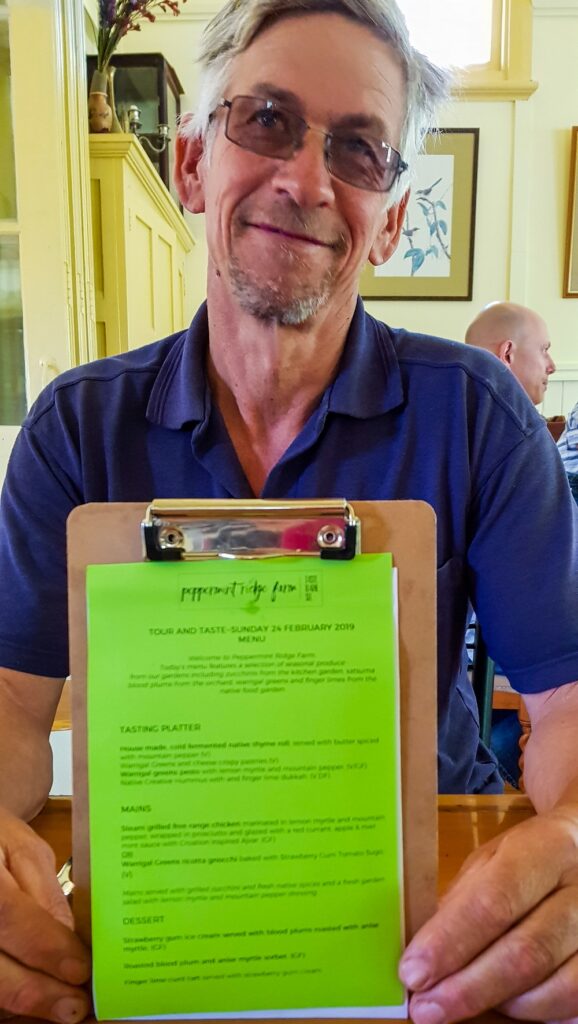 Warrigal greens pesto was unusually delicious, as was mountain pepper spiced butter. The finger lime curd tart with strawberry gum cream was mouthwateringly good.
In fact, most of the dishes were a revelation, and all beautifully prepared.
Acknowledging Aboriginal expertise
We were asked not to take photos of the information boards they've created for each of the native plants. Again, it was hard to resist but we could see their point. Instead, we bought a copy of Julie's beautiful book, Australian Native Food Harvest (which you can buy here through their website).
Importantly, the book acknowledges the long stewardship of the land by Aboriginal people and their amazing knowledge of the food and medicinal uses of bush food plants. It also recognises the huge loss of knowledge, culture, and skills as a result of colonisation.
"The pace, impact and scale of the occupation of Aboriginal lands meant the end of this way of life along with the sustainable agricultural systems that had been perfected over many years. Much of the last century has involved a long, slow and painful process of Aboriginal people reclaiming and reasserting their right to the land. Only recently has there been a push to provide due acknowledgement of the skills perfected by Aboriginal people on how to sustainably manage Australia's native cornucopia."

Julie Weatherhead, Australian Native Food Harvest: a guide for the passionate cook and gardener
Julie wrote the book in 1996 as the culmination of 20 years' experience growing and cooking native foods. It gives detailed information about the 20 best native plants for growing in home gardens. It covers plants best suited to subtropical, temperate, and cool climates, as well as interesting sections on garden designs.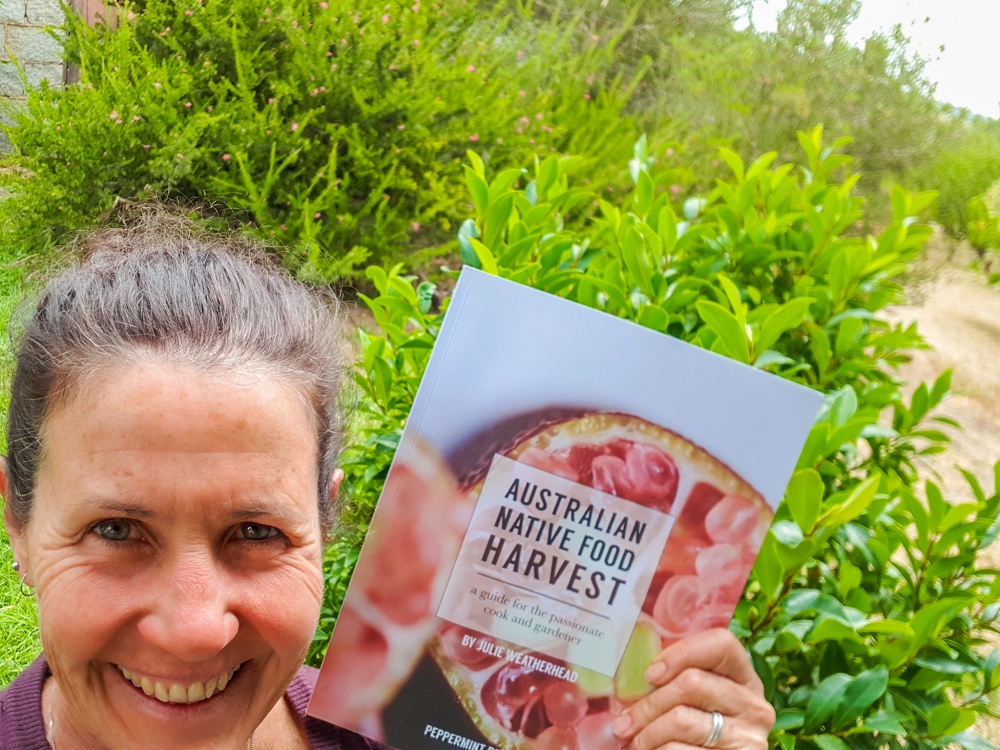 Bushfoods in your kitchen
There's also a whole section in Julie's book that's devoted to delicious-sounding recipes. Some were for plants that we already grow such as Warrigal greens, native thyme, and finger lime. Others we plan to include in the garden, like lemon myrtle and yam daisy.
Peppermint Ridge grows quite a few native food plants that we'd assumed would only grow in tropical climates. If they can grow mountain pepper, anise myrtle, muntries, Illawarra plum, Davidson's plum, and native ginger then maybe we can too.
You may be surprised to learn how incredibly healthy some of these native foods are. Did you know that mountain pepper leaves have 12 times more calcium than blueberries? They also have 9.3 times more antioxidants, 4.7 times more vitamin E, and 10 times more vitamin A.
Many native foods share these same characteristics. They have much higher levels of antioxidants, vitamins, and minerals than many of the "super foods" that have been popularised. Yet to a large degree they're still ignored in most Western diets!
Bringing home new ideas
Field trips are full of surprises and never disappoint. We've never failed to bring home at least one new idea for our own farm. It might seem a bit strange, but one of the things we were impressed by was the public toilet.
It was a composting toilet of clever design and execution. Beautifully clean, easy to access for people of all abilities, not at all smelly, and spacious enough inside for two toilets and a separate urinal!
It was impressive to see how well it can be done. It definitely served as inspiration for the composting toilet we built at our place when we set up the Harcourt Organic Farming Co-op.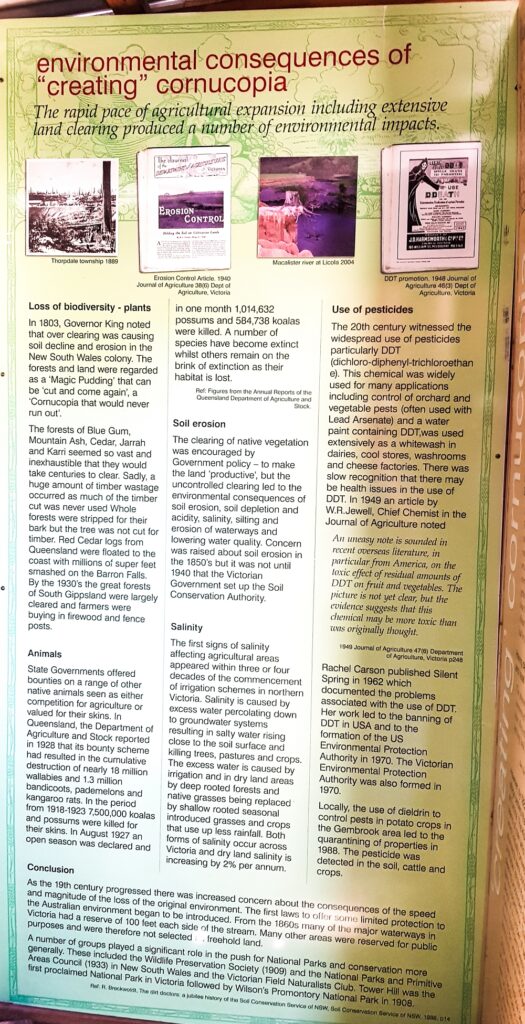 We particularly loved how Julie and Anthony used the space inside the bathroom to tell the story of the land. The descriptions of how farming has taken a huge toll on the environment are a great way of educating the public by stealth!
We came away feeling more inspired than ever to include more native food plants in the ever-expanding biodiversity of our farm. They deserve to be grown, appreciated, and used. We're also keen to include more of them in our diet.
The week after we visited, a massive bushfire in Gippsland threatened the property, burning right up to the fence. We were relieved to hear that Julie, Anthony, their family, and their farm survived the ordeal.
Many others and much of the beautiful remnant Gippsland bush weren't so lucky. Our thoughts go out to everyone who's been affected by the ever present reality of bushfires.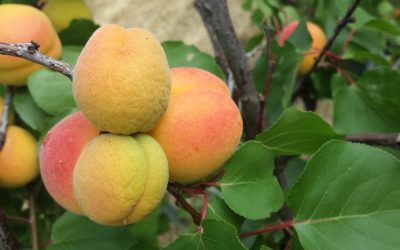 Have you heard of fruit thinning but don't know how (or why) to do it? It's a simple but important technique to help your fruit trees bear a healthy crop every year.
read more