On our recent trip to Gippsland, we spent a marvelous afternoon at Peppermint Ridge Farm in Tynong North, having a tour of their native food garden and enjoying an amazing lunch. It was one of the highlights of our trip.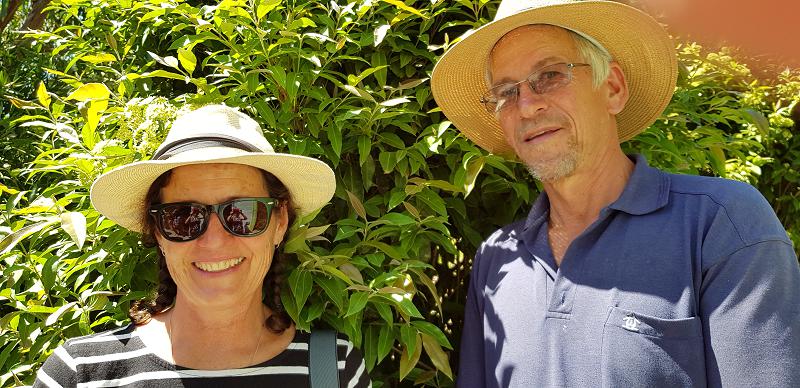 Julie Weatherhead and her husband Anthony Hooper started establishing their first native food polyculture experimental garden on their property in 1997, and since then have trialed over 60 species.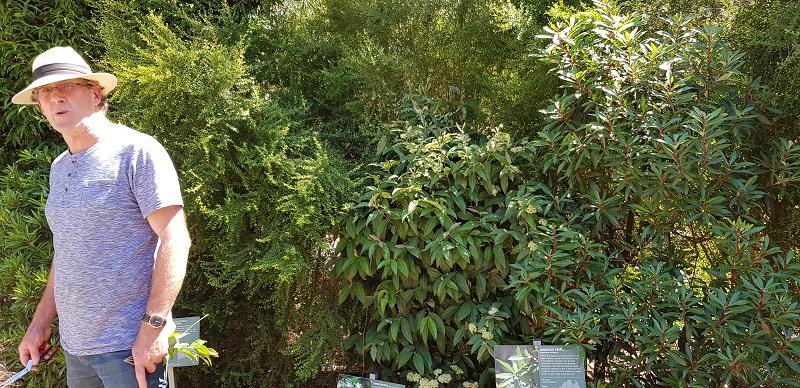 Anthony gave us a very knowledgeable tour of their established gardens that feature many of the species that have proved to be the hardiest and most useful for home gardens.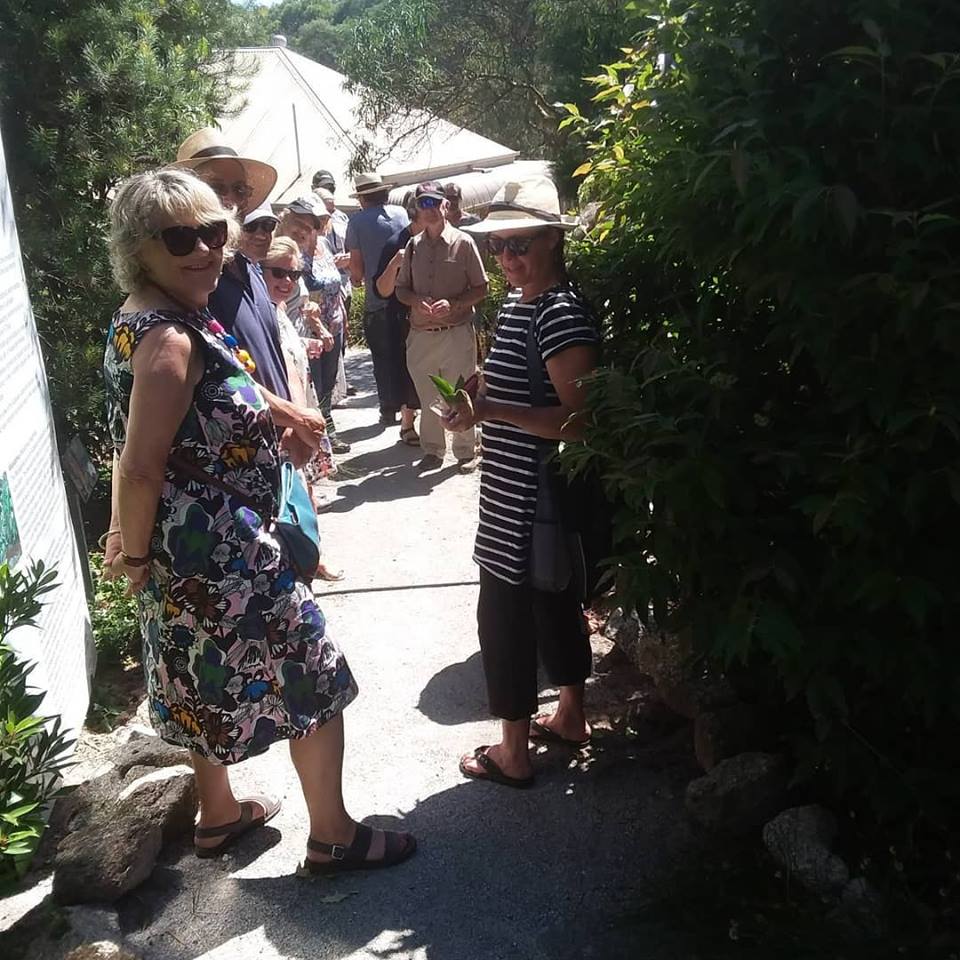 They're understandably protective of their garden, so we were asked not to sample any fruit or touch the plants unnecessarily as we were walking around, as several of them are quite sensitive and the fruits are likely to drop if they're handled on the tree. As fruit growers, we could totally appreciate the request — but the plants were all so tempting it was very hard to resist!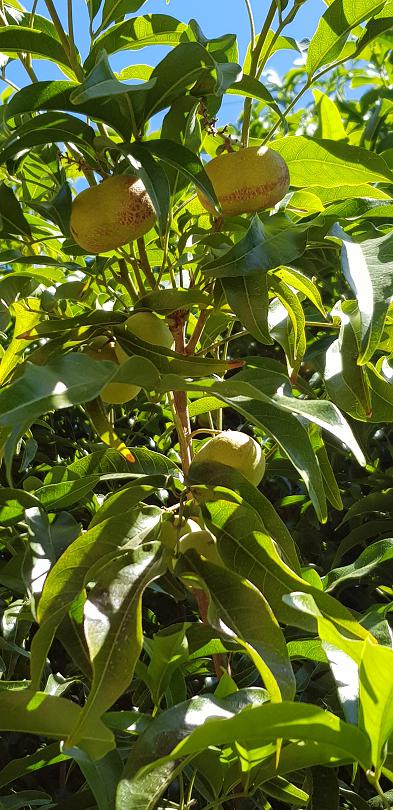 Luckily Anthony supplied us with plenty of leaves to smell (and taste) as we went, as well as providing delicious tea that was brewed from fresh leaves as we were taking our tour.
After the tour we moved into the gorgeous farm cafe, which is the original Nar Nar Goon North Primary School building dating back to 1929, that has been relocated to the farm to be used as an educational space, and now cafe.
And what a lunch! We were too busy enjoying the food to take photos of it, but we did get a couple of shots of the menu to share with you, because it was such an interesting use of bush foods. Warrigal greens pesto was a revelation, as was mountain pepper spiced butter, and the finger lime curd tart with strawberry gum cream was mouthwateringly good. In fact, most of the dishes were a revelation, and all beautifully prepared.
Field trips are full of surprises and never disappoint — we've never failed to bring home at least one new idea for own farm. It might seem a bit strange, but one of the things we noticed was the public toilet.
It was a composting toilet of clever design and execution. Beautifully clean, easy to access for people of all abilities, not at all smelly, and spacious enough inside for two toilets and a separate urinal! We'll be including a toilet as part of the Hub project we're currently building, so we were impressed by seeing how well it can be done.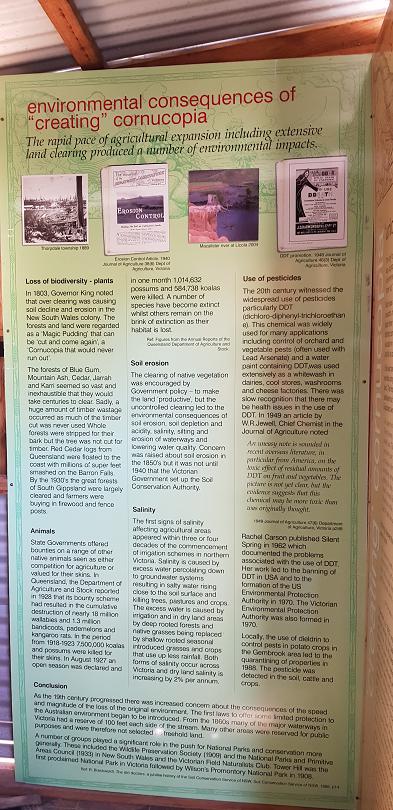 We particularly loved how Julie and Anthony have thoughtfully used the space inside the bathroom to tell the story of the land, and the way that farming and changing land use have taken a huge toll on biodiversity and the environment — a great way of educating the public by stealth!
We were also asked not to take photos of the fabulous information boards they've created for each of the native plants. Again, it was hard to resist but we could see their point, so instead we bought (and have since avidly read) a copy of Julie's fabulous book, Australian Native Food Harvest (which you can buy here through their website).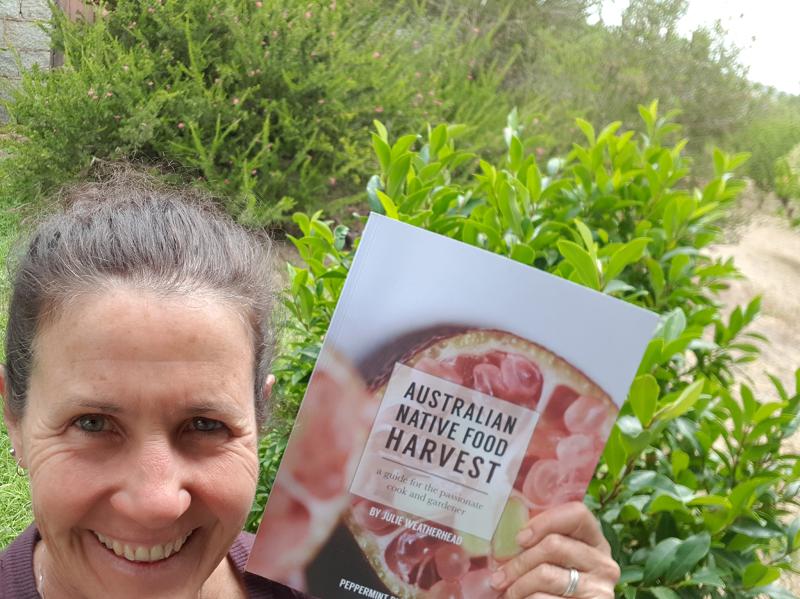 Julie wrote the book in 1996 as the culmination of 20 years' experience growing and cooking native foods, and it gives detailed information about the 20 best plants they've selected as being appropriate to grow in home gardens in subtropical, temperate and cool climates, as well as interesting sections on garden designs, and lots of delicious recipes.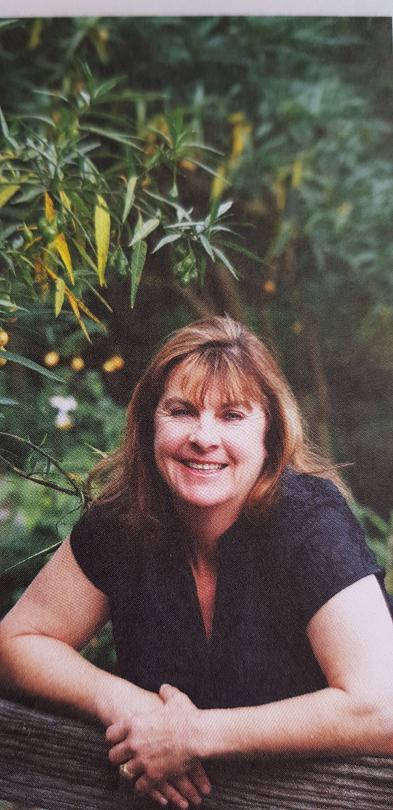 They include some we already grow (e.g., Warrigal greens, finger lime) or had considered growing (e.g., lemon myrtle, yam daisy), quite a few that were new to us or we'd assumed would only grow in tropical climates (e.g., mountain pepper, anise myrtle, muntries, native thyme, Illawarra plum, Davidson's plum, native ginger) and some plants we'd just never thought of as bush food (e.g., strawberry gum, vanilla lily and chocolate lily).
One of the new things we learned was how incredibly healthy some of these native foods are. For example, mountain pepper leaves have 9.3 times more antioxidants, 4.7 times more vitamin E, 10 times more vitamin A and 12 times more calcium than blueberries (which are often used as the standard for comparison).
Many native foods share these same characteristics of having very high levels of antioxidants, vitamins and minerals than many of the "super foods" that have been popularised, and yet to a large degree they're still ignored in most Western diets.
We came away feeling more inspired than ever to include these under-appreciated and underutilised native food plants in the ever-expanding biodiversity of our farm.
The week after we visited, a massive bush fire in Gippsland threatened the property, burning right up to the fence, so we were relieved to hear that Julie, Anthony, their family and their farm survived the ordeal. Many others and much of the beautiful remnant Gippsland bush weren't so lucky, so our thoughts go out to everyone who's been affected either this season or in previous years by bushfires.