Hi,
Mel here. Sas and I are enjoying very much reusing materials that other people don't need or want anymore…On the weekend we transported an old dismantled shed from Newstead to the patch so we can have a house for tool and materials and will be where we can store our seeds, garlic, a thermos of coffee and our gumboots!
Another resource we were excited to re-use was some old fruit tree netting no longer needed by Katie and Hugh. Not only does it serve as a white wave upon the ground and a scrumptious scarf for Sas but it keeps the cockatoos off our precious crop of green gold…the garlic (the birds have also been enjoying the broad beans and broccoli shoots…tsk tsk) !!!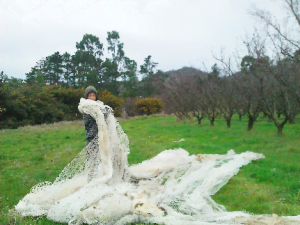 I have no idea why they love it, but they do. The new green shoots must be very attractive, but when bitten, not very tasty?  The birds simply snap off the centre shoots and leave them in the paths for us to disappointedly find.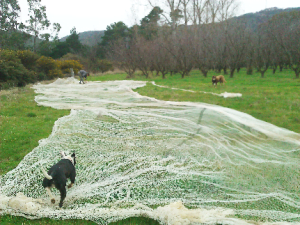 The very windy day made sure that when we assembled the netting we had to peg it down with diligence and defiance! No more garlic for the birds!  So far, the netting has proved very successful, the garlic looks happy under its cover and the eaten plants are forging back with determination.
The other very active part in the patch right now with the onset of spring is the green manure we've put in the 'to-be' tomato beds…do you remember ever making a grass head?  They look similar to one of them!
The plants are speeding up and we feel a little behind in matching them for their growth, but looking upon the green rows brings a smile and watching the bees busy in the flowers lifts the heart.
Welcome Spring!
Grow well,
Mel and Sas