Well, hello there from the Gung Hoe patch!
 As I write this the sun is warm and the sky blue, down here in central vic its amazing how unused to rain we are…a few days of grey skies and stormy clouds and it makes me appreciate the sun once again!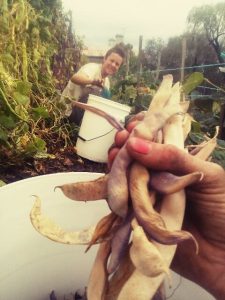 Don't get me wrong though, the rain we've had is perfect, even though it brought hail which destroyed a lot of our delicate little leafies, our customers this week (The Good Table in Castlemaine and Redbeard Bakery in Trentham) are fully understanding of a little less quantity for wet soil and happy plants!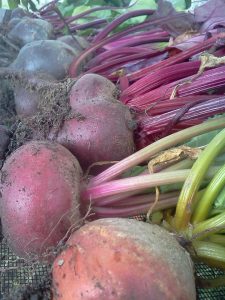 It's an interesting time of year here when the seasons change, everything seems so extreme..a week ago it felt like the oncoming of Spring – balmy nights and hot days, to last week where the fires have been blazing and all you want to do is soup and have a glass of red in front of aforementioned fire!
It is that time where we are madly weeding, trying to let our green babies get enough warmth during the day, but too not too much to make them wither, or bolt, or protest outright and simply die.
Its my mission this autumn/winter to convert Sas to a love of brussel sprouts!
So far, everything is looking good! Small, but good!  We are more on top of the change of season this time and are becoming reflective as we realise we've been here a year now!  This in turn, allows us to be gentle with ourselves…a year is not long in the run of things.
 We've been collecting seeds this week off the beans, which we loved, and are excited to plant with them when their next season turns around…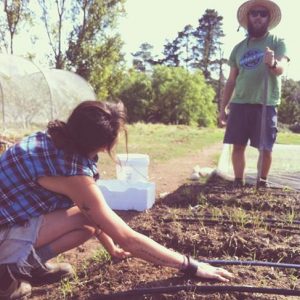 This has turned into a slight ramble, but with pics of the garlic, some yummy beets and the decaying bean vine, it's a really nice reminder that life and death is a cycle, and nature continues to do its thing whilst we fumble around on the edges trying to make the most of it.
Hope this finds you well and taking stock of new chapters.
Mel and Sas