Hi there – hope this finds you well and enjoying somewhere cool as this hot weather takes us on again. Looking forward to the slight reprieve on Sunday and Monday!
All goes well here in Gung Hoe land at the moment – it feels good to be picking, packing, and getting the goods out there!
Last week saw us selling veg in a few new places, which was rather exciting! Katie has been taking some produce with her to our local Saturday market at Wesley Hill, and we've also got a new display fridge which means you can see and then take home beautiful greens and cool cucumbers, whatever takes your fancy really, at the farm shop that is also stocked with lots of fruit.  The farm shop is open Wednesday to Saturday 10am-4pm, at 69 Danns Rd, Harcourt.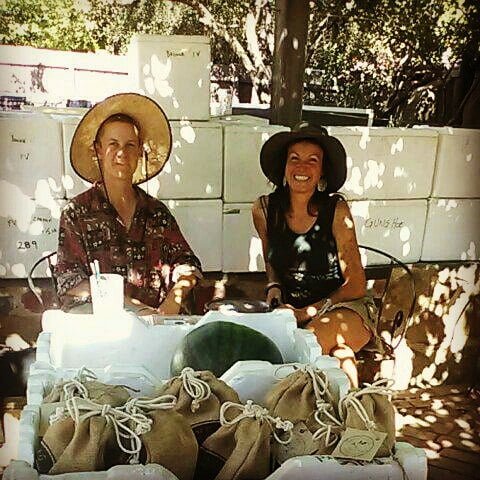 It was also our first official box pick up, quite a landmark for us.  Even though we've been doing casual boxes for 2 years, this was our first sign-up for a month box season.  We are getting better (we hope!) at planting in successions and variety so boxes can last longer and have a good range of seasonal goodies.  Last Tuesday saw us waddling on down to the Theatre Royal courtyard in Castlemaine laden with produce in boxes and a few other things on the side, like our watermelons!!! woah!!! And some preserves that our friend Tess and Sas made last year with excess produce towards the end of the season.  It felt a bit strange to us to sit down for a few hours and chat with people as they came to get their box.  Tell you what though, Mondays and Tuesdays are proving to be very long, big days this season so surely sitting in the shade with a ginger beer spider and a cold beer is permissable!  Thanks to everyone who has signed up and for those who are interested, we will open some more spots for March season soon. Yay!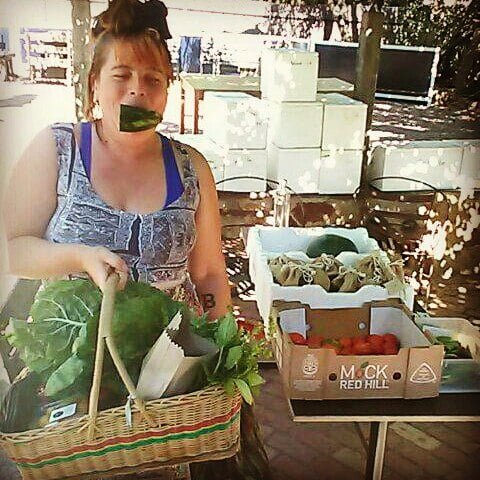 It's an interesting thing selling veg. A  lot of care and attention and sorting goes into getting produce from the ground to either a shelf or a box.  Something we have been talking heaps about between ourselves over the last few weeks is the cosmetic quality of food and our stance on it all.  If you have no idea what I'm talking about, take a quick peek at these links, I tried to find the full episode of ABC's War on Waste Episode 1, but could only find a snippet – 
https://www.youtube.com/watch?v=gjl6js1_hkQ
This is from a similar program by BBC about carrots…
So Sas and I have been talking a lot about the need for food education.  For example, we have grown a lot of green capsicums this year. If left on the bush they will turn sweeter and become red! However, we need to pick some green so the plant can put energy into producing red ones and if there's too many on one plant it might break the whole thing! It's like thinning a fruit tree. The thing is, as you know, it's been a hot summer, some of the fruit has been burnt, which is a natural repercussion of growing produce outside, in the elements. The other thing is, we probably wouldn't be able to sell them to anyone because of the look of it, even though it is a perfectly good capsicum, if just a little burnt. Perhaps I don't give "the people" enough credit and am worried that when they see it, they'll assume it's "bad" and then won't want to eat our food anymore. See, we're all responsible, I too am bowing down to what we've been told is the "proper" way something should bloody look. I'm excited about actively stepping out of that.
I'm not sure if it's a chicken or egg situation, or just the way everyone complies with a system that doesn't support real food. The supermarkets say they can only sell straight carrots and cucumbers, and slightly arched bananas, for example, because customers will only buy the food that looks beautiful and perfect. Is this true? Or will they only buy it because they potentially have no other option or no idea that just because a vegetable is 'wonky' it still tastes as good? I think it's about education. In no way am I suggesting below-standard food is what should be on offer; what I'm suggesting is that our concept of what the standard of food cosmetics is needs to be challenged. By everybody. It isn't just the growers who should be doing this education, it's the retailers and the customers too.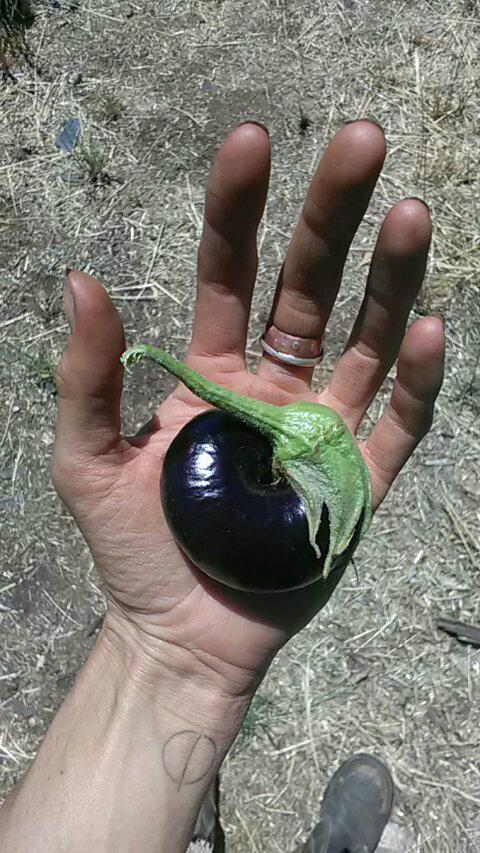 It actually gets me a bit excited and, for want of sounding naff, it adds to the whole story of real food. Education is not justifying something; it's explaining it. It must give you a better appreciation of the entire production line that it takes (even from small-scale like Gung Hoe) for a vegetable fully grown and eatable to end up in your hands. It's had a life that's taken it from surviving as a seed, to a seedling, to a flower that got fertilised, to a developing vegetable to finally a full-grown piece of food on your plate. That my friends is a big journey, with lots of episodes along the way. For every single thing we eat!
We are endeavouring to step it up in this education process and challenge the mainstream "perfectness" that in reality isn't real. I love pictures, pretty ones especially, don't get me wrong! But the way we are stimulated these days with all these pictures of things looking perfect and easy gives you the false idea that that's all there is in the picture. If there's a perfect pumpkin, there's bound to be a half-dead straggling vine around somewhere too. They go together.
We are grateful that in our local community we have retailers that are happy to take the first flush of baby eggplants and Roma tomatoes that are uneven sizes – mostly small – but still tasty as. However, as a mob of people that make up our community – growers, retailers, customers – bloody we're just people at the end of the day, if we're talking about local food and food systems and 'real food' we need to be talking about this stuff too, in a way that creates change. Education creates understanding of the reality of food and where it comes from.
I'll sign off now, have a great weekend and we'll see your faces soon enjoying veg whether it be straight or bendy 🙂
Cheers, Mel (and Saasa)