Well g'day out there, I'm wearing shorts finally and the sun is a shining! Sas and I have been busy planting (not just weeding) the summer goods – it feels so great to be turning the garden into a new chapter. As you know, we have been looking forward to this oncoming change – both in our lives and out at the patch.
It's been a busy few weeks. We've had lots of visitors and conversations and as the season amps up it seems that the energy is too (thank goodness). We did an interview with Katie Johnson through Melbourne Uni for "Wild Farmers", a new podcast coming out soon, and shared bits of our story and learnings thus far. Then the next day we did a bit of filming for an upcoming venture in Castlemaine, and then we had about 30 permaculture design students from Very Edible Gardens visit us too!  This week we had a local food group meeting and had a local backyard grower come visit and shared her vision with us – bubble bubble toil and trouble, things are brewing.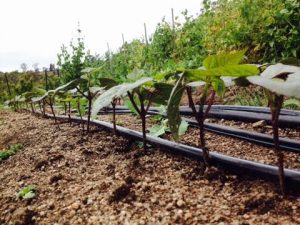 Sas and I were both pretty tired after showing people around and telling them about us (we don't do that so much, see!) and it can be a bit of an exposure (as if you've written a book, or created an art piece, or a song) because we created it and we're still figuring it out. Figuring out what works for us, how we work together, how we work with and respect the land, how to best look after ourselves whilst doing it all…we're learning!  So being transparent about that can be a bit scary sometimes, but pretty bloody brilliant too. I ain't never gonna proclaim to know it all…
Sharing our space and having conversations with people who are excited and passionate reminds us we are not alone, and that we have done a lot more than we realise sometimes, sharing is good, we can learn from others and vice versa…we both want more of that!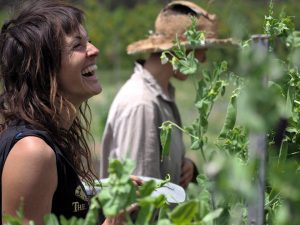 I'm feeling good about this season coming – we're a bit more prepared and thanks to Chuffed we can get big amounts of organic inputs to feed our soil, to feed the plants, to grow them healthy and nutrient full, to sell them to our local peeps. It's as simple and as tough as that. John delivered us some organic straw so we can mulch paths and preserve precious water.
My body is getting stronger, my mind is healing from this year and also strengthening and we're pulling out the garlic next week as the moon is right…these are all markers. As I picked borage flowers this week I thought, 'I love my job,' then as i picked over 12 kg of broad beans amongst the forest they are, I thought 'how can we do this so it isn't so bloody painful next year'.  To me, both of those sentiments are real, true and good.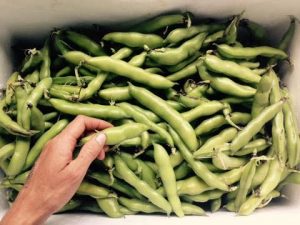 Hope you are keeping grounded and remembering that what we walk on every day supports us more than we know.
Yours,
Mel & Sas x