Setting up the Harcourt Organic Farming Alliance (we're still waiting for someone to come up with a better name….) is exciting, fun, stimulating, inspiring and reinvigorating for us old farmers, but mostly, it's a lot of meetings!
On the phone, by Skype, in person, at offices in the city, here on the farm—we have been talking to a lot of people about this project over the last few weeks.
We've been going through a thorough process of interviewing and getting to know each of the applicants for the orchard lease, as we're keen to choose the person who will be the best fit for the opportunity. We've had multiple meetings with other alliance members as they start to work through the detail of setting up or expanding their businesses. We've had regular meetings with our business consultant, Clare, to work through the many layers of complexity involved with our business development plan, we've met with professionals to get advice on various aspects of our plans, and had meetings with the funding body to report on our progress and discuss next steps. We almost don't have time to farm any more!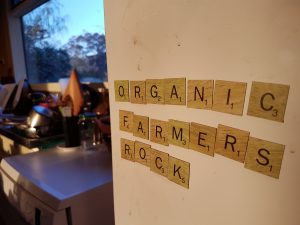 We've also had some welcome interest from the media about what we're doing, and are now starting to get inquiries from other farmers and farming groups interested in doing something similar on their farms. As part of our mission here is to develop a replicable model that can be implemented all around the country, we're happy to share our progress so far, but all this talking is keeping us from our fruit trees!
Spring is such a crucial time of year in the orchard, when it's more important than any other time of year to keep our eye on the ball so we can anticipate and respond to the weather to protect the trees while they're flowering and the fruit is setting. If we stuff up now, we pay for it for the rest of the season!
So we're feeling a little distracted by nurturing two completely different 'babies' at the moment—this year's fruit crop, and our fledgling alliance. Both promise great things and deserve our full attention, but we can't wait until we've steered them through these early, risky stages and can stand back a bit and take a breath!