The days have been so incredibly beautiful lately. Crisp shiny white frost dustings on the grass below big blue skies…golden autumn leaves still hanging on white fisted to branches amongst the orchard, and the sunrises… It's days like these that remind me there's nowhere I'd rather be, and nothing I'd rather be doing.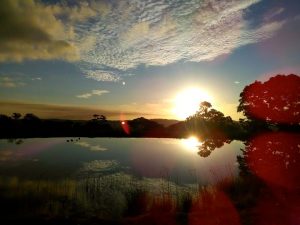 Things have slowed down so drastically in the patch the last two weeks. It's that time of year when it feels like nothing is growing and everything is turning inwards and taking what's left of the warmth into its core. The frost cloth has helped make sure that our little green beauties are protected and that some things at least keep on growing, albeit at a slow grind.
This week we too turned inwards and took the luxury of a whole day to sit by the fire and in the occasional bursts of sunshine to plan out our next season and even a little beyond.  We measured and mapped out our somewhat avant-garde new patch and began to plan what will go into it and what will rotate through the rest of the market garden come spring.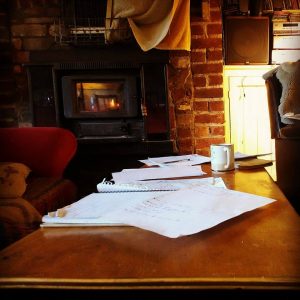 We started our day with lots of questions for reflection…how has the last year been? What has worked, what hasn't worked? How can we do it better? How can we be more efficient? Are we headed in a direction we want to go? Where are we going again?
After a day of intense head work, crunching numbers and multiplying seedlings by our ever growing meterage, we emerged a bit bleary eyed but focused on the season to come and the exciting possibilities of the next stages of development on the farm.  A day wasn't enough, and there is so much more to plan. But that's the tricky balance of farming… taking enough time to plan it out thoughtfully vs doing it, and learning from the inevitable shining successes and thoughtful failures.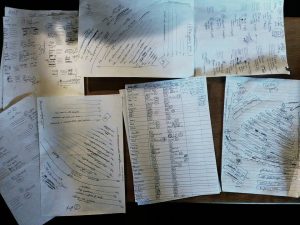 We're really excited by the development of the 'Harcourt Organic Farming Alliance' which is Katie and Hugh's brainchild and a brave and creative step in ensuring  the future of the farm is one they believe in and which helps grow new growers.  For us it's so exciting to think of the potential to share the farm with more small-scale farm enterprises that can all feed into each other in interesting ways…chooks, cows, worms, biochar…the potential is endless.
In an era where becoming a famer is a distant dream to many who can't afford the start-up costs and have no access to land, the generous opportunity Katie and Hugh are offering for someone to lease and manage the orchard as their own, is incredible. Imagine being able to lease an existing and thriving organic orchard and all the infrastructure to run it, and start your business from that point!?
If you, or anyone you know of, might be interested in the opportunity to lease their lovingly grown orchard, expressions of interest are still being taken through this link: https://growgreatfruit.com/expression-of-interest/
Please share it around. Expressions of interest for other potential enterprises are also being taken.
Winter wonderfulness to everyone.
Sas and Mel
Gung Hoe Growers