Well hello there!
I wonder how this finds you, at this time of year, in this upside down turn around season which feels like spring/summer/autumn all mixed into one unknown bag…
I hope it finds you breathing calmly and walking steadily. Or if steadily is too much, just walking is ok too.
Its taken me almost 10 months to be ok with the fact that the world has felt a bit much to handle and that it's ok to just breathe. Breathe and take stock and not fall into the rush and craziness and sometimes very fast pace of this place and time in which we live.
Of course, as I've realised this, things at the patch have amped up which require the theory to be put to the test! Summer is taking its time to warm up here, but that just makes it seem that our turnover period is also dragging out like no end! This is a bit exhausting—I just want summer things to be in and growing! But they are growing! The lettuce is booming the eggplants are beefing up, the okra is still standing, and wee baby tomatoes that will be red I'm sure before xmas (here in central Vic that's a total win!).
But that's what happens isn't it? Life rolls on and we can choose to sit and watch it, or move along at our own pace with its ebbs and flows. I am trying to keep my own pace so I don't feel so overwhelmed that I burst and then slowly pool into a mess of a puddle, or pretend that I can keep up and all together and fizzle out, either with a large bang or a wee whimper, into an atmosphere of dust. Sounds dramatic but it's really got to be a conscious decision—that and noticing the everpresent sweet things in life (cliche but true) such as Scallywag being a rocket dog keeping cool, and this nasturtium about to bloom amongst the tomatoes that looks like petrie from the Land Before Time.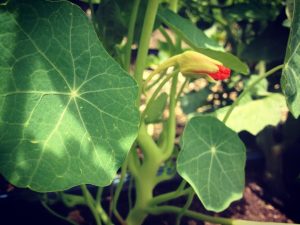 And so, as you read a few weeks ago, we harvested the garlic and now we're selling the purple beauties along with our leftover chuffed teatowels!
We had a huge amount of help for the garlic prep (Braz, Jessie, and Felix) and also to print the cloth (Jem & Betty!) and they all look beautiful!!!
We're currently selling the garlic and towels via an online pop-up shop here for a very limited amount of time! –
https://gung-hoe-growers.myshopify.com/
Oh! and if you're interested in keeping in touch with our pop-up stalls, veggie boxes over summer, pictures, chuffed updates, etc, please sign up to our mail subscription here!
http://facebook.us12.list-manage.com/subscribe?u=f3c30a1e372a5fe397cbc74e7&id=137299ee94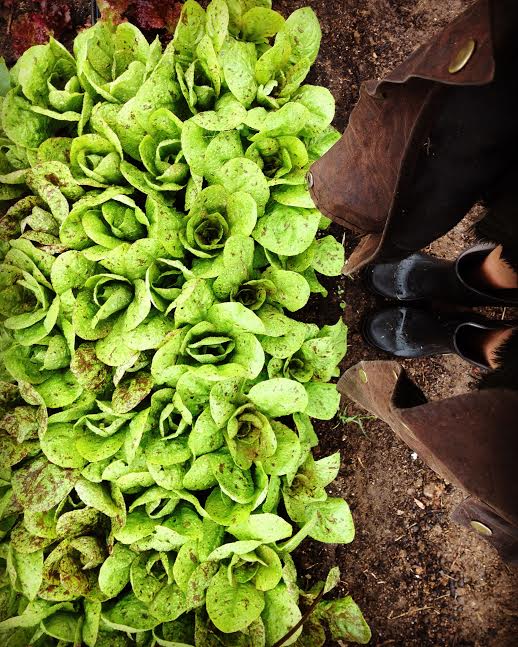 We do hope that whatever your journey has been this year that it's built you in a way that you could never realise until it happened. I've never thought of life as such a mystery until this year, and even with its inbuilt struggles and beauty, I'm grateful for it always revealing itself to me.
Make a little garden in your pocket.
Plant your cuffs with radishes and rocket.
Let a passion fruit crawl up your thigh.
Grow some oregano in your fly.
Make a steamy compost of your own fears.
Trickle irrigate your life with tears.
Let your troubled mind become a trellis.
Turn your heart into a summer palace.
-leunig
Stay breathing out there, and walking your walk.
We'll see you in 2017
…Mel