Well, this happened this week – we now have a pretty much finished shed!! hurrah!!
Over the last 3 days, Sas and our friend Sendo (who generously drove down from NSW to help build) have been digging, calculating, drilling – building! See below for a quick pictorial…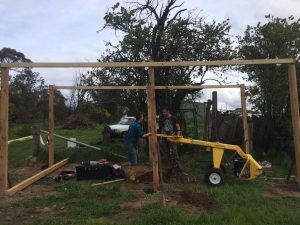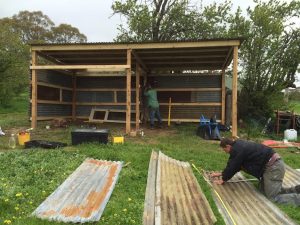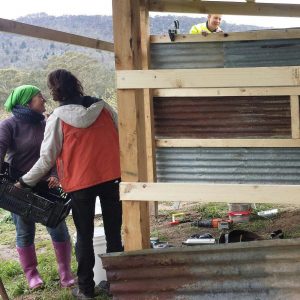 We have been able to build this thanks to the donations to our latest crowd funding campaign. It's gonna be really great to get to put our tools somewhere dry that's not in Katie's and Hugh's car shed, we'll have a sheltered, dry place for a cuppa in the patch, somewhere we can dry and house seeds, shelves, I could go on!
I helped on the last day measuring and helping do the tin walls, and am amazed at the way in which Sendo and Sas got in there and got the job done. It's still a bit overwhelming knowing that we are able to do these projects which will help us big time out at the patch thanks to people who believe in us and were able to donate some money, and tin and time!
We also had some visitors out at the patch this week who have been long-time supporters, sharing our space and what we do gives us great pleasure – even though it can feel a bit scary too. But with the next season rolling on, we have our eyes set on tomatoes, sunflowers, resting in the shade of the new shed (its awaiting its name still), and sharing more of what we do out in Harcourt.
Hurray for the flow of movement and different types of work that continue to challenge, suprise and support us. Sas and I are ever grateful that we work hard at something we love and learn from continually and believe deeply in. Thank YOU for supporting us too…gives us a yell if you'd like to come have a cuppa in the shed when we've finished this wall!!
Grow well and go gently,
Mel & Sas