Hi there,
Hope this finds you well. As I sit writing this I feel a bit beaten and calm (i.e. tired and grateful for the shreds of rain falling at present) it has felt like a big month here for me.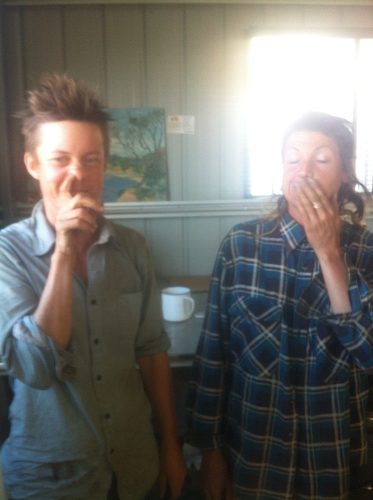 When Sas and I dug up new ground for our first 30 metres of garlic 4 years ago here in Harcourt we didn't really have a plan. We just wanted to grow and try our hands on this dream we both had igniting us forward… Four years on and we're still such grasshoppers! But becoming more and more at peace with this fact. One of the reasons I fell in love with farming was the fact that I was working with nature. I had no other choice – it is far more powerful than me and thanks to climate change is becoming more and more unpredictable. Something about this really humbled me and I felt like I was respectfully working with something much greater than me. In the last 4 years this has made me feel more broken than I think I realised, but this oncoming season both Sas and I seem to be more accepting of the fact that there's always one pest that will cause havoc and at least one of our crops will fail…
I know that we would never have dreamed that down the track we would be part of a dynamic, system changing small farming co-operative. This last week has both heartened me and given me insight to the reality that even though we aren't doing anything new (we're just living in the past really, haha) we are pushing current systems, ideologies and having the opportunity to really work to our values from the ground up (yes, pun intended. I rarely understand them, let alone use them!). We are not alone in this movement, I know this for a fact, and it's comforting talking to others near and far who are also actioning the very same ideals and beliefs.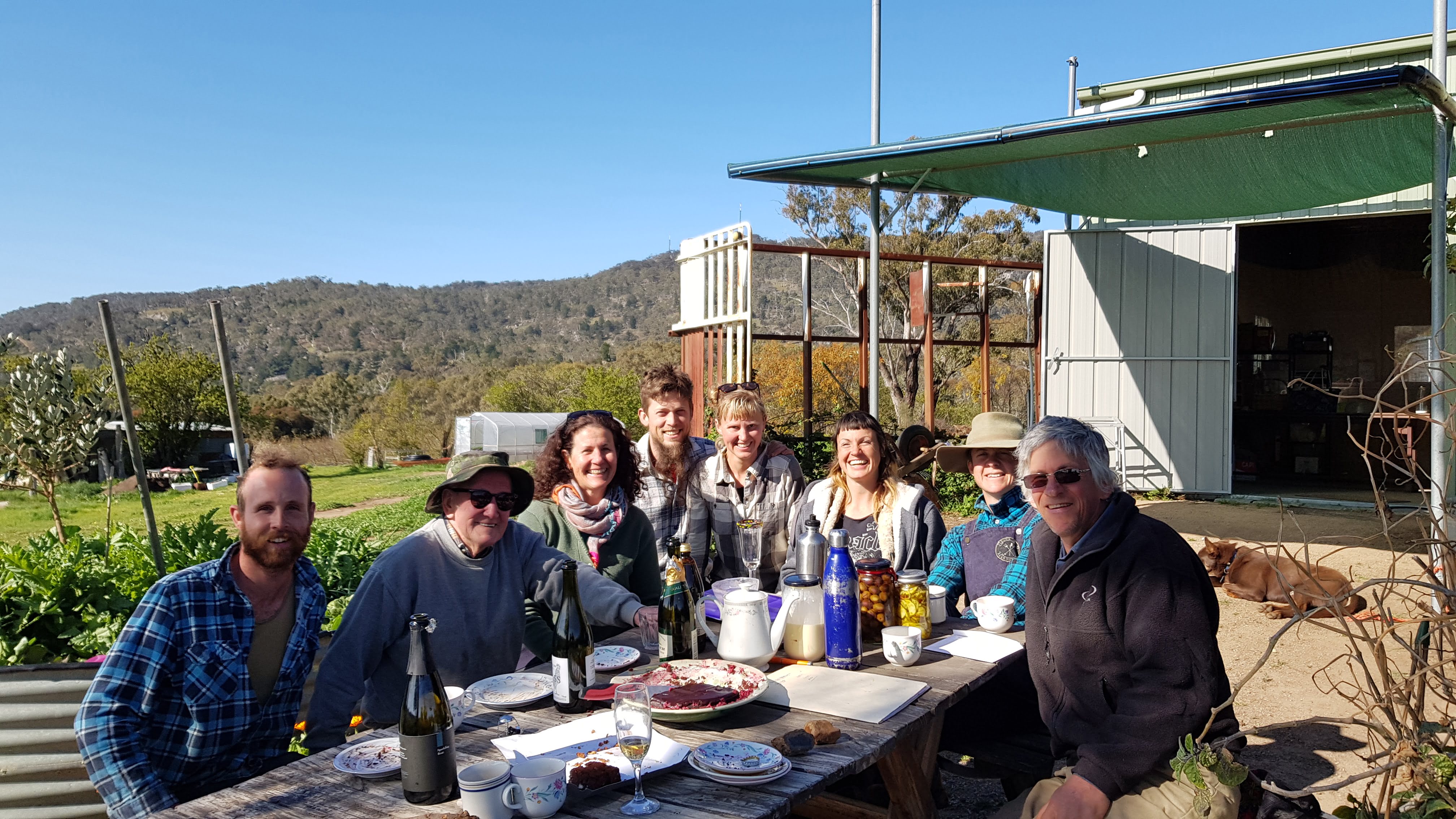 As I've mentioned in other blogs, the relatively recent arrivals of Ant (Tellurian Fruit Gardens) and Tess (Sellars Farmhouse Creamery) and a formal partnership in the nursery (Carr's Organic Fruit Tree Nursery) has formed a supportive farming community on this very land. I'm constantly learning new things about fruit trees, grafting, cows, pasture, innovative energy systems…the list goes on. It's great.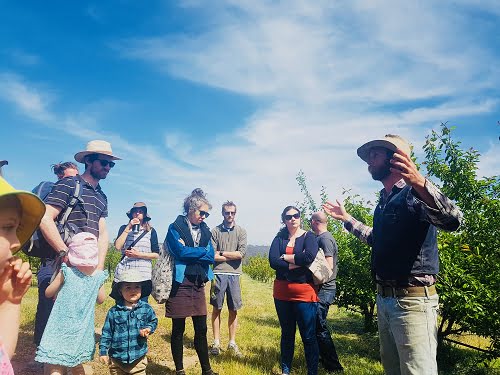 Last weekend we had our official launch into the world as a formal collective – the 'Harcourt Organic Farming Co-op' — in the form of a farm open day.  To me it was big on several levels, not to mention the fact that we are all treading new ground with the co-operative model we are starting here. It's like we're unveiling ourselves to the world not knowing how it's really going to work out!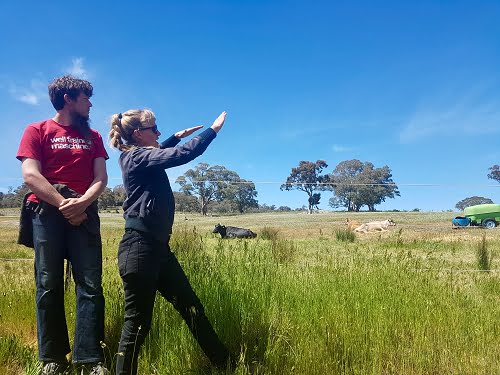 And how special it was to be showered with such support from the community. We had some volunteers help us out on the day who normally either work or trade time for produce lend a hand serving, welcoming, MC-ing, washing dishes and cleaning the packing shed so it was decent enough to serve scones out of. We are indebted to you guys—thank you (Cohen, Lucy, Grace, Oli, Cara, Marty, Paris, Danny, Dan)!  And then all the people near and far who celebrated with us stepping into the unknown.
Merv (Katie's Dad) gave a really special speech highlighting his history as an orchardist in this area and how he's seen it change from a lot of small family owned and operated farms to mainly large company farms…I think we all felt pretty chuffed to be called part of Merv's new family (as he said in his speech).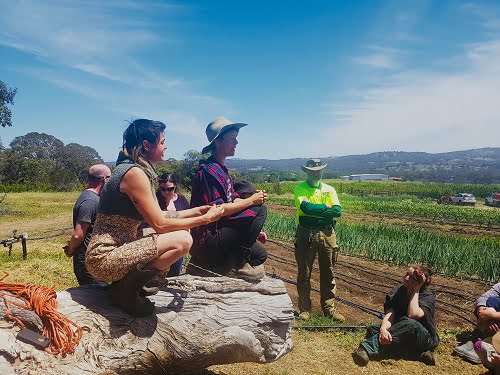 On the open day all the separate enterprises that make up the collective gave a little rundown on what they do…on the Gung Hoe tour it was so heartening to see people engaging with how we grow and why we grow, so many questions that showed us just how interested people are.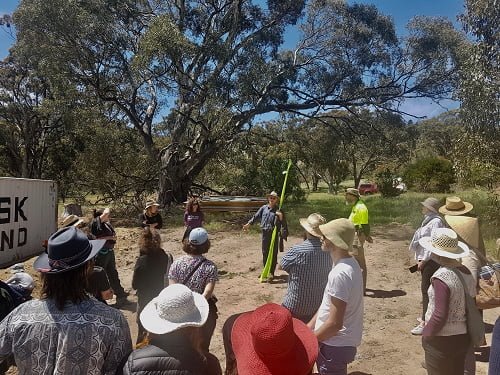 We in Gung Hoe land rarely get a chance to explain the values that underpin why we have taken on this endeavour and why we want it to succeed.  Having the open day on Sunday and then a more informal Industry Day on Monday gave us just that opportunity. The industry day was about us opening the opportunity to have chefs, caterers, restaurant owners, retail owners, etc. come out to the farm and see where the produce they are purchasing comes from, how it's grown and why, and build the connection further beyond a weekly drop-off g'day.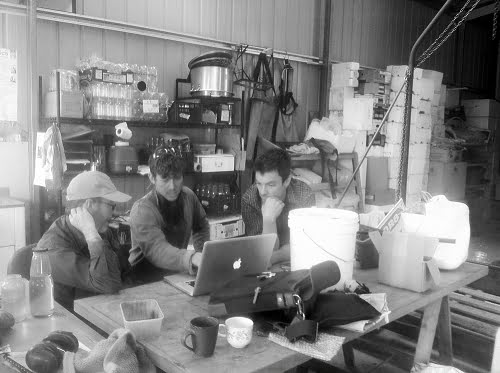 When Monday actually happened and they rocked up in their rad cars with home-made cakes, families and some staff, we realised the power of connection and relationships. We had a short walk around the patch and spoke about our techniques and how we are building the soil slowly but surely, and why the lettuce is so crisp, and how many varieties of leafy things go into the salad mix, and here's some freshly picked broad beans we can eat over morning tea.
We also had insight into how it works for them working with us, using our produce to create meals. How hard it is sometimes to work for someone else when it means you have to set aside some of your passion. A large chunk of our conversations were about food systems and how Sas and I are passionate about feeding our local community with truly nutrient-rich produce (because the soil is getting better, it means the plants are also better for you) and building skills so young people can grow up knowing they can have power by growing their own food and knowing where it comes from, that farming can be a viable and enjoyable career path.
It was inspiring for both parties to meet on the land and talk food with each other. I have great respect for chefs who understand great produce and use it in their culinary art. Don't get me wrong – I'm not talking about it has to be all fancy and stuff – not at all.  It's more about seeing them use their passion and skill in the way they cook the food; they are letting the produce speak for itself, and comments like, "it's the first time I've seen staff eat more salad than chips" and "I thought I'd have to blanch the peas, but there's no need – they're so sweet!"
Massive ups to Brunno, Ben, Jason and Tim for empowering actions and conversations, and the piccies 😉
So, in short (sorry this has been a rather long ramble), although it can feel vulnerable opening up yourself, values, work to the world, it is our launching into the greater sphere…strengthening relationships with each other to strengthen and make our imprint on the current food system a lasting one.
Thanks for following us in this journey.  Peace out!
Mel