Before Sas and I even had a piece of land we had a big dreaming session about what was important to us both on and in the piece we knew would eventually arise. We included short- and long-term visions on our big piece of butcher's paper and felt funny but free dreaming big!  We thought that by putting it 'out there' into the world, so to speak, we were giving it all more of a chance to happen, rather than keeping it so close to home we were even afraid to speak it!
One of Sas's dreams of the space yet to be created was that it could be used as an educational space, a living, breathing, successful example of small productive agriculture using organic and biodynamic ways and using the moon as our guide for when to seed, plant, toil and harvest.
For some reason this had escaped my memory when Sas told me there was to be a biodynamic compost making, moon planting and crop rotation workshop at the patch. I was keen of course, as Janet, who runs the Newstead community garden, was the teacher for the day and she is a deep well of knowledge and experience and action!  I was running late on the odd new public holiday with the electric kettle and arrived just in time to sit down for the first session.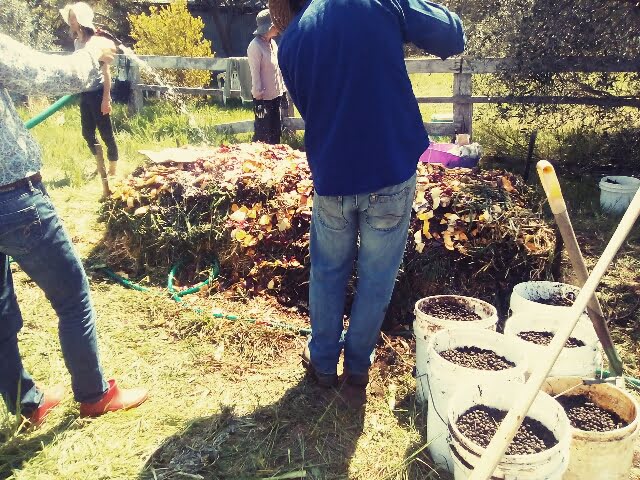 It didn't hit me how special this day actually was until I looked around at the circle of us eating up Janet's words, under a tree with the patch in the background…I am proud to say that tears quietly rolled down my cheeks. This was happening and it was one of Sas's dreams becoming reality.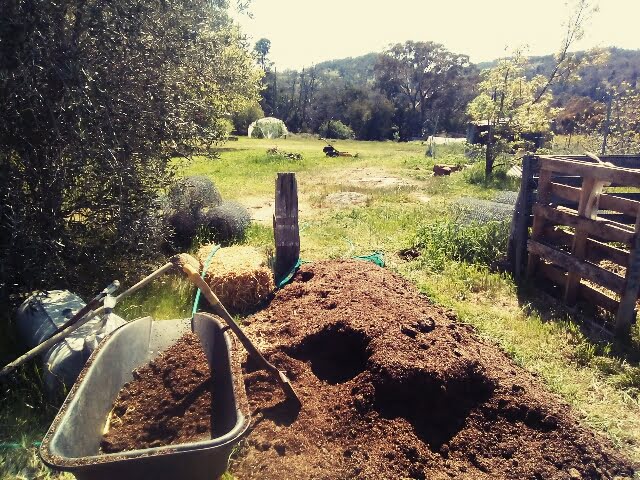 Another awesome moment for me that day (its hard to pick though, we all learnt heaps!) was seeing all the food scraps saved from the Tim Flannery event being used back on our patch… Some of our greens surely would have been in that mix! And also knowing that our rich ingredients had been sourced locally… We used biodynamic spelt husks and sheep poo generously donated by Jenny and Andrew at powlett hill, and collected by Sas and me. So, a complete full circle – from beginning to end. Awesome.
Now it is heating up (the compost and the weather!) and Sas is harvesting kilos of salad mix, fennel, radishes, chard, broadbeans and (soon) peas!  The sweetpeas are in full bloom and fragrancing the air…ahhh the abundance of spring!
We hope this finds you enjoying the warm air and new season!
Sas & Mel