I go among trees and sit still.
All my stirring becomes quiet
around me like circles on water.
My tasks lie in their places
where I left them, asleep like cattle.
Then what is afraid of me comes
My tasks lie in their places
and lives a while in my sight.
What it fears in me leaves me,
and the fear of me leaves it.
It sings, and I hear its song.
Then what I am afraid of comes.
I live for a while in its sight.
What I fear in it leaves it,
and the fear of it leaves me.
It sings, and I hear its song.
After days of labour,
Mute in my consternations,
I hear my song at last,
and I sing it.  As we sing,
the day turns, the trees move. 
— Wendell Berry
Hi out there! I hope you are having a moment's breath and soaking up the rain we got yesterday and are enjoying the cool change like me (Mel). Whilst I was picking lettuce at dawn on Tuesday I had this whole blog written out in my mind. I love the meditative state I can find myself in whilst completing some tasks. The blog I'd composed was actually quite negative and there were tears forming if I allowed myself to go there. You see, Tuesday morning through to Tuesday afternoon is a big picking and packing day for us. We are currently providing 40-odd houses (affectionately named 'boxies' – they have committed to buying a small or large veg box off us for the summer season) with weekly veg and still up keeping a somewhat regular supply of salad, veg and edible flowers to local restaurants, cafes, caterers and occasionally sell bulk produce to a few green grocers in town too. So, Tuesdays we arrive at the farm 5.3 0am, put the coffee on the stove, the irrigation on, water the seedlings in the hardening-off area and after we write all the orders and divvy up which box gets what we set out to pick 'n pack it all.
Usually by this time of year we are drowning in summer produce and are needing to pick every 2 days, and it was this that made the old eyes start to well. As I was picking the lettuce (which looked beautiful) all I could see around me was what I deemed as failure. The green tomatoes staring at us = failure; the basil just plumping up after being in the ground for 2 months = failure; the zuchs with a few fruit on them = failure; the cucamelons from Mexico that are meant to love drought are splattered with baby fruit a few mm long but not really what I'd call abundant picking = failure; the capsicums under their shade cloth with but a few fruit = failure; the eggplants showering again with flowers and bees but small fruit = failure; the corn with its wind-shrivelled leaves and flowers = failure; the beans with fried flowers from the wind = no beans = failure. A few successes but for the most part what I felt surrounded by was failure.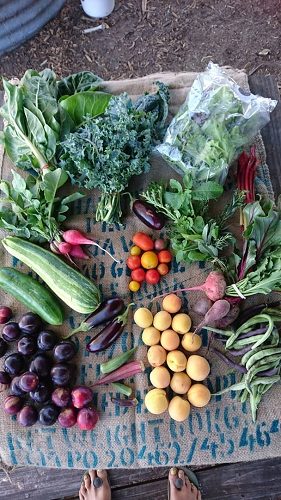 I walked back to the shed to splash water on the buckets of leaves I'd picked and put them in the coolroom when I ran into Sas who was bunching kale/silverbeet and restaurants' herbs…mentioned the failure feeling to her and I was met with an unexpected response: 'I know!! It's all I can see…'. So it wasn't just me being extra hormonal or something if Sas was experiencing it too. We had a quick chat about it and went back to picking our respective vegies. In our quick chat we had both identified the need to build not just eco-system and food resilience, but mental resilience. We are not strangers to the failure feelings (I'd even be so bold to say that everyone experiences them) and we are getting better at acknowledging them and identifying why we're feeling that way and if it's within our control or not. So Tuesday morning we both came to the fact that this season's current challenge (as all seasons have at least one) has been the heat. And without wanting to bang on about it, the consequences of it are really tough! Next year we will be better prepared, plan for another hot season and no doubt we will have a wet, mouldy etc etc season and there will be more blogs about wet and mildew ha! (…or it could be just right and nature and us will nail it!). But in the meantime we have to just keep plodding on in the current reality. We get one shot at each season each year….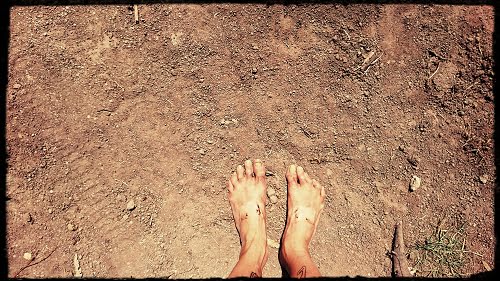 Another thing we acknowledged to ourselves were expectations. Our own expectations and what we think others' expectations of us are. We want to provide everyone with what summer normally provides! For example, tomatoes big and small, yellow and black and red. But we aren't doing that. We feel like we aren't providing what we should be – thus we have failed and let people down and people will think we're not trying hard enough, aren't very good, won't trust us with their stomachs again…etc etc. It's a whole spiral when you start going down that tunnel. Which is so bloomin' easy to do. Hence why we spoke about mental resilience instead.
We both finished the fragile leaves that need to be carefully picked and bunched before the sun's rays get too hot by 9am and sat down for a coffee (yes, another one!) and breakfast with Tessa (the legend behind the microdairy) in the shed. We asked her about mental resilience and we spoke about it a bit more. Later that day when I was weighing and bagging up salad leaves for boxes and restaurants, Katie was packing fruit and so I also asked her about the failure feelings. I'm still yet to hear the gems of wisdom from her lived experience, but she spoke about the reality of that feeling being common with farmers. Her decade of farming in drought and seeing farmers commit suicide saw her build mental resilience I reckon – Katie I'm still gonna hunt down that conversation with you!
Again there was that affirmation that these feelings are very real. So I think I'm still left with pondering a bit of how to build that said mental resilience. I think we're doing heaps better this year with that than any other year. Even though we're very green (young/new) at farming we do have a few years under our belt now, simply to know that something always goes wrong, there's always pests depending on the condition of the seasons and if we try hard enough we do remember that we are producing good food, to people and our community and that were getting better each year.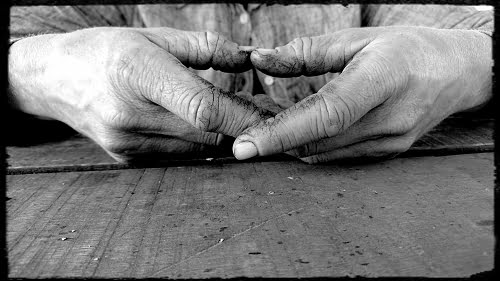 One of the reasons we wanted to do veggie boxes apart from it stemming from the value of wanting to offer affordable, locally grown, chemical free food to families in our community, was also to have direct contact with people who are eating the food! When we deliver to restaurants we have big smiles for the chefs who produce works of art with our produce – but we don't get to sit at the table when customers eat the fresh salad leaves and the crisp, peppery watermelon radish…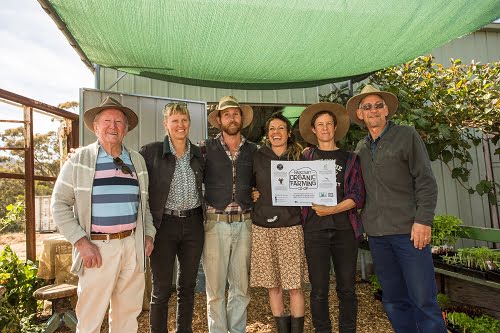 Having direct contact and seeing stuff go home to houses has a lot of value for us. I think this year we have seen potentially the other side of this value in action too. This isn't a cry for comments or anything like that – just a transparent slide from our side acknowledging the fact that we take it very seriously that people have committed to eating with us for a season. So I guess where my I'm left is with the reality of the season and our capacity is what it is. We work hard and do our best. And at the end of the day we laugh and cry and laugh, work in a stunning outdoor office surrounded by other beautiful hardworking souls farming and we love what we do…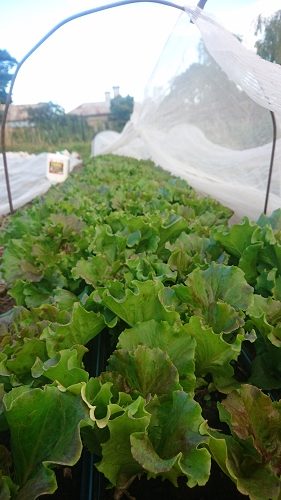 And now, you can go back up to the top and read the Wendell Berry poem again and it might make more sense 🙂
Peace out, do some dance steps or jump around to thrash – whatever's your fancy; and as Leunig would say, go pat a dog.
Mel